Original URL: http://www.theregister.co.uk/2009/01/30/review_laptop_15in_asus_n50vc/
Asus N50 15in laptop
Have integrated ionizer, will purify air
Posted in Personal Tech, 30th January 2009 09:02 GMT
Review If you just want something small and cheap to do a bit of surfing and email on, a netbook is fine. If you need to actually get some proper work done, though, the cut-down spec often isn't really up to the task - which is where something like the Asus N50Vc comes in.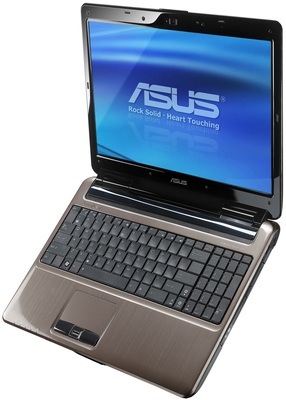 Asus' N50: cool looks
Sibling of the smaller N10, the N50 features a decent-size screen and keyboard plus proper grown-up components so it's got enough grunt to do some heavy lifting, but it's still reasonably priced for a laptop and it's not too bad to look at either.
The shiny black lid is broken up by a pattern of dotted vertical lines - laid out in a pattern slightly reminiscent of the open sequence to The Matrix - although it is a bit of a fingerprint magnet and greasy paw prints will soon spoil its stylish look.
Open it up and you'll find a you'll find acres of space inside - not only has Asus managed to fit in a full Qwerty keyboard but it's also squeezed in a numeric keypad to the right. The keys are a little slimmer on the keypad than the main keyboard, but they're still usable and it's better than not having one at all. There's a good size touchpad below - offset to the left so it's centred on the main keyboard - with large left and right click buttons and a finger print reader nestled in the middle.
Above the keyboard, instead of the usual shortcut buttons there's a touch-sensitive strip with LED icons representing various buttons. It takes a while to get used to at first - especially sliding left and right to adjust the volume - but it's easy enough to use with a bit of practice.

But the battery life fails to impress
Filling most of the lid is the 15.4in display, which would make a great screen to work on if it wasn't limited to such a low, 1280 x 800 resolution. This would be fine for a netbook display, or on a 13.3in laptop, but a screen this size could easily support more pixels and still be usable. Like most screens it features a glossy finish, although it's rather more reflective than most.
By including a large screen, the N50Vc obviously isn't going to win any awards for easy portability, but it's not overly big, with a footprint of 369 x 276mm and measuring 2.9mm at its thinnest point and 43mm at its thickest. At at 2.95kg, it's not exactly a commuter's best friend, but it's fine if you're not planning on carting it too far.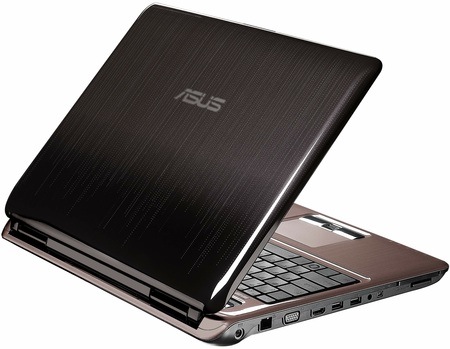 Decent array of ports
On the N50's right side next to one of the three USB ports, in the spot you'd usually find the DVD drive, Asus has gone one better and included a Blu-ray compatible unit so you can play HD movie discs as well as burn CDs and DVDs. The screen resolution isn't high enough to show 1080p movies without downscaling, but you can hook it up to a big screen TV thanks to the HDMI port situated over on the other side.
As well as a HD hookup, down the left-hand side you'll also find Gigabit Ethernet, VGA, two USB, four-pin Firewire, ExpressCard, eight-in-one card reader and power ports and slots. Headphone and microphone sockets are round the front next to a - somewhat bizarrely positioned - eSATA port. Wireless connections are well catered for, with both 802.11n and Bluetooth built in.
One thing it has that you probably won't find on other laptops is a built in air ionizer which, according to Asus, not only cleans the air around the user of allergens and germs but also helps increase air flow and circulation. It all sounds like a bit of a gimmick, although to be fair at no point did we get sick while using the laptop, so make of that what you will.
There's also a quick-launch Linux-based ExpressGate interface from Splashtop that will have you up and running in just eight seconds and provides fast access to basic apps like a web browser, music player and photo viewer.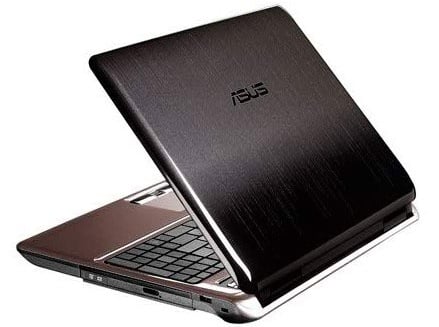 Blu-ray Disc included
The NV50's powered by a 2GHz Intel Core 2 Duo T5800 chip, with 3GB of DDR 2 memory thrown in for good measure. Graphics come from an Nvidia GeForce 9300M chip, complete with 512MB of video memory, and it packs a huge 320GB hard drive, although it's only a 5400rpm unit.
PCMark05 Results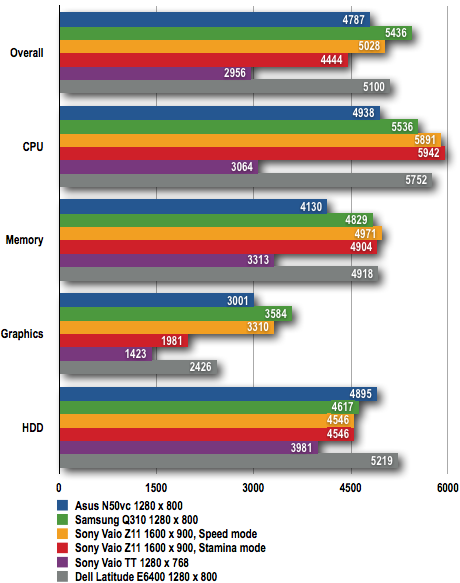 Longer bars are better
The decision to include a dedicated Nvidia chip rather than integrated graphics gave it a boost when it came to 3DMark06, with it pulling in a score of 1865. Moving on to PCMark05, it's a little on the slow side compared to other Centrino 2 laptops, but there really isn't that much in it. An overall score of 4787 is nothing to be ashamed about.
3DMark06 Results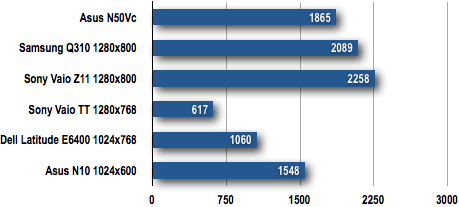 Longer bars are better
The system comes loaded with Vista Home Premium, and the hardware rates a Windows Experience score of 3.5 which breaks down into 4.9, 4.8, 3.5, 4.7 and 5.3 for CPU, memory, desktop graphics, gaming graphics and HDD respectively.
Battery life wasn't exactly impressive. By setting the N50Vc to run PCMark05 in a constant loop before pulling the plug - our standard battery life test for laptops - it managed to hold out for 111 minutes before giving up. This is obviously an extreme test and you'd typically expect to get around twice that in real world use. That's rather less than we've achieved from other laptops, none running particularly slower CPUs or GPUs.
Battery Life Results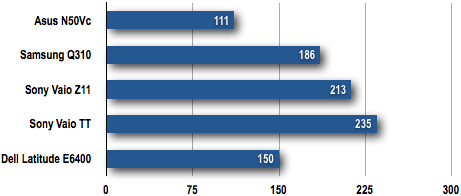 Battery duration in minutes
Longer bars are better
The N50Vc is a solid workhorse, and its performance is reasonable. But you're paying for the design and the Blu-ray drive. Drop the latter, and an equivalently specced big-brand 15.4in laptop can be had for around £500.
The Asus' numeric keypad nestled in alongside the keyboard, for example, is a welcome addition, and some might even be tempted by the integrated ionizer. But the relatively low resolution display means you can't make the most of the Blu-ray drive without hooking the computer up to an external display.
Increasing the pixel count even just to 1440 x 900 would make it a much more useful machine. As it stands, the N50's current resolution means the only real benefit of the 15.4in screen is that everything appears quite large. A PC for the short-sighted, perhaps?
Verdict
Asus has come up with a nice-looking notebook, of that there's no doubt. But unless you're desperate for the frills - ionizer, Blu-ray drive, separate numeric keypad - you can buy a machine that's just as good a performer for less. ®
More Notebook Reviews...
| | | | |
| --- | --- | --- | --- |
| LG X110 | Samsung Q310 | HP HDX16-1000 | Toshiba NB100 |