Original URL: http://www.theregister.co.uk/2009/01/06/review_mp3_player_samsung_u4_sony_b/
2GB MP3 player head-to-head
Samsung's YP-U4 vs Sony's NWZ-B135F
Posted in Personal Tech, 6th January 2009 12:02 GMT
Review The relentless march of the iPod into the price bracket known as 'Good God! How much?' makes the near simultaneous release by Sony and Samsung of the new runts of their MP3 player litters more interesting than would otherwise be the case. A couple of 2GB USB stick-style MP3 players with FM radios and screens each for under £40? Can't be bad... or can it?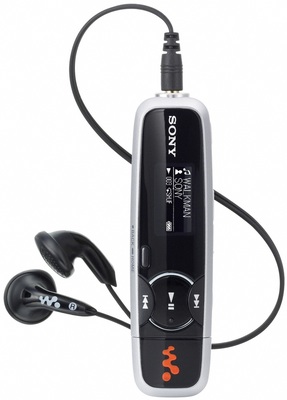 Sony's NWZ-B135F: haphazard control layout
Of course, the two ranges don't exactly match. The Sony B series is available with either 1GB or 2GB of storage and comes with or without an FM radio – that's what the 'F' after the number signifies - no F, no radio – while the Samsung U4 comes in either 2GB or 4GB versions and always has an FM tuner.
Both devices resemble overweight USB memory sticks and are near enough identical is size and weight. The Samsung weighs 27.5g and measures up at 83 x 27 x 13mm, while the Sony is a little longer, narrower and thicker, at 89.5 x 25 x 15mm. At 29g, it's just a tad heavier. All of them have a 3.5mm earphone jacks at one end, a USB port at the other and feel solid despite there not being a piece of metal in sight.
Visually, the Samsung is the more funky of the two, especially when the tail-end LED light show is on. The Sammy's solid navigation pressure pad looks better than it works, however - as with its Q1 player we found ourselves hitting the wrong button more often than we would have liked when navigating around the menus.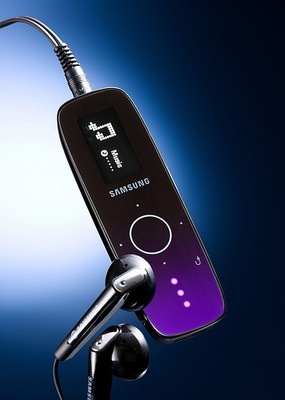 Samsung's YP-U4: visually funky
The Sony's more conventional controls are scattered about somewhat haphazardly but it has a handy standalone volume control on the side so you can adjust the sound level without taking the gadget out of your pocket. At the end of the day, neither device is as easy, or as logical, to use as SanSisk's Sansa Clip.
Both devices come with fairly grim little screens, but the Sony's is by a country mile the grimmest of the two. The colour scheme looks washed out, the text is spindly, it's only three lines tall and at around 18 x 7mm it looks about 4mm too short for the space it occupies.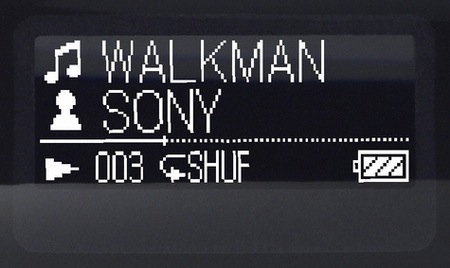 The Sony's display is the poorest of the two
The U4's screen is not only bigger - at 20 x 13mm, but also has a higher resolution – a whopping 128 x 64 - and can display four lines of text. It's easier to read than the Sony, nicer to look at and even displays little album cover images.
The "selling point" with both these players is that you don't need a separate USB cable. The U4 has a retractable USB plug - just push the release slider up and out it pops - while Sony makes do with a fixed plug covered by a cap.
Since said cap doesn't have a lanyard, we suspect it will quickly get lost, and while you won't be able to lose anything off the Samsung, the retractable USB connector isn't the most robust thing we've ever come across. If you suffer a case of unintended extension in your pocket, we suspect things may go snap.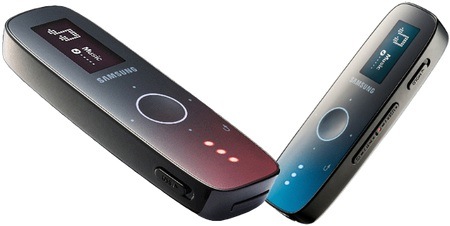 Extra audio format support on the Samsung
Neither device is exactly bulging at the seams with audio codec support. Sony gives you MP3 and WMA, while Samsung adds Ogg to those two formats.
Both players come with FM radios and while neither have RDS, both let you assign up to 30 presets stations. Both players will also let you record radio content off air and come with a built in microphone for speech recording. The Samsung records in MP3 format, the Sony in WAV.
Users can drag and drop playlists from any MTP music player to either device with extreme ease. We aren't sure how many playlists each supports, but it's certainly more than three. The Samsung steals a march on Sony, though, by letting you create up to five playlists on the device itself.

The cap's just waiting to be lost
While on the subject of loading content, we are happy to report that we don't need to give the U4 the same kicking we gave the Samsung Q1 for being Windows only. Lurking in the U4's settings is a "Removable Disc/MTP" switch and by flicking to the former we got the U4 to show up on the desktops of our Mac and Linux machines. The Sony has no such switch, but just like other Sony MP3 players it worked as both an USB Mass Storage and MTP device no matter what sort of box we plugged it into.
Asking which pair of bundled earphones we would rather use is like asking who we would prefer to have throw up in our car, Amy Winehouse or Pete Doherty. The answer is neither. If threatened with violence, we'd go with the Sony 'phones because they sound marginally better and, being smaller and lighter, are more comfortable.
Using the trusty office Griffin TuneBuds for a direct comparison neither device really covered itself in glory as a music player, both sounding rather low rent when compared to their more expensive brethren.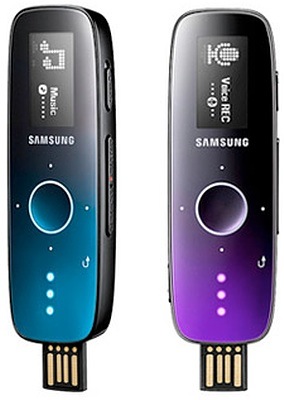 The Samsung's retractable USB connector could be more robust
By way of sound modification, Sony gives you six EQ settings - one of which is user-definable - along with a separate button marked simply Bass. Samsung goes the whole hog and gives you its usual ten "DNSe 2.0" EQ settings. Again, one is customisable and you can also alter the 3D and bass sound effects settings. Like other Samsung players, you also get Street Mode and Clarity sound modifier settings, but again like other Samsung players these are best left switched off.
Unfortunately, no matter how we jiggled with the Samsung, the sound we got was just a little too confined and brittle for our liking. The Sony really wasn't a whole lot better, but the basic sound it produced was more natural and the bass boost gave everything a warmth and thump which will keep less demanding listeners happy.
Both Sony and Samsung claim 16 hours of playback from a full battery charge. Our Sony died after 14 hours - the Samsung lasting 30 minutes longer. The Sony does, however, come with a "Quick Charge" facility with three minutes of recharging being good for 90 minutes of playback, a claim we found to be right on the money. By comparison, a three-minute charge of the Samsung gave us just over 45 minutes' playback.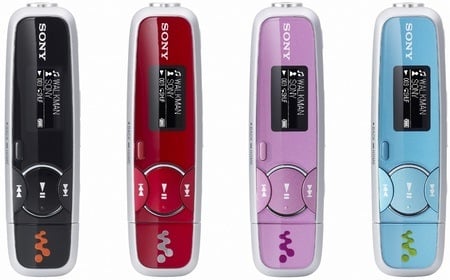 Colours!
Sony doesn't supply any software with the B series and nor did the gadget work with the handy iTunes-compatible Content Transfer application that we still had kicking around from our E- and S-series Walkman tests. Samsung bundles a cut-down media manager with the U4 which, if not as good as the EmoDio rig the Q1 comes with still does the job.
Buy direct from Sony and the B135F will set you back £39, though you should be able to get it for less from resellers. Shop around and you will find the 2GB Samsung for around the £30 mark. Of course, the fly in both Sony and Samsung's ointment is the Sansa Clip - for around the same price, it's smaller, comes with Flac support, sounds better and has a better screen. In the US, the Clip is also now available with 8GB of storage which gives it yet another advantage - assuming that variant ever makes it to the UK and the price is not prohibitive.
Verdict
A tough call. The Sony sounds the better of the two players and is easier to control, but is more expensive and comes with less storage. The Samsung has by far the better screen, plays Ogg files and is the more visually attractive. So it's the Samsung, then, by a head because you get more for less. ®
More MP3 Player Reviews...
| | | | |
| --- | --- | --- | --- |
| iPod Shuffle | Sansa Clip | Zen Mosaic | iRiver Lplayer |