Original URL: http://www.theregister.co.uk/2008/12/06/review_laptop_samsung_q310/
Samsung Q310 13.3in laptop
Power and portability at a presentable price
Posted in Personal Tech, 6th December 2008 09:02 GMT
Review If you're left confused by the extraordinary popularity of netbooks, but still want a decent laptop without spending a fortune, Samsung's Q310 has you squarely in its sights. At under £700, it's fast, packed with features and the prettiest thing you've ever seen – at least that's what Samsung would have you believe.
Samsung appears totally obsessed with looks these days. Admittedly, the Q310's shiny black chassis is eye-catching, but we have to disagree with Samsung when it comes to the nasty splatter of red along the bottom lip. Apparently, it's a "deep rose red infusion" that helps gives the laptop "an aura of excellence and sophistication".
Of course it is. When we first picked the laptop up we detected aura of cheap plastic that creaks all too easily in the hands.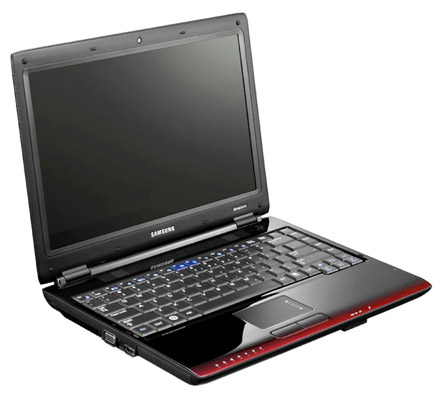 Samsung's Q310: more kinda-portable than ultra-portable
It's something of a miracle, then, that Samsung has opted for functionality over style with the keyboard – we half expected the keys to be made of the same glossy black plastic as the chassis. Thankfully, they have a textured finish and a good amount of travel. Our only complaint with the keyboard is that it flexes a little too much under pressure.
Port placement on the Q310 could be better. Two of the three USB ports are stuck round the back, making them difficult to access. They're also stacked, so if you plug a bulky TV tuner into one, the other will be obstructed. On the plus side, the power and Gigabit Ethernet ports are also on the back, which helps keep wires out of the way.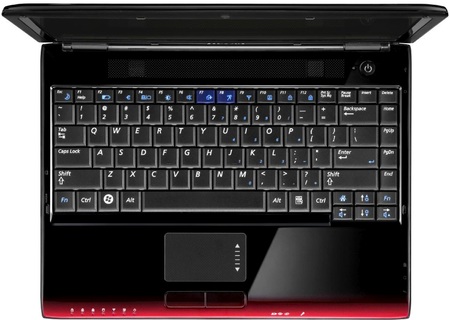 The keyboard demonstrates functionality over style
The left side of the chassis is home to VGA and HDMI outputs, while the DVD drive sits on the right and will etch out truly uninspiring images onto any Lightscribe discs you might have. The drive sits alongside an ExpressCard 34 slot, audio sockets and the third, more sensibly-placed USB port.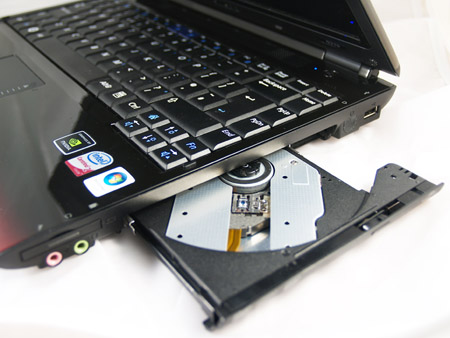 The DVD has a Lightscribe feature – for all your disc-etching requirements
Seven indicator LEDs are dotted along the front of the chassis, but there are no easy-access switches to turn off Wi-fi and Bluetooth. Sat just underneath the lip is a multi-format card reader that will accept various flavours of SD, MMC, XD and Sony Memory Sticks.
The 13.3in widescreen display has a 1280 x 800 resolution and looks impressive, with Samsung's SuperBright glossy coating giving contrast a boost. However, its poor vertical and horizontal viewing angles mean you have to sit square-on to see it at its best and, as with all glossy displays, it's a magnet for reflections.
A 1.3-megapixel camera is embedded into the the screen's bezel, while two 1.5W speakers sit just underneath the display and provide reasonably loud but horribly tinny audio.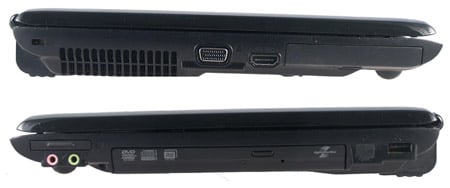 Port placement on the Q310 could be better
Being a fully-fledged Centrino 2 laptop, the Q310 supports dual-mode 802.11n wireless networking thanks to Intel's Wi-fi Link 5100 card. Unlike the three-antenna Wi-Fi Link 5300, this card only has two antennae. The Q310 also comes with built-in Bluetooth, but there's no HSDPA 3G connectivity on board.
The Q310 runs off Intel's P8400 Core 2 Duo – a 2.27GHz processor that features a 3MB of L2 cache and a 1067MHz frontside bus speed. A pair of 800MHz 2GB DDR 2 modules provide 4GB of Ram, but the 32-bit Vista Home Premium installed only recognises 3GB of this.
PCMark 05 Results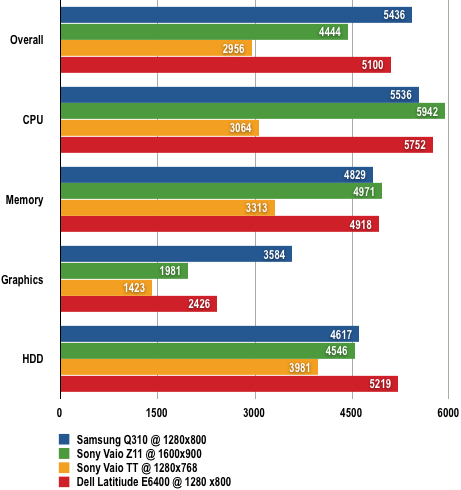 Longer bars are better
Pushing images to the display is an Nvidia Geforce Go 9200M GS chip. This is a step up from integrated graphics, but certainly not something to go wild over. It pegs the Q310's Windows Experience score back to 4.4, and in the PCMark05 graphics test it chugged along to achieve a score of 3584. The overall PCMark05 score, however, wasn't too shabby at 5436, which is thanks in no small part to the P8400 processor.
3DMark 06 Results

Longer bars are better
As expected, 3DMark06 was something of a struggle, and at its native resolution of 1280 x 800, the Q310 managed a score of just 2089. A drop in resolution to 1024 x 768 helped a little, stretching the score to 2366.
Somewhat over-optimistically, we tried out Call of Duty 4, but at its native resolution the Q310 could only muster up just over 10f/s. This doubled when we knocked the resolution right down, although it wasn't an enjoyable experience. Older games will fare better, but it's best to label this laptop as 'not for gamers'.
Battery Life Results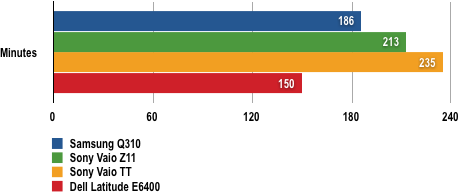 Battery life in minutes
Longer bars are better
Battery life is decent, though. With the Q310 set to Samsung's default power settings and PCMark05 running in a loop, we recorded three hours and six minutes. Keep in mind that this is a pretty heavy going test - should you do little more than word processing, the Q310 will be good for much longer and we managed just over five hours with very light usage.
A nice touch is the power meter on the battery, which lets you see the remaining charge without having to fire the blighter up first.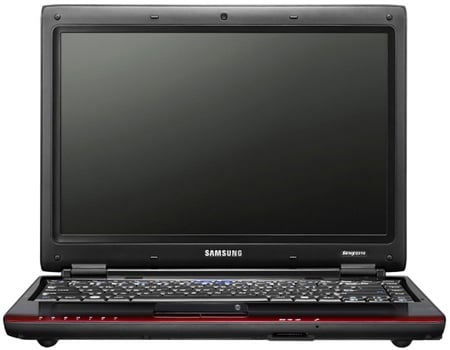 Red lipped
Given the relative low price of this laptop, it's no surprise to find the hard drive is a standard 5400rpm model. That said, the Hitachi 5K250 can pack in up to 250GB of unformatted storage capacity, which should be enough for most folk.
Samsung promotes the Q310 as an ultraportable laptop, but at 2.1kg it's not the kind of thing you're going to want to lug around on long walks. What's more, add the power brick into the equation and you're looking at more like 2.6kg, which is really pushing the definition of 'ultraportable'.
Verdict
If you've an eye on gaming, the Q310's 9200M GS graphics will no doubt disappoint, but the P8400 processor managed to push through some decent benchmark scores and at £699 you're getting a fair amount of tech for your money. Build quality and aesthetics aren't as spectacular as Samsung would have you believe, but despite our grumbles it's hard to level any serious complaints at the Q310. Ultimately, it's great value for money and would suit those who baulk at the thought of a netbook but are watching their pennies.
More Notebook Reviews...
| | | | |
| --- | --- | --- | --- |
| Sony Vaio Z11 | HP HDX16-1000 | Sony Vaio TT | Dell E6400 |