Original URL: http://www.theregister.co.uk/2008/11/25/review_laptop_hp_hdx_x16/
HP HDX16-1000 16in multimedia laptop
Music and movie heavyweight
Posted in Personal Tech, 25th November 2008 09:02 GMT
Review With laptop prices plunging, you'd expect a lot from a multimedia media machine that costs a grand, right? Well, HP has certainly jemmied a lot of tech into its new HDX, including a Blu-ray drive, a TV tuner and a 16in, 1080p full HD screen.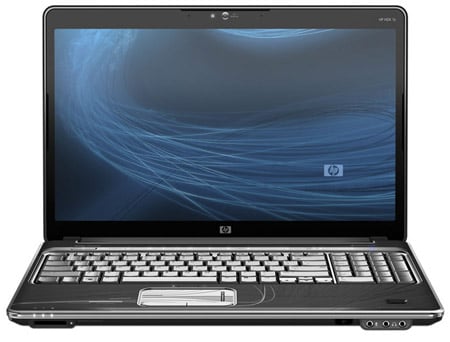 HP's HDX16-1000: Big spec, big price tag
The HDX16-1000 follows in the footsteps of last year's HDX20, which was another well-specced laptop but was a pig to move around. The sheer bulk of its screen and case meant it was more transportable than portable. HP has taken the hint and built similar hardware into two more-manageable form-factors: the HDX16 and an even bigger, 18in sibling.
Both have a gloss dark-grey cover with an appealing design of silver and charcoal lines drawn across it, and these continue on the surround to the touchpad and even onto the polished steel surface of the pad itself. This has to be one of the smoothest computer control surfaces we've run our fingers over and is beautiful to use.
The metallic caps of the full-size keyboard blend well into the overall design. Behind the keyboard is a strip of illuminated touch-sensitive controls, including sliders for volume, treble and bass. On the roght-hand side of the wrist-rest area there's a fingerprint reader, so there's no excuse for having your data read should your HDX16 ever be - god forbid - nicked.
The 16in screen, which has a default resolution of 1920 x 1080, is crisp and clean and presents vivid colours. It has a clear acrylic cover running over its entire surface, so there's no need for a bezel, though there is a border around the LCD. At this resolution, icon legends and other text is very small, we reckon on the downside of 6pt. Although it's pin sharp, reading help screens and other block text can get tiring.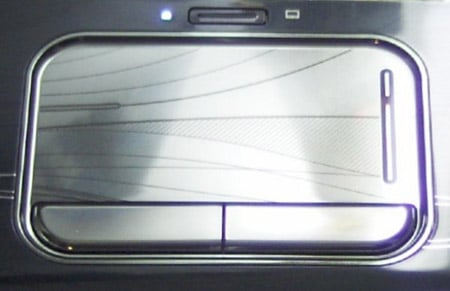 The touchpad is a smooth as a newborn's fundament
The HDX16's sound output is one of the best we've heard from a laptop. While the headlined "Treble Bass" feature refers more to the number of bass speakers in the Altec Lansing-designed sound system than how the bass sounds, there's certainly better low frequency response than you get from most portable machines, largely thanks to an integrated sub-woofer.
Taking a trip round the edges of the HDX-16 reveals an excellent selection of ports. In addition to the five-in-one memory card slot, there are not only four USB 2.0 ports and a single, four-pin Firewire, but also eSATA for more storage, HDMI and VGA for external screens, and an antenna connection for the integrated TV tuner. Add-in cards can be accommodated by the ExpressCard 54 slot. Networking options include Gigabit Ethernet and 802.11g Wi-Fi – Bluetooth is built in, too.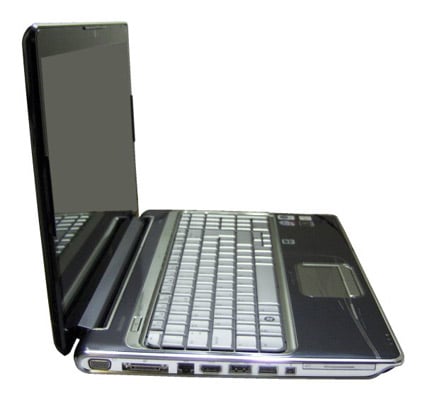 A slot on the left-hand side holds a mini remote control
An intriguing slot on the left side of the laptop is home to a custom-designed mini-remote, which works with both Vista Home Premium 64's Media Center and HP's own MediaSmart software. There's a second, more normal-sized remote for using at home, too. Quite why you need MediaSmart, which doesn't include a TV guide and is nowhere near as intuitive to use as Media Center, isn't clear, but it's there if you want to try it.
Inside, the machine comes with a 2.26GHz Core 2 Duo P8400 processor - not one of Intel's top performers, alas - and a healthy 4GB of main memory. It couples this with 512MB of dedicated graphics memory for use by the Nvidia GeForce 9600M GT graphics chip, though the GPU can also grab up an extra 1.5GB from the main memory bank.
The Nvidia chip should provide enough kick for some gaming, as well as for media playback, but even so, Windows Vista Home Premium - pre-installed here in its 64-bit form - didn't feel snappy. Still, the use of the 64-bit Vista means that, for once, it can see all of that 4GB of memory.
Storage comprises a 320GB 5400rpm Fujitsu SATA hard drive and a Blu-Ray reader, which doubles as a multi-format dual-layer DVD rewriter and includes LightScribe for writing black and white disc labels, albeit rather slowly. Since the screen resolution matches that of top-of-the-line HD content, Blu-ray playback looks great and, thanks to that Nvidia GPU, was judder free.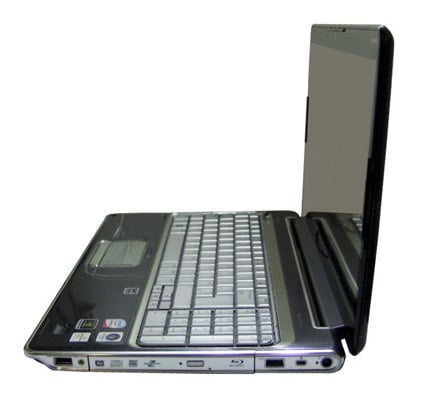 Plenty of ports and a Blu-ray drive
The Freeview-friendly DVB-T TV tuner worked well too, picking up more than 70 channels. An aerial is supplied, but you'll be a lot better off with a feed from a roof aerial - no big problem since a machine of this size is going to spend more time on a desk than on the move.
Running the machine through standard benchmarks shows a design with a lot of potential. PCMark Vantage 64 returned an overall index of 3803, which is a reasonable score.
PCMark Vantage Results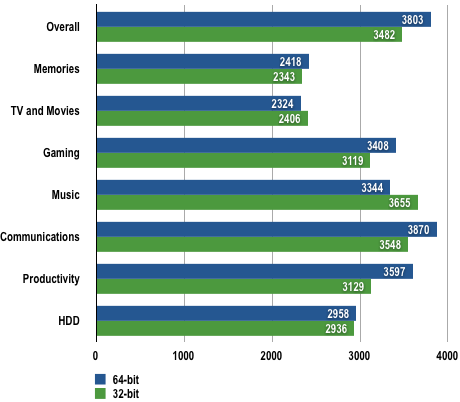 Longer bars are better
The HP didn't do so well on 3DMark Vantage's Performance setting, however, giving an overall score of 1263 and separate CPU and GPU indexes of 4433 and 1020, respectively. These Futuremark simulations work the system harder than current games, and we saw frame rates in the region of 60f/s in World of Warcraft, for example.
3DMark Vantage Results

Longer bars are better
Although it has a six-cell, 55Wh lithium-ion battery, the laptop only managed two-and-a-quarter hours of video playback on a single charge, which is enough for a movie, but not much more. If you're on an InterCity journey, make use of the complimentary mains sockets.
Not that you'll really want to be taking this boy out and about with you. It may be less bulky than its predecessor, but it still weighs 3.4kg. And at 379 x 335 x 33.2-44.2mm in size, you'll need some big, tough luggage to carry it around in.
But is it all worth a grand? It's not woefully over-priced - it's a branded product and you're paying for the name. You can certainly spec up a 15in or 17in notebook to offer what the HDX-16 does for a fair bit less that £999.
Verdict
HP's HDX16 is a multimedia powerhouse, handling TV, HD content and music with aplomb. It's not a games machine, but it'll run most modern titles well enough to suit casual players. Just don't expect to do all this multimedia malarkey for too long away from the mains, OK?