Original URL: http://www.theregister.co.uk/2008/11/20/review_music_player_logitech_squeezebox_boom/
Logitech Squeezebox Boom wireless music player
Small box, very big sound
Posted in Personal Tech, 20th November 2008 13:02 GMT
Review Logitech's Squeezebox Duet network music player doesn't really have any faults but if you absolutely had to come up with an Achilles' Heel it would be the need for an amplified stereo system for it to play through. Not an issue if you only want music in one room, but more of a problem if you want tunes all around the house.
Now Logitech has come up with a answer: the Squeezebox Boom, an all-in-one wireless music player that requires nothing more than a mains power socket.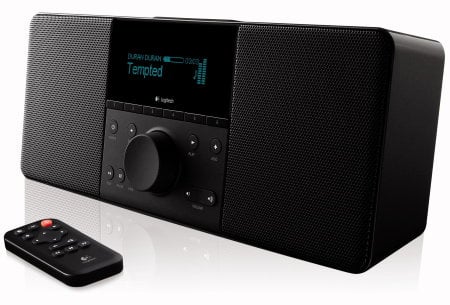 Logitech's Squeezebox Boom: small box, big sound
The first thing that struck us once the Boom was out of its box, was how small is is. At 330 x 127 x 79mm in size and weighing about 1.7kg, it was a fair bit smaller and lighter than we expected from looking at pictures of the device. Size notwithstanding, the Boom is a very nice looking bit of kit the only blemish on the smooth gloss black outer case being the rubberised panel and recess at the top that's designed to provide a slip-free niche for the remote and also covers the snooze touchpad.
The feeling of quality is carried over to the controls. The rubber faceplate buttons have a smooth feel to them and work with a well damped action, as does the turn-and-push central control knob, which doubles up as the menu navigation and volume control. If you can't wait for the big knob to default to the volume setting there's also a separate dedicated volume control.
The 160 x 32 pixel, 80 x 40mm green vacuum fluorescent display does an admirable job of keeping you informed about what's going on and makes menu navigation very straightforward. It also has a very effective auto-dimmer that goes all the way from retina-removing bright to barely visible dim so everything is legible in broad daylight but doesn't then light up your darkened bedroom with a ghastly green hue.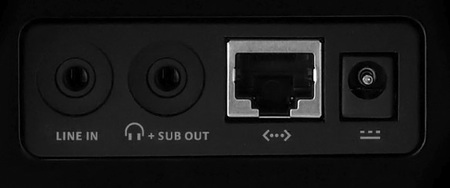 Connectors include networking, and audio in and out
Tucked away at the back, you'll find a 3.5mm audio in jack for an MP3 player or such, a similar size headphones/sub-woofer jack and an Ethernet port just in case the Boom decides it doesn't want to talk to your wireless router.
Set up is exactly as per the Duet. So you download the SqueezeCentre application to your computer, fire it up, let it scan your music files, switch the Boom on, type in any relevant wireless security codes, kick back, open a beer and listen to your music. Simple as that.

The display runs from retina-removing bright to barely visible dim
As SqueezeCentre is available for Windows XP, Vista, Mac OS X and Linux – including tweaked versions for Debian, Ubuntu and Netgear's ReadyNAS devices – everyone should be happy. You can also download the Perl source code if you like tinkering under the virtual bonnet.
SqueezeCentre will support MP3, AAC, WMA, Ogg, Flac, Apple lossless, WMA lossless, WAV and AIFF music files but only those without DRM. Rights-managed files don't just not play, they don't even show up in the SqueezeCentre library.
The Boom can also access online content directly over Logitech's SqueezeNetwork so as well as individual MP3-, Ogg- or WMA-formatted Internet radio streams you can also hook up to Last.fm, MP3tunes, RadioTime, Radio IO, Live365 and Shoutcast, all pulled over the net directly so you can keep your computer switched off.
The six radio pre-sets below the screen are a nice touch, allowing you to change channel without having to access the main menu.

Dock the remote next to the Snooze button
The Boom's small size gave made us slightly concerned about the sound quality we might get out of it, but we needn't have worried. The 19mm high-definition, soft-dome tweeters and 76mm woofers chuck out a hugely impressive and composed sound. Bass was solid, stereo separation good – presumably helped by some technical trickery Logitech calls "Stereo XL" – while higher frequencies where clear, bright and wholly distortion free. The Boom can also be cranked up to a pretty ear-splitting volume for those loud party nights.
Repeated plays through Chris Knight's outstanding new album, Heart of Stone, at near full volume after a trip to the pub left us in no doubt that we could easily live with the Boom as our only home music player.
The Boom's remote is a cheap and cheerful affair – it does the job but won't win any awards for design or innovation. Of course, the Boom has a trick up its sleeve on this front: it'll work with the Squeezebox Duet remote, a lovely – if pricey – bit of kit that we have waxed lyrical about elsewhere.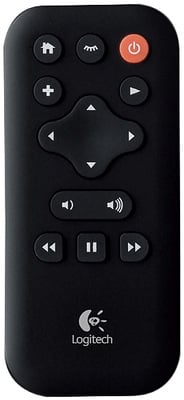 The remote is basic - use the Duet's instead
In fact, it's as a partner to the Duet that the Boom makes the most sense. Hook the Duet up to your main audio system and use the Boom to relay the same or different content to another part of the house, all from the same remote. Running two different sound sources via a Duet and a Boom should be simplicity itself – we say 'should' as we've never actually had both devices in the same place at the same time – as all you have to do is make the necessary selection from the Source menu on the Duet controller.
The Boom comes fitted with a handy alarm clock function, and squirrelled away inside is a small rechargeable battery so your alarm settings won't evaporate during any nocturnal power cuts. A handy secondary use is that if you unplug the thing and move it about the house, you don't have to mess about re-imputing your wireless security codes.
At £199 the Boom isn't exactly what we'd call cheap but you will be getting a well made, clever and highly desirable bit of kit for your hard-earned so it rates as pretty decent value for money. We would like to see Logitech bundle the Boom and Duet together for around the £400 mark to provide true out of the box multi-room wireless sound.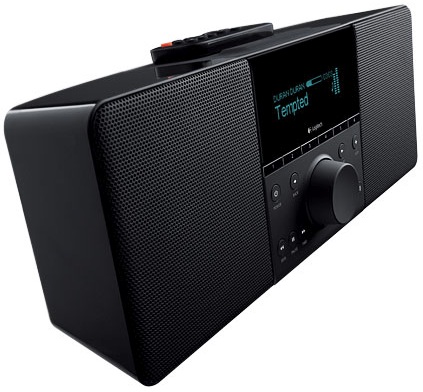 No UPnP/DLNA but plenty of audio formats are supported
Some may have an issue with the fact that SqueezeCentre is not UPnP or DLNA compliant, but we aren't sure what percentage of potential customers will find this a problem – not a large one, we suspect. Most purchasers will simply want a device that is easy to set up and works reliably out of the box, and this the Boom, like the Duet, most certainly does. Others may argue that the Boom would be better if it had a built-in DAB receiver but that does rather overlook that fact that it's a wireless music streamer and not a radio.
Verdict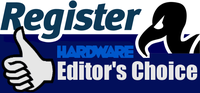 We can see no good reason not to give the Squeezebox Boom the same glowing recommendation we have the Duet since it does everything the Duet does but in a smaller and self-contained form-factor. For a device of its size, the sound quality is quite superb.