Original URL: http://www.theregister.co.uk/2008/11/10/review_dvd_rewriter_pioneer_dvr_116d/
Pioneer DVR-116D multi-format DVD rewriter
Turning the burn dial up to 11
Posted in Personal Tech, 10th November 2008 09:02 GMT
Review The current maximum write speed on a DVD±R is 16x, so Pioneer's 20x drive has to be doing something special. Using 16x media, you should be able to see up to 25 per cent extra read and write speed.
When recordable CD was introduced, it moved quickly from single-speed to 54x and beyond, but recordable DVDs haven't accelerated at nearly the same rate. That's because the rotational speeds and data transfer rates were faster from the start, with 1x DVD being equivalent to 9x CD. A 20x DVD is, in data transfer terms, as fast as a 180x CD would be, if CDs ran at 180x.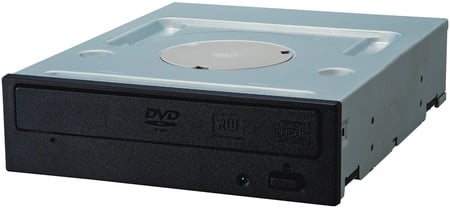 Pioneer's DVR-116D: 25 per cent faster than the highest standard speed?
DVD±R/RW drive speeds have levelled off at 16x and the relevant standards don't define anything faster than this. However, some companies, including Pioneer, have developed proprietary technologies which they claim enable them to exceed this speed. The DVR-116D claims 20x speeds using media rated for 16x use. Don't go looking for 20x media - it doesn't exist.
In passing, we've never understood why the DVD-Ram specification hasn't caught on more. It's much more robust as a back-up medium than DVD±R/RW, supporting up to 100,000 rewrite cycles, as opposed to around 1000. DVD-Ram is big in Japan but never won popular support over here.
Additionally, once DVD-Ram discs are formatted, Windows sees them as regular external drives – like a Flash drive or HDD – so you can read from and write to them without third-party software – no InCD or Nero needed. Yet there are still plenty of new DVD rewriters, like this one, which don't support the standard.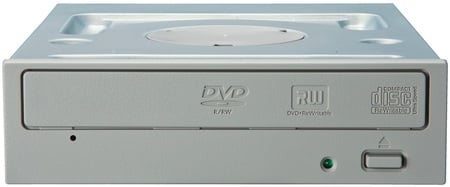 No DVD-Ram support
Internally, the DVR-116D has a 2MB memory buffer, which should help its write speed. Pioneer claims the drive is quieter than rival products, thanks to a redesigned internal mechanism. Under test, there was less of the usual wind 'swish' when the disc was up to full writing speed than on our reference drive.
Pioneer supplied us with Verbatim DVD media and we used this throughout our testing. Only certain brands of disc are certified for running at 20x with this drive, and the 16x Imation discs we had in store only registered as 4x in the Pioneer, though 16x in the 16x NEC ND-4571A drive we used as a reference.
We tested both drives running from the same 80-core cable onto the same IDE controller on our test PC and used Nero 8 and InCD 5 to run the data-transfer tests. The 1GB basket of files we wrote to and read from DVD+R, DVD-R and DVD+RW discs is composed of a mixture of 141 files from 500MB down to 10KB.
The results weren't what we were lead to expect. Starting with DVD+R, writing the files was actually 17 seconds slower on the Pioneer drive than on the NEC. Where we expected to see something like a 25 per cent shorter transfer time, it actually took 2.5 per cent longer. Nero confirmed a writing speed of 20x, though this is more likely from a look-up table in the drive's firmware than a measured transfer rate.
Disc Read and Write Results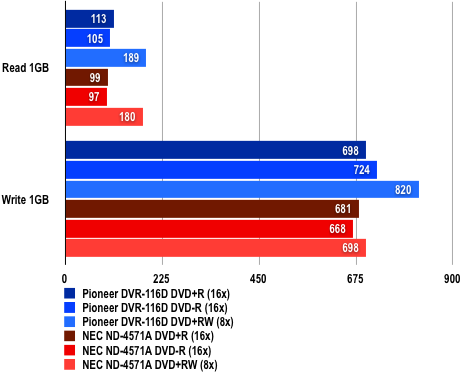 Time in seconds
Shorter bars are better
Results using DVD-R media were slightly worse, with the Pioneer drive taking 11m 54s to the NEC's 11m 08s. The difference here is 6.4 per cent. Read times, transferring the files back from DVD to the root folder of the test machine's C: drive, both showed the NEC drive to be quicker, too.
Finally, we formatted a DVD+RW disc and ran the write and read tests again, using InCD to handle the transfers. Using 8x DVD+RW media, the Pioneer drive took 13m 40s and 3m 09s to write and read the files, while the NEC took 11m 38s and 3m. In all cases, therefore, the Pioneer's performance wasn't up to the NEC's – in the case of writing to DVD+RW, it was over 17 per cent slower. The 20x spec doesn't apply to rewritable discs, of course, but it's useful to know the rewrite speed.
When queried about these results, Pioneer explained about Constant Angular Velocity (CAV) recording, which means the drive records faster, the further from the centre of the disc it is. The company also claimed that recording speeds start at around 14x and increase as the disc fills, peaking at 20x near its circumference. In other words, the majority of the disc surface will be written at speeds below this and much of it, it appears.
Verdict
Don't believe everything you read in spec sheets. The PVR-116D can write more quickly than a standard 16x drive, but it depends how big a file you're writing and where on the disc it's being written to. For day-to-day use, unless you're recording full-disc feature films filling the whole disc platter, you may not see a difference.