Original URL: http://www.theregister.co.uk/2008/11/05/review_netbook_dell_inspiron_mini_9/
Dell Inspiron Mini 9 with Vodafone HSDPA
The best netbook with integrated 3G goodness
Posted in Personal Tech, 5th November 2008 13:02 GMT
Review Dell may be late to the netbook party, but it's turned up with something very fashionable on its arm to make up: the Inspiron Mini 9, bulging in all the right places with HSDPA 3G mobile broadband goodness.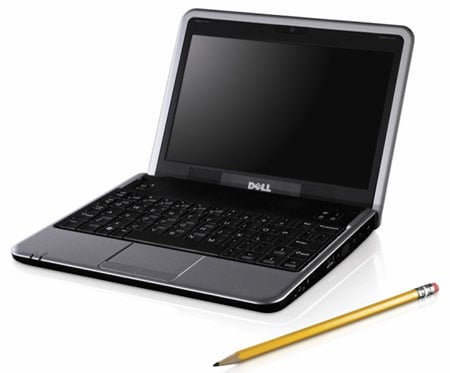 Dell's Inspiron Mini 9: now with HSDPA, courtesy of Vodafone
Unlike the Advent 4213 we reviewed recently, which also comes with HSDPA and into which you can slip any old 3G-enabled SIM card and surf away, the situation with the Mini 9 is a little more complicated. Although you can order one direct from Dell for £269 for the Linux version or £299 for the Windows XP flavour, neither comes equipped with 3G.
If mobile internet is what you're after, then your only option is to get one from Vodafone. On the plus side, the carrier will give you the Small, Cheap Computer for free. In exchange, however, you'll have to promised to cough up at least £25 a month for the next two years, which works out at £600 minimum for the 1GB-a-month deal. If you need to transfer 3GB a month then the £30-a-month commitment will cost you an additional £120 over the life of the contract.
While the price seems reasonable if you need a mobile broadband connection, the contract does seem a little on the lengthy side - two years is a long time in the life of a laptop.
Apart from baked in 3G, the Vodafone-branded Mini 9's spec isn't all that surprising. It's powered by a 1.6GHz Intel Atom N270 processor and 1GB of DDR 2 memory. The screen stretches to 8.9 inches and packs in a standard 1024 x 600 pixels. Dell has gone down the solid-state route when it comes to storage, opting for an 8GB SSD.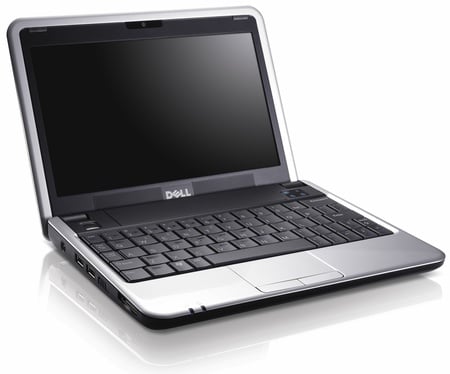 The best-looking SCC yet?
Completing the list on the wireless front, there's both Bluetooth and 802.11b/g Wi-Fi for your cableless communication needs. You'll find the usual three USB ports on offer - two on the left, one on the right - plus VGA, SD/Memory Stick slot, wired Ethernet plus 3.5mm headphone and microphone sockets.
You may have seen pictures of the 9 decked out in red and white, but currently the only colour available in the UK is black. However, it's a super swish piano black finish that looks fantastic. You'll need to ensure you've got a cloth handy at all times to keep it looking spotless as it's prone to picking up greasy finger marks.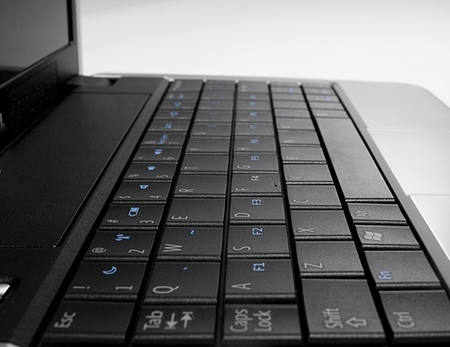 Cleverly designed keyboard - if you don't use Function keys
The lid slides down behind the main body of the machine when you open it up - similar to many netbooks - and there's the usual 0.3-megapixel webcam sat a top the screen.
Despite its small footprint, Dell has clearly spent some time trying to cram in as large a keyboard as possible. Perhaps the most noticeable result of this approach is the complete lack of function keys along the top of the keyboard. This means the rest of the keys can be much taller, providing a larger strike area and cutting down on mistypes. If you still can't live without your Fn-based shortcuts, F1-F10 have been relegated to the second row - simply press Fn then A-;. If you need F11 or F12, though, you're out of luck.

The usual SCC ports, on the left...
The touchpad is small but responsive, filling the remaining vertical space between the keyboard and bottom edge, bar two small left- and right-click buttons. Unlike many machines with dedicated volume, wireless and ambient temperature buttons, the Dell is distinctly minimalist in comparison. The power button sits alone above the keyboard and everything else is relegated to a secondary function of an existing key on the top row.
When it comes to performance, the Mini 9 is a bit of a mixed bag. It only just missed on the top spot for CPU performance running PC Mark05 and it was almost as good for memory. Hard drive results were shocking, in comparison, with its solid-state drive unable to keep up with the spinning platters offered by the competition.

...and the right
It had no trouble chomping through our Gimp Gaussian Blur test, managing to chew through it in a mere 5.1 seconds putting it second only to the aforementioned Advent 4213.
PCMark05 Results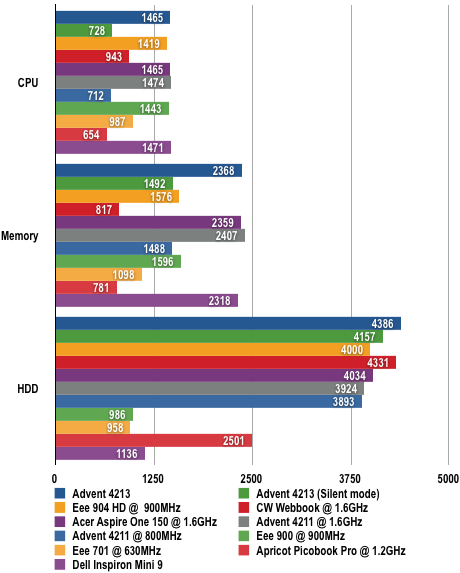 Longer bars are better
The Gimp Results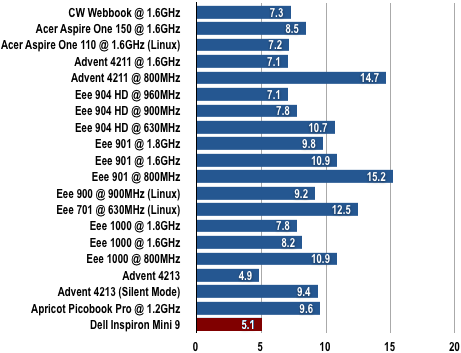 Time in Seconds
Shorter bars are better
Battery Life Results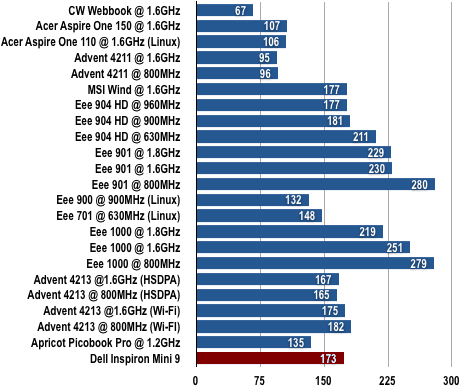 Time in Minutes
Longer bars are better
Running our standard battery life test, which involves playing standard-def video full screen on repeat, at maximum screen brightness and with Wi-Fi turned on, we found the Mini 9 could still give its rivals a run for their money. It came in just two minutes shy of the Advent 4213, giving it a mid-table placing for battery life.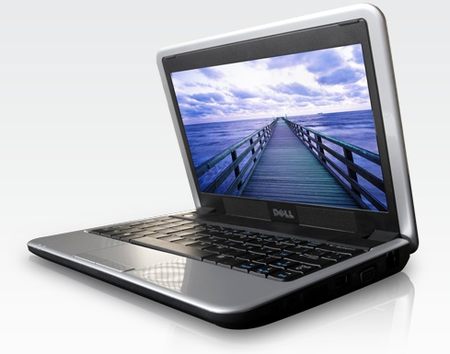 Middle-of-the-road performer
The Vodafone-supplied model comes with XP pre-loaded - you'll need to go direct to Dell if you want the Linux version. You also get a copy of Microsoft Works thrown in to boot and thankfully, unlike the version seen on the Advent 4213, you don't need to sit through adverts while working away.
A copy of Vodafone's Mobile Connect software is also pre-loaded to manage the 3G connection and there's an SMS app included as well so you can fire off 160-character missives without having to resort to predictive text.
The SIM card slots in underneath the battery - which would normally be a bad thing, but since the only way to get a 3G enabled Mini 9 is with a new contract from Vodafone, chance of you wanting or needing to swap it out on a regular basis are slim.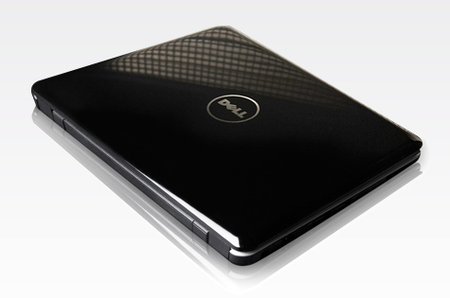 Shiny, sexy... fingerprint magnet
That's probably true of the Mini 9's internal workings too. But if you do fancy tinkering with the storage, memory, Wi-Fi and 3G cards, they're all easily reachable by removing just two screws and a panel on the Mini 9's base.
Verdict
Without doubt, the Dell Inspiron Mini 9 is easily the nicest looking netbook on the market so far, and its performance scores show it's no slouch when it comes to crunching numbers. Despite its small footprint, it has a decent-size keyboard and provided you can live with the function keys being relegated to a secondary location, it's a good compromise.
On the downside, its SSD drive is not only small but also a bit on the slow side. The built-in 3G is also a bit of a mixed blessing as currently you either have to enter a two-year contract with Vodafone or go without completely. We'd much prefer at least the option of buying a 3G enabled Mini 9 outright - especially given that who knows what the laptop market will look like in two years' time. That said, if you're going to £25 a month to spend anyway, a free netbook certainly isn't to be sniffed at.