Original URL: http://www.theregister.co.uk/2008/10/28/review_storage_hard_drive_wd_caviar_seagate_barracude/
WD Caviar Black 1TB vs Seagate Barracuda 7200.11 1.5TB
High-capacity hard drive shoot-out
Posted in The Channel, 28th October 2008 12:02 GMT
Review Western Digital offers its Caviar desktop drives in three varieties that are identified by a handy system of colour coding. Caviar Green is cool, quiet, eco-friendly and - to be frank - lacking in performance. In the mid-range, we have Caviar Blue, which offers performance and reliability with up to 16MB of cache and a maximum capacity of 750GB.
The high end is claimed by Caviar Black, which offers maximum performance thanks to a few tweaks that have been borrowed from the awesome VelociRaptor Enterprise drive. We're looking at the Big Daddy WD1001FALS with 1TB of storage but if you prefer you can opt for a model with a smaller capacity of 750GB, 640GB or 500GB.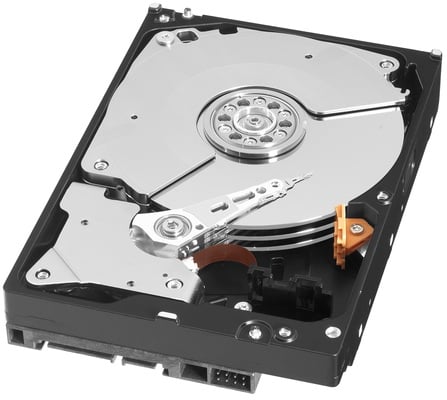 WD's Caviar Black: three platters, one terabyte
The capacity of a hard drive depends on a high areal density to reduce the number of platters and, in turn, read/write heads, which keeps costs down while also increasing performance. In the case of the Caviar Black, WD has crammed its terabyte of raw storage onto three platters, but this isn't ground-breaking as Samsung managed the same trick with its SpinPoint F1 HDD six months ago.
It is, however, progress for WD, as the its previous terabyte drive, the RE2-GP, required four platters and eight heads to achieve that headline capacity.
The platter count has a marked effect on pricing, and the terabyte Caviar weighs in at £118. This yields a cost of 11.8p per gigabyte, which is rather steep. The other three members of the Caviar Black family are the 750GB, which also uses three platters and costs £93, raising the per-gig cost to 12.4p. The 640GB and 500GB each use two platters and cost £56 (8.8p/GB) and £48 (9.6p/GB), respectively. So the 640GB model is the value option but it still carries a premium compared to competing drives, which cost about 8p per GB.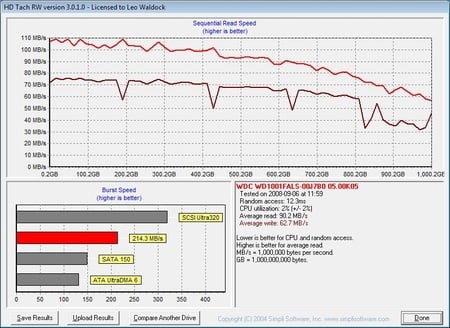 Click for full-size image
Each member of the Caviar Black family has 32MB of cache, which doesn't seem strictly necessary but increasing the amount of cache seems to be a trend in the industry. Naturally, these performance drives operate at 7200rpm and support a 3Gb/s SATA interface.
The main points of interest are those VelociRaptor features. In particular, there are dual processors to handle the data flow, and a technology that WD calls "StableTrac" which supports the motor shaft at both ends to reduce vibration and thus help the read/write heads to do their jobs better. The third feature is "NoTouch" ramp-loading technology, which ensures that the heads never touch the platters, increasing reliability. WD clearly has faith in all this as it offers a five-year warranty on the Caviar Black, just as it does with Raptor and VelociRaptor, while Caviar Blue and Green come with a shorter three-year warranty.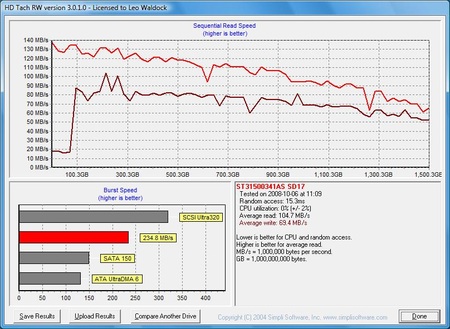 Click for full-size image
In our testing, the Caviar Black performed impressively and beat our reference Hitachi 7K1000 by a handy margin in every test, although the Hitachi is surprisingly speedy when it comes to loading Windows. The specification claims a typical noise level of 29dBA which suggests that the Caviar Black should be quieter than the Hitachi, which has a noise rating of 32dBA, but that wasn't how it sounded to our ears. When the WD is working hard, it ticks away in a similar fashion to the Raptor family and is relatively noisy under load.
This just goes to show that the specification doesn't necessarily give the full picture.
Ordinarily, we'd sign off this review with a 'Buy' recommendation, provided you can stand the price and noise, but we've got something special in the shape of a 1.5TB Seagate that should grab your attention. It's the most capacious member of the Barracuda 7200.11 family, sporting an enormous 1.5TB capacity. That's 1500 metric gigabytes or, to put it another way, this is a hard drive that is so colossal that you appear to lose more than 100GB when the drive is formatted by Windows. The reported capacity is 1,397GB.
This enormous capacity is achieved with four platters and eight heads, and an impressive areal density of 375GB per platter.
The family of Barracuda 7200.11 drives covers a multitude of configurations and starts with a model that is a tiny 160GB in size. It's presumably based on a single-sided platter and a single head. It has 8MB of cache. The 320GB model would have a double-sided platter and we suppose that the 500GB, 640GB and 750GB drives are built around two platters. The 1TB drive is doubtless a triple-platter drive, and the king of the heap is the four-platter 1.5TB boy. There's a bit of a song and dance about the amount of cache on each model as the middle rankers can have either 16MB or 32MB of cache, while the two big boys definitely, absolutely have 32MB.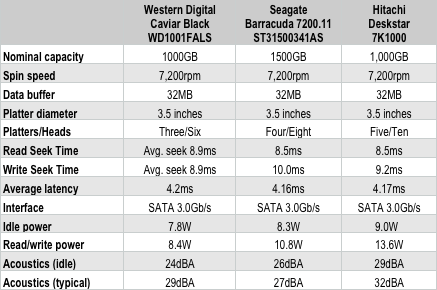 Windows Vista Load Time Results

Time in seconds
Shorter bars are better
Data Copy Results
Duplicate 2GB on each drive

Time in seconds
Shorter bars are better
Data Copy Results
Drive-to-Drive 2GB Transfer



Time in seconds
Shorter bars are better
The figures suggest that the majority of the models use platters with a capacity of 320GB or 333GB, while the 750GB and 1.5TB models have a higher areal density of 375GB. This is reflected in the price of the drives as the 500GB, 640GB and 1TB models cost 8-8.4p/GB, while the mighty 1.5TB model works out to 9.3p/GB. It's the 750GB drive which spoils things, as it sells for the same price as the 1TB model and that raises the unit price to 10.9p/GB.
PCMark05 Results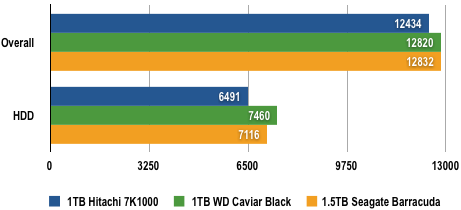 Longer bars are better
Why all the talk about platter size and areal density? It affects the price of course, and also results in that huge 1.5TB headline capacity but the fact of the matter is that the areal density is the only noteworthy feature of the 7200.11 Barracuda. Well, almost.
Honestly, it looks as dull as ditchwater and merely supports the usual set of 3Gb/s SATA features but we don't care about any of that as the performance is absolutely stupendous.
HDTach 3.0.1.0 Results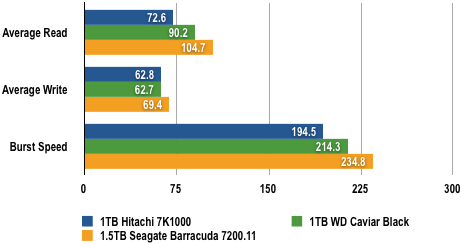 Speeds in megabytes per second
Longer bars are better

Time in milliseconds
Shorter bars are better
The WD Caviar Black impressed us in HD Tach but the Barracuda 7200.11 delivered Read, Write and Burst speeds that are so fast that they almost match the WD VelociRaptor. The time taken to transfer 2GB of test files from one drive to another seems to be limited by the speed of the second drive working in conjunction with the Barracuda. Transferring files from one part of the Barracuda to another adds a whole new meaning to the word 'brisk'.
Despite this prodigious performance, the Seagate ticks away quietly when it is working hard, although it doesn't quite match the whisper-quiet Hitachi 7K1000.
Verdict
The Barracuda 7200.11 has an enormous capacity, is very fast, has a modest price and operates quietly. It's clear that SSDs will replace hard drives in time, but with drives like the 1.4TB Barracuda around, that still lies some way in the future.