Original URL: https://www.theregister.co.uk/2008/09/27/review_eyetv_deluxe/
Elgato EyeTV DTT Deluxe 'world's smallest' USB TV tuner
Smaller than a Flash drive
Posted in Personal Tech, 27th September 2008 08:02 GMT
Review TV-on-Mac specialist Elgato's latest offering has two features it hopes will win over buyers: the MacBook Air-friendly size and its inclusion of the most recent digital video recorder software.
We think there's a third reason to buy: a superior aerial design. The Deluxe is tiny - smaller than any other USB TV tuner we've seen and quite a few USB Flash drives for that matter. Elgato's pitching the gadget at MacBook Air owners, who'll appreciate the fact that it fits into the skinny laptop's single USB port with room to spare.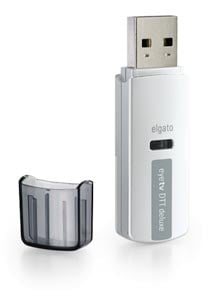 Elgato's EyeTV DTT Deluxe: world's smallest TV tuner?
And because it's only extends 2-3mm beyond the width of the connector on either side, it doesn't block other ports, on the Air or elsewhere. Elgato's new EyeTV DTT is cheaper than the Deluxe - £40/€50 to £60/€80 - but it may still block block ports on a laptop and is somewhat larger.
At the far end from the USB connector, you'll find the antenna socket, and here Elgato's done us proud. It's aerial improvement all round. Bundled with the tuner is the customary antenna. But it's been enhanced with a pivot that allows you to tilt it from the vertical to the horizontal and all angles in between. As usual, it has a magnet in the base, but that's not always helpful, so Elgato has also bundled a clip on suction cup.
That's not all - Deluxe buyers also get a second antenna, a tiny telescopic job of the kind you'll seen on any transistor radio.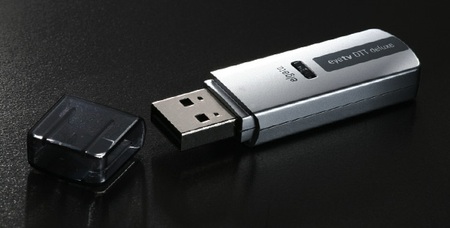 No bigger than a USB Flash drive
OK, so all TV tuners come with a least one antenna, so what's the big deal here? Well, we applaud Elgato for giving us a choice of aerial, but what really matters is that these new ones make for much better reception than the previous ones did.
The antennae that come with USB TV tuners tend to be rigid. You plug it in, and all you can do to find a better signal is move it around a bit. The new aerials' ability to pivot means you can quickly and easily try a range of orientations to get the best signal.
For instance, we tried the telescopic aerial first, raised to its maximum extent and pointing straight upwards. Elagto's EyeTV 3 software reported an average signal strength but a poor signal quality - visually obvious from the blocking in the picture.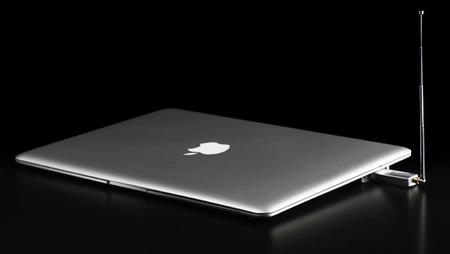 Air friendly
So we pushed the antenna down so it was horizontal. The signal strength barely changed, but the signal quality rocketed up to 90 per cent, and we were able to watch BBC News without interruption.
This is a big improvement over our past experiences with USB TV tuners connected to portable antennae. We've had to put up with iffy reception partly because Freeview's broadcast strength is poor - roll on the analogue switch-off, we say - and partly because you can't always find somewhere to stick the antenna so it's in an optimum orientation. Now we can.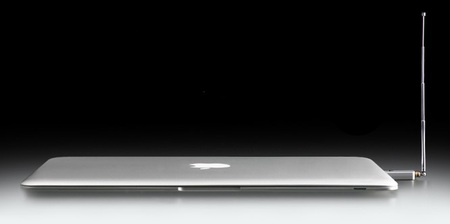 Doesn't block other ports
It also allowed us to pick up more channels than before. Both the superior reception and better channel detection come with a single antenna and tuner - there's no need for the two-aerial approach Elgato offers with its Diversity tuner. That said, while we're not in an ideal Freeview reception area - line of sight to the transmitter - we're not in a marginal area, either. Diversity - also recently upgraded with the better antennae - may be better for some users.
That said, no tiny aerial is going to match the pick-up a roof-top job can bring, at least until the Freeview signal is boosted considerably. Indeed, even with the ability to adjust the antenna to maximise the signal, sometimes we had no joy at all. Channel 4, picked up clearly on the fourth floor of a North London home, was entirely absent on the third floor, along with all the other channels on its multiplex.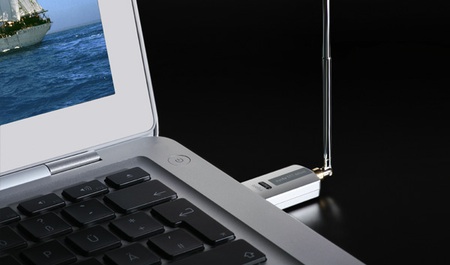 Re-orientate the telescopic antenna for better reception
Should we blame Elgato for that? The Deluxe has no trouble when connected via an adaptor to a fixed roof-top antenna, so there's nothing amiss with the hardware. No, blame Freeview, and its weak signal. Elgato may be blameless, but that doesn't help its product's reception any.
In addition to the two aerials, the Deluxe comes with a Freeview-friendly remote control - there's an infrared port on the top of the tuner. It's Elgato's standard TV-remote-sized unit, but given the emphasis on the Air, which is a traveller's machine, we'd have preferred a smaller, more stowable remote.
Speaking of the Air, which we used to try the Deluxe, it's a laptop that's perhaps not best suited to a heavy duty DVR app like EyeTV 3. Since it is a DVR app, it's constantly buffering what you're watching on to the hard drive, to allow you to pause and rewind. That has the HDD-equipped Air's 4200rpm 1.8in drive spinning flat out, and combined with EyeTV's CPU and GPU overhead, soon had the Air's normally near-silent fans humming away.
Fortunately, you can minimize the drive use by reducing the size of the recording buffer and electing to keep it in memory - not a problem given the Air's 2GB. EyeTV uses 55-60 per cent of the Air's CPU resources.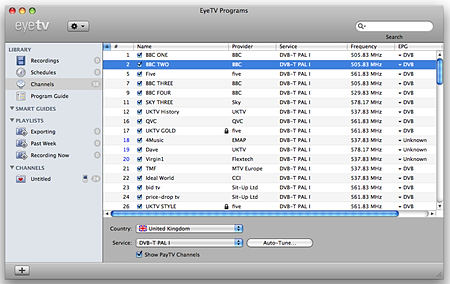 Elgato's EyeTV 3: the best Mac DVR app?
In addition to the DVR stuff, EyeTV provides easy tools to convert recorded programmes into iPod-, iPhone- and- AppleTV-friendly formats, and will back them up to DVD if you have a drive and Roxio's Toast Titannium installed.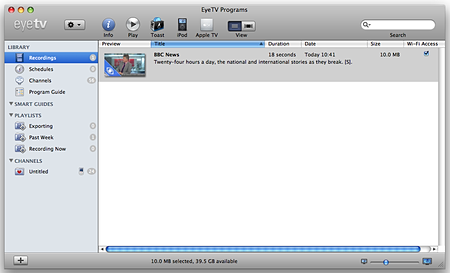 Recordings are ready to be converted into an iPod-friendly format...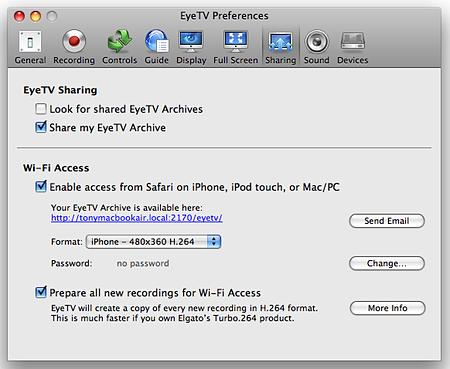 ...and even streamed over your network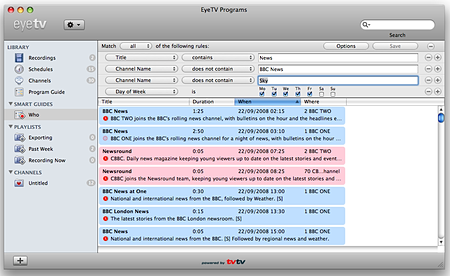 Filter channels and programmes, for smart recording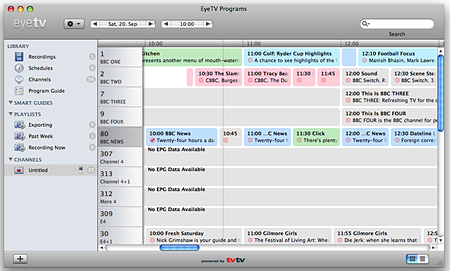 Present your favourite channels, complete with EPG info
EyeTV borrows heavily from iTunes' look and feel, providing 'smart' and manual playlists in addition to the channel run-down and list of recordings. It'll grab Electronic Programme Guide info from Freeview and from a number of online services, to allow you to schedule recordings.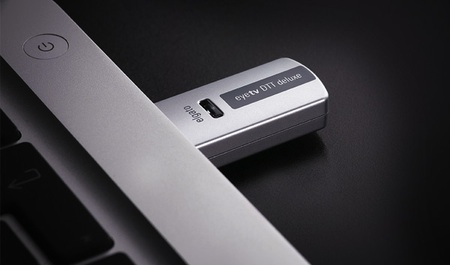 TV on the go
We particularly liked its smart scheduling system: filter programmes listed in the EPG using a huge array of criteria, then set the results to be recorded automatically. This way you'll be able to record the programme Merlin that appears on BBC One, but not repeats on BBC Three or similarly named shows that may pop up on Channel 4, Sky Three, Five or the ITV channels.
It's easy to set up a collection of favourite channels - EyeTV will handily filter out radio or pay-tv channels, but not both at once, alas - and though it took us an age to work out how to re-order and delete channels added to a favourites list, it is possible to do: go to list view rather than the default timeline view.
EyeTV 3 also introduced the ability to stream recordings to other devices on your local network and on the internet. Locally, it's cute sitting in bed watching a recording made on a Mac in another room earlier that day. We tried it on a first-gen iPhone over the cellular network, and it wasn't good - much better trying it on an Asus Eee PC connected over HSDPA 3G.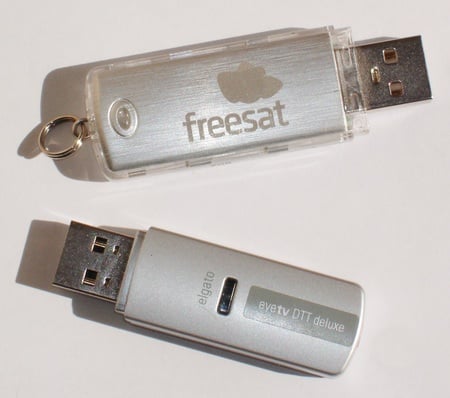 Which is the memory stick and which the tuner?
Verdict
Elgato's EyeTV DTT Deluxe retails for £60/€80, which we reckon is pretty good value given the quality of the software it comes with - EyeTV remains the best Mac DVR app out there by far. If you already have a tuner, Elgato will soon sell you the Deluxe's bendy antenna for £7/€9, so that's a better upgrade unless you're desperate for a tuner that connects directly to your Air. And not just Air owners - any Mac user fed up of dangling their dongle off a USB extender cable will appreciate the Deluxe's tiny dimensions.