Original URL: https://www.theregister.co.uk/2008/09/24/first_look_g1/
Hands on with the T-Mobile G1
An in-depth and hands-on look at the phone everyone's talking about
Posted in Personal Tech, 24th September 2008 09:08 GMT
First Look The G1's looks, specifications and, crucially, launch date have already been widely reported. So, that just leaves one question on everyone's lips: what's the Android-based talker actually like to use?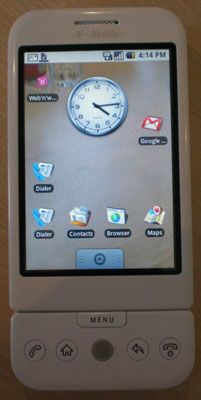 The home screen on T-Mobile's G1
At yesterday's launch, Register Hardware tested the phone and we quickly found ourselves immersed in the new, but somehow strangely familiar, world of Google's Android platform.
If you've used the iPhone or a Windows Mobile 6.1 handset before, then you'll feel at home with Android because it seems to incorporate elements from both rival platforms.
For example, the G1's home screen lets users move their most frequently used application icons, such as camera, wherever they like. Each time an icon's moved, haptic feedback makes the phone gently vibrate. The clock's position can also be moved.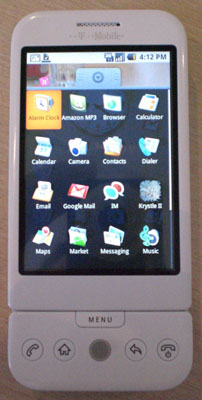 Icons on the application sub-menu can be moved around
More applications than those shown on the home screen are hidden away in a collapsible sub-menu, which lists everything from Google Maps and Messaging, to a bizarre animal game called Krystle II. Each icon's position can be moved about onscreen or dragged off and plopped onto the home screen.
Richard Warmsley, Head of Internet and Entertainment at T-Mobile UK, told Register Hardware that the G1 was designed primarily to appeal to anyone that either surfs on the move or who's a social networking addict.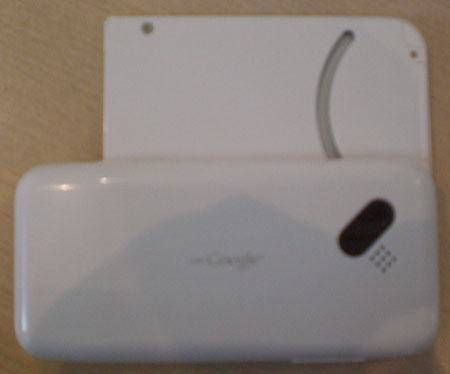 The phone's rear shows the severity of the screen's sliding motion
As such, the phone's been given a physical Qwerty keypad. Although it may look just like the keypad on Motorola's Sidekick handset range, the G1's manufacturer – HTC – has given the phone's keypad a unique twist, by making the screen slide across and over the keypad.
This feature's hardly ground breaking, but it's a new take on existing boring designs where the keypad simply pulls out from beneath the screen.
Once you discovered the keypad, you're ready to make use of the G1's 7.2Mb/s HSDPA 3G capability and surf the web through Android's dedicated browser. Although we thought Google had simply slipped Chrome into the platform, Warmsley assured us that the G1's browser isn't Chrome – it just looks like it!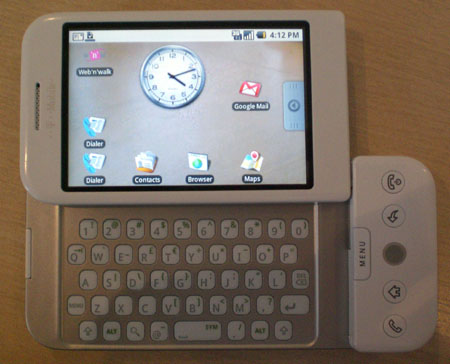 Haptic feedback on-screen and a Qwerty keyboard
The browser lets you open multiple pages in a thumbnail fashion, rather than tabbed browsing. This means you can have around six pages open within one window at any given time, a display style that takes a little getting used to.
Zooming in or out of webpages is more laborious than on the iPhone, because Android's browser opts for dedicated zoom in/zoom out keys. However, these two magnifying glass icons kept disappearing, meaning we often clicked on embedded webpage links when we just wanted the zoom icons to reappear.
But, the alternative option of sweeping a magnifying glass rectangle over the page with your fingertip is a useful tool.
Android also has an iPhone App Store-esque shop called Android Market that lets developers upload their own applications for use on the Google platform. We peeked inside several categories, which include Games and Lifestyle, and found that most were already bursting with potential downloads.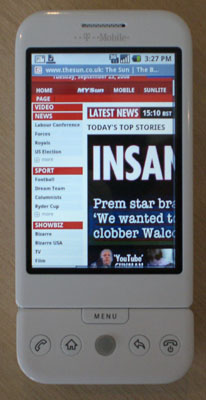 Up to 7.2Mb/s HSDPA 3G
Be warned though, the applications aren't free and prices are set by individual developers. Payment's made by credit card, in a very similar fashion to iTunes' payment process.
Navigating your way through the various applications and icons is easy, as you can either pinpoint which one you want with your finger or slide a cursor over your choice with the G1's Blackberry-esque tracker ball.
If photography's more your thing, then you'll be disappointed by the G1. It sports a 3.2-megapixel snapper, but the camera's not capable of zooming in or capturing video.
However, Warmsley hinted that a zoom facility could be added in future, which suggests that a firmware update could find its way to the phone soon after the UK November launch.
The phone's storage capability is reasonable, because it has 2GB of on-board memory and supports Micro SD cards. But you'll need a dentist's toolkit to get the memory card out, because it slots out from behind a tiny and oddly shaped panel on the phone's side.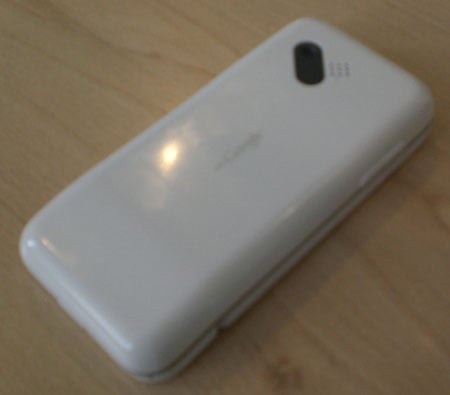 The G1 doesn't have a user-facing camera
The 3.2in 320 x 480 screen displays videos clearly and Android's integrated Music application helps organise and belt out tunes in a range of formats, including MP3, AAC and WMA. It's worth noting that the G1 doesn't sport a 3.5mm headphone jack, so an adaptor will likely be on your list of accessories to buy if you opt for the G1.
So, what else did we think was cool about the much-hyped Android-based G1? Well, it's got a nice weight to it, 158g to be exact, which makes the phone feel sturdy in your hands.
The bottom section, which houses the tracker ball and associated buttons, juts out at a slight and almost unnoticeable angle. This might sound like a moot point, but this ensures that the phone's rear-end curves comfortably around your jaw line.
When a text message comes in the SMS' content scrolls across the top of the phone's screen. This will be handy if you're mid-way through a web session and can't be bothered to open the message up yourself.
The G1 is manufactured by HTC and will be available exclusively though T-Mobile in the UK this November. It'll be free on the network operator's £40 per month tariff, which comes with unlimited web access.