Original URL: http://www.theregister.co.uk/2008/09/16/review_blackberry_bold_9000/
RIM Blackberry Bold 9000
Smart looks and a feature-full package
Posted in Personal Tech, 16th September 2008 11:56 GMT
Review Research in Motion's BlackBerry series has been trying to edge its way into the pockets of consumers for some time, and despite its hefty price tag, the new Bold could be its best attempt yet.
It's certainly a stylish looker: all black and chrome with splashes of red for the keyboard numbers. Its appearance is smooth enough so you don't look like a sad office drone the moment you unleash it from the bundled leather pouch.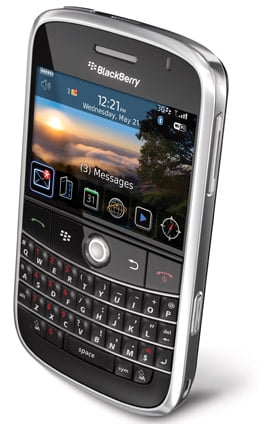 RIM's BlackBerry Bold: consumer friendly
It's not the most petite Blackberry - that honour would go to the Pearl series, which makes more of an effort to look like a standard mobile phone. But though it makes no secret of its business cred, the Bold offers the best combination of practicality and desirability we've yet seen from RIM.
On the front, the Bold has a full Qwerty keyboard, which necessarily bulks it out at the sides. At 66mm it's not huge, but still makes for a broad pocketful. Fortunately, those portly dimensions aren't echoed with its thickness, and at a mere 15mm it feels surprisingly svelte in the hand.
The back has a nice leather effect which grips tabletops nicely, and on the sides there are a volume rocker, camera shutter button, USB port, Micro SD slot - though you'll need to supply your own memory card - 3.5mm headphone socket and a dedicated voice notes button.
Back to the front and that keyboard, as we've come to expect from RIM, is as good as any you'll find at this size, with nicely spaced, correctly angled buttons that are easy to pick out with your thumbs. All your favourite punctuation marks and symbols are all up front too, so you rarely need to go searching in additional menus – a boon for longer texts and emails.
Above the keyboard are call start and stop buttons, menu and back-step buttons, plus the rightly acclaimed BlackBerry trackball, which is responsive and effective for navigating your way around the menu system.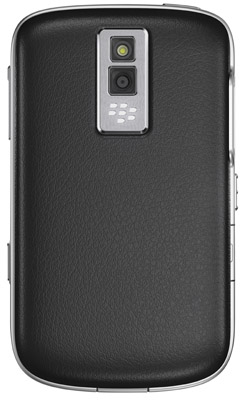 The 2 Mp camera isn't a highlight, but it doesn't put you off
The screen can render 65,000 colours, which sounds a little underpowered in these days of million-colour screens, but it's sharp, clear and bright and doesn't even look too bad in bright sunlight.
Email is, of course, still the BlackBerry's strength, and RIM hasn't dropped any obvious balls with this model. Accounts are easy to set up, and your email is pushed to you as frequently as you like. DataViz' Documents To Go for Blackberry is also included so you can create Word, Excel and PowerPoint documents on the go and attach them to your mails - end edit incoming attachments.
Browsing on the Bold isn't quite the visceral experience you get with some of the smarter touchscreen phones, but it's still perfectly serviceable. The trackball serves admirably for scrolling around web pages horizontally, vertically and diagonally, while a single tap allows you to zoom in on text when you need to. There are also lists of previous pages, web feeds, bookmarks and all the usual browsing tips.
The Bold's HSDPA 3G connection allows for a good browsing speed of up to 3.6Mb/s, though Wi-Fi is on board too for locking on to a full broadband connection.
The camera might only have a maximum of two-megapixel resolution, and it's clear that photography isn't a main selling point of the Bold, but neither is it bad enough to put you off.
As we mentioned, there's a dedicated shutter button on the side and access is surprisingly quick compared to some better-specced snappers – around two seconds by our stopwatch, which is pretty nippy for a phone, and makes it a very useful tool for quick pics.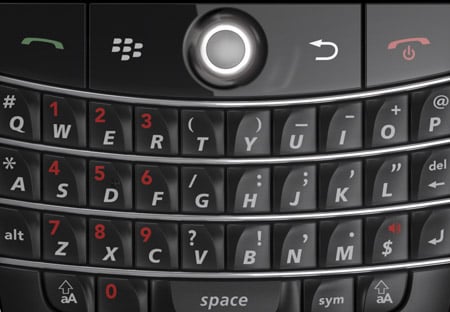 Certainly stylish: black, chrome and splashes of red for the keyboard
There are no on-screen menus, however, and you'll need to exit the viewfinder to choose your settings. Pictures were of a reasonable quality at the maximum 1600 x 1200 resolution setting, with fair colour balance and the kind of picture sharpness you'd expect for this pixel level - which isn't meant as a criticism. Flash light comes courtesy of an LED, but as usual with these things, it's only of use when you're really close to your subject.
You also have the option of geotagging your pics. There are a few options for post-pic editing, but they tend to be of the serious 'rotate', 'zoom' and 'view actual size' varieties rather than the fun kind where you can add hilarious moustaches or frames, which seems in keeping with the whole BlackBerry business vibe.
There are also quick options for sending freshly snapped pictures as email or an MMS, by Bluetooth, and uploading directly to Facebook - there's an on-board Facebook application - which will be handy for some.
The music player is rather good, though there's none of that dedicated music button malarkey you get with music-centric phones like Sony Ericsson's Walkman W980.
With the Bold it's all controlled on-screen using the track ball, though there are automatic shuffle, repeat and replay options as well as the ability to create playlists. It goes surprisingly loud too, though an on-screen warning pops up to tell you that you might damage your hearing. But, unlike the iPod, at least it has the good grace to leave the decision to us.
The loudspeaker sounds surprisingly full - or are we just getting a bit too used to listening to music on tinny mobile phone speakers these days? Either way, it's certainly got more bass than most phone speakers. The supplied headphones aren't bad either, though they lack a bit in dynamic range at either end of the scale, which leaves the music sounding a bit closed in.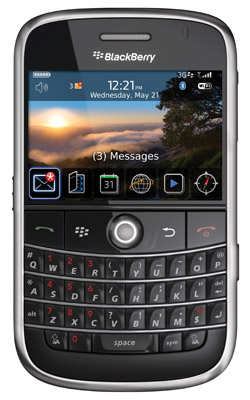 Complete connectivity: 3.6Mb/s HSDPA 3G and Wi-Fi
Thankfully, you can add your own headphones thanks to the 3.5mm socket, or using Bluetooth - the Bold supports playback over A2DP wireless stereo.
As hinted earlier with the photo geotagging feature, there's GPS on board backed up by BlackBerry Maps. It's not bad, but suffers from the inevitable comparison with Google Maps. However, you can always add the Google tool, or others such as TomTom.
BlackBerry Maps will get you out of a tight spot when you're on foot, but we found it could be frustratingly slow on occasion while driving. In the car you can keep the phone charged up - outside it, battery life wasn't great and we generally found ourselves needing a recharge on the second day of use, though keeping the Bluetooth turned off helped.
Verdict
The BlackBerry Bold is a beautiful combination of understated elegance and top-notch practicality, though with a price to match its classy looks. It's still ahead in practical terms of business pretenders like the iPhone and the HTC Pro, and even though camera and GPS aren't of the very best, its excellent Qwerty keyboard even puts Nokia's powerful N71 in the shade.