Original URL: http://www.theregister.co.uk/2008/08/12/review_philips_42pfl9603d_lcd_tv/
Philips Cineos 42PFL9603D Ambilight LCD TV
Enjoy the HD experience, now with added Ambilight
Posted in Personal Tech, 12th August 2008 11:51 GMT
Review Philips' Ambilight feature at first seems bizarre: back-mounted lights that change hue as the dominant screen colour does. However, it's hard to switch off once you've used it.
So what do we make of Philips' new, uncompromisingly-designed LCD model that has hidden speakers, the latest image processing technology and Ambilight? Well, let's start with the TV actually switched off.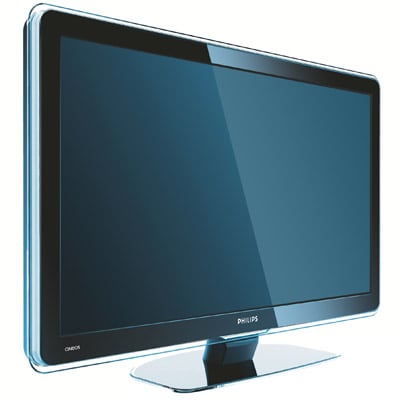 Philips' Cineos 42PFL9603D: a screen with a 'shroud'
Funny, isn't it, that frame design should be such a personal thing? While some screens have the blandest of black or silver square-edged frames, others mount massive speakers exactly where you don't want them, or decorate the bezels with extra shapes and detail.
Screens, when they're off, fall into two camps: inoffensive and... well... let's generously say, adventurous. Here, decidedly in the latter, Philips has come up with a modernist, shiny, see-through curved-edged machine. This transparent part of the frame, by the way, is called a shroud - not such a friendly name. Behind it is a pleasingly slim bezel making this 42in frame not look too huge.
Setup is easy, with installation of channels the automatic process we're used to. Then the setup assistant helps you find your ideal picture settings, inviting you to choose between split screens with subtly different effects, allowing you to find your personal preference. As you move through the options, behind-the-scenes the software adjusts contrast, colour, brightness and so on furiously while you simply pick the picture that looks best.
So you don't need to know that contrast and motion are what you're configuring – just go with your gut feeling. Of course, if you want to, you can later adjust every one of the telly's settings manually to your satisfaction. Sound settings follow, and your preferences are stored.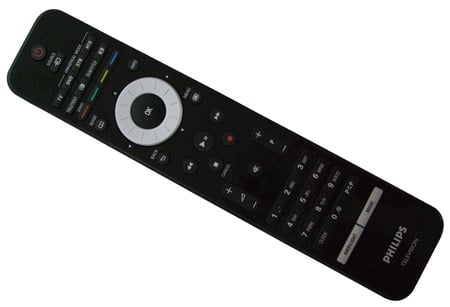 An otherwise perfect remote is let down by the scroll wheel
Remote controls are often a disappointment on flatscreen TVs – you've spent over a grand and you've got a plain, plastic-feeling remote with dull oblong buttons. The gloss black model that accompanies this TV looks great and is easy to use, with a straightforward layout and clear buttons for items such as Ambilight.
It's slightly let down by a scroll, wheel which isn't as accurate as it should be – you sometimes find it takes you an item further in the menu that you want. Never mind, you can still use it as a direction pad to go up, down, right and left.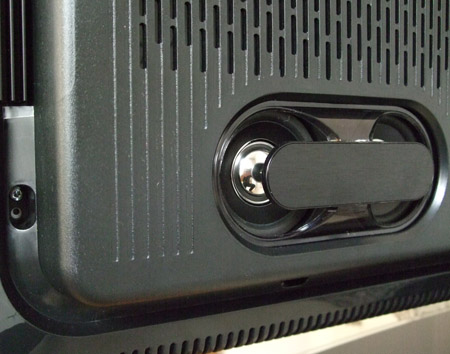 Rear-facing sub-woofers use the wall behind the TV to bounce bass back at you
Image processing is a real Philips strength – though in the past its Pixel Plus system has divided critics, many of whom have felt it can sometimes make images just too sharp and detailed for comfortable watching. Here, the image processing engine is called Perfect Pixel. Not only is this quite a claim, you do wonder where Philips will go to better Perfect next time around. Divine Pixel, perhaps...
When the Philips experts dropped off the TV, they recommended settings that reflected the belief that the overall Perfect Pixel engine can handle most things itself so that Perfect Motion and Dynamic Contrast can be safely left on minimum settings. Certainly the picture performance bore this out.
This TV has more connections than the Kennedys: there are three HDMI sockets on the back and a further one on the side for a games console or camcorder. They all offer the most advanced colour capabilities of HDMI – like most aspects of this TV, the connections are cutting-edge. Component-video is on the back, composite-video on the side, and there are two Scart connectors for those old-school machines you need to hook up. There are also USB and headphones sockets on the side, again for easy access.
This TV runs at 100Hz, the speedy refresh rate that promises smoother, less smeary results than the 50Hz LCD TVs of yesteryear. That promise is kept. With many of the settings on low or even off, the main picture processing engine did its work very well. Additionally, the over-sharp edges that has put some Philips users off in the past seemed absent.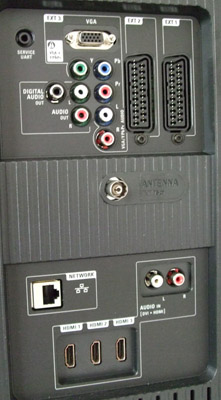 This TV has more connections than the Kennedys
Image quality, it must be said, was exceptional. Of course, standard-definition Freeview channels can disappoint on larger screens as every picture flaw is blown up and revealed. But here natural, smooth skin tones were striking in their subtlety. Could you confuse them with HD? No, but this TV made regular SD signals, both from the built-in Freeview tuner and Sky look strong and engaging. Stylised TV like the excellent Mad Men Season 1 DVD was terrific, the lush retro pastel palette looking rich and gorgeous.
Moving to HD broadcasts demonstrated how good the capability to provide smudge-free fast-moving sports action was and movies shone with a richness in and out of shadow. The TV shop's favourite sources, 3D animations like Bee Movie, looked as sharp as you'd expect and sparkled with judder-free smoothness.
Regular real-life action was also easy to watch, looking obviously crisper than DVD, and the second Pirates of the Caribbean film on Sky HD was very convincing. Though no amount of image processing can make the performances look detailed or realistic, or smooth the ridiculously convoluted plot, of course.
Then there's that Ambilight. It'll never be to everyone's taste, and if you turn it up too high too soon it can be distracting. But on a lower level, the gentle lights on the back wall really do make for a picture that draws you in.

If eased into, the Ambilight can actually make a difference
This model has side-facing Ambilight lamps, but they're carefully positioned so that even if you're sitting well away from the centre of the screen, you won't see the lights themselves – a problem with some earlier models, apparently.
Sound is often a source of misery for flatscreen users, with sonic performance far down the priority list - you can almost hear the R&D team say, 'At this price, they'll be using a home cinema, surely?'
Here there are no visible speakers, and the ones built in fire out of the sides, using the curved shroud as though it was a horn to project the sound forwards. Round the back are sub-woofers which use the wall behind the TV to reflect sound back at the viewer. The results are strong – unlike many TVs, we had no need to adjust levels to make speech more audible without being blasted with music, for instance.
Verdict
These days, you can buy a 42in screen for less dosh than the £1800 Philips wants for the 42PFL9603D. And maybe you won't want that acquired-taste Ambilight switched on. Even so, the picture on this screen, ably supported by strong, clear sound, makes this screen a hard TV to beat.