Original URL: http://www.theregister.co.uk/2008/05/09/review_iubi_blue_pmp/
Iubi Blue personal media player
Not a bad box of tricks
Posted in Personal Tech, 9th May 2008 11:17 GMT
Review Anyone after a portable 30GB media player is quite possibly going to end up with either a Cowon A3 or the Archos 605, both of which we liked. Many might argue, however, that list should also include the Iubi Blue.
The Blue and the A3 share some pretty similar dimensions - 131 x 79 x 22mm and 133 x 79 x 22mm, respectively - causing us to suspect more than a few common components. In fact, the jack layout on the left-hand side of the Blue and A3 are actually identical.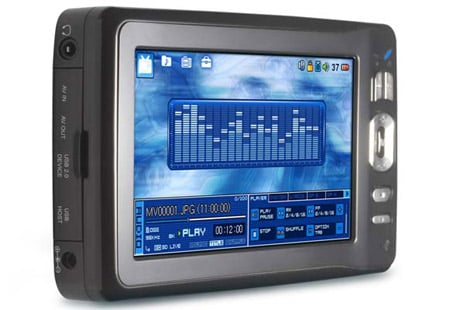 Iubi's Blue: modest display
In the hand, the Blue is all about black plastic. It squeaks a bit when squeezed and shows up fingerprints like a vault door in a bad detective film. We don't reckon it will fall apart any time soon, but it lacks the feeling of quality innate to both the 605 and A3.
Compared to the competition, both of which boast 800 x 480 screens running at a resolution of 480 x 800, the Blue trails behind with a more modest 480 x 272. Like the A3, the Blue will support video resolutions higher than it's actual screen resolution, in this case up to 720 x 480. As with the 605, the Blue's display measures 4.3in, but unlike its rivals, it only supports 256,000 colours and not the larger 16m-colour palette as the others do.
The Blue can't compete with the Cowon A3's phenomenally comprehensive format and codec support, but it doesn't do too badly, supporting MPEG-1, 2 and 4; DivX 3, 4 and 5; Xvid; WMV 9; H.264; AVI and OGM files for video, and MP3, WMA, WAV, OGG, AC-3, ASF and AAC-LC for audio. The majority of unsupported files can be bludgeoned into submission using the supplied transcoder software.
The controls are something of a mish-mash. A four-way navigation pad surrounds a central key labelled 'M' which you think intuitively would be the action key, given its location. Not so, to make something happen you actually press the Play/Pause key below the pad, while the Stop key is also the 'back' button. What the M key actually does is take you to other parts of whichever menu is on display.
Maybe that doesn't sound too difficult to master, but when combined with a less than crystal clear on-screen menu structure you can quite often find yourself wondering just how the heck you get it to perform certain tasks. Once you are used to it, things get easier, but even so...
One handy feature on the Blue is that you can hold the Fast Forward or Rewind keys down until it gets to your preferred speed - x12, x24 all the way up to x128 - then let go and watch playback continue at the chosen speed. This makes scanning back and forth through video files a breeze.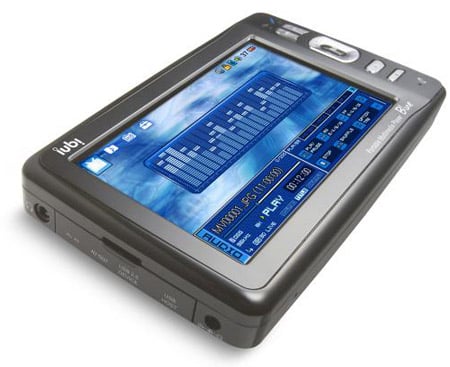 Its battery life licks rival PMPs from Archos and Cowon
Open a video file that you have quit before the end and the Blue will ask you if you want to resume play from the point you left off. We aren't entirely sure how many files it remembers, but it's certainly more than three, which is all the 605 can muster. Mind you, should it need to ask at all? Isn't this sort of thing supposed to be automatic?
The Blue comes with the capacity to record through an on-board microphone so can be pressed into service as a digital voice recorder. If you have a great idea and you have bought a 605, you'd better pray you have pencil and paper to hand, or a darn good memory.
Sadly, the Blue comes with a power brick that would not be out of place connected to a full-sized laptop though once charged it takes the honours for battery life. We got just over 7.5 hours of video and 12 hours of audio from a full charge, which is pretty impressive in our book, and for video is way better than the Cowon and Archos players, neither of which will get to much beyond five hours of video before they turn up their toes.
In an attempt to come to some sort of balanced judgement on the subject of video and audio quality we loaded it up with a 628 x 254 DivX copy of Die Hard 4, figuring that such a loud, brash and utterly diabolical, effects-driven pile of codswallop would show up any failings in spades on both the audio and video front. To check out the audio we used a 160Kb/s MP3 copy of Robbie Robertson's superb 1987 self-titled solo album.
The Blue was found a tad wanting, with just a little too much in the way of blur during fast panning shots, a rather washed out colour balance and some rather excessive pixelation on the darker parts of the screen. Of course, you have to remember that it is a handheld PMP rather than an HD TV, so its 'failings' would probably not be that obvious if it wasn't being compared back-to-back with the Cowon A3, which has a screen that is simply glorious.
The Blue's lower resolution display also let it down when it came to viewing still images, which again lack the sharpness and clarity of the same shots dispayed on the Archos and Cowon devices. Strangely enough, the Blue also refused to recognise a whole folder's worth of JPEGs that showed up just fine when loaded onto the other devices.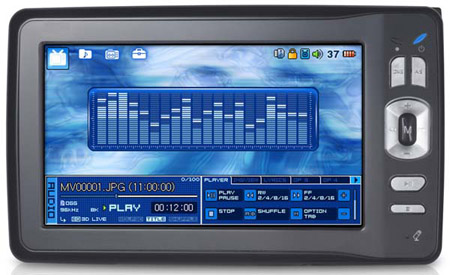 Audio on a par with any iPod
Sound modifiers on the Blue run to Bass Boost, Treble Boost, a 3D Depth setting and something called Wolfson3D, which doesn't actually seem to do much at all despite being supplied by Wolfson Microelectronics. Switching all the effects off and the Blue has a rather raw sound, but it still packs a hefty punch and is on a par with any iPod.
What the Blue does have in spades is volume. It incorporates small stereo speakers tucked around the back - the Archos, for instance, has one, at the front. Listening to a PMP through its speakers isn't generally a rewarding experience, but the Blue was by far the best that we've seen so far. Unlike the A3 or the 605, the Blue comes with A2DP Bluetooth, hence the name, so users can revel in the joys of wireless headphonery. This is definitely a big plus.
In terms of value for money, the Blue has the Cowon A3 whipped like a West Coast Eagle. Whereas the A3 will set you back around £230 for the 30GB model and £280 for the 60GB unit, the Blue will only lighten your pocket by £180 and £230, respectively, for similar capacities.
Verdict
So, does the Blue dip its fly in the Cowon and Archos ointment? Well, to a degree. The A3 has by far the best video playback quality of the trio, while the 605 is smaller and more pleasant to use. Of course, the 605 also has Wi-Fi, but as the current Archos fifth-generation web browsing experience is poor we wouldn't let that sway us. What the Blue has going for it is a more than decent battery life and Bluetooth, so if long airline trips or a hatred of earphone cables are your thing, it could serve you well.