Original URL: http://www.theregister.co.uk/2008/04/29/review_nokia_3110_evolve/
Nokia 3110 Evolve eco-friendly mobile phone
Green + gadget = ?
Posted in Personal Tech, 29th April 2008 11:02 GMT
Review The planet's warming up, and we want to do something about it. Yet we still can't stop using our power-gobbling gadgets. What's the best way to minimise this paradox? Ask Nokia, and it'll tell you to try its "environmentally-friendly" 3110 Evolve.
Nokia has taken the basic design of its 3110 Classic and added a few greener elements to the package. These include unpainted bio-covers made from over 50 per cent recyclable materials, a new energy efficient charger and packaging that's made of 60 per cent recycled material.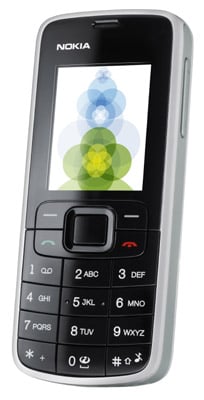 Nokia 3110: limited set of mid-range features
Obviously, anyone hoping for a bio-degradable handset and carbon-neutral production process will probably be disappointed. But at least Nokia's acknowledging the need for environmental sustainability.
That said, it's a shame that Nokia hasn't introduced the eco message using one of its more headline-grabbing mobiles, such as the N95 8GB. The 3110 Evolve isn't a particularly exciting handset and sports a limited set of mid-range features, including a basic, 1.3-megapixel camera and a disappointing low-resolution display. There's no 3G capability. Anyone seeking for a green-equals-austerity stereotype need look no further.
The 3110 Evolve's feature run-down is not bare-bones, however. You get a multi-format music player and FM radio; support for hot-swappable Micro SD expansion; and there's a Nokia web browser as well as Opera Mini, and several web-based applications, including WidSets and Yahoo! Go.
And for extra eco-cuddliness, Nokia has included links for the WWF - think wildlife rather than wrestling - within its browser bookmarks.
You may be uninspired by the drab grey side and back panels that offset the glossy black face of the phone, but these are some of the more eco-worthy bits of the device. The covers are made from over 50 per cent renewable organic unpainted material, which apparently reduces the carbon footprint incurred by its manufacture. Still, they do look dull.
The front has big enough numberpad keys to keep larger-pawed users happy, and a standard Nokia nav control and soft-menu keys. It has average candybar proportions - 108.5 x 45.7 x 15.6mm - and at 87g feels comfortable enough in the hand and pocket.
The 3110 Evolve is based on the standard Nokia S40 user interface familiar to Nokia phone fans. The display is disappointing: it can show 262,000 colours, but it's just 1.8in in size and has a weeny 128 x 160 resolution. It's the same days the one on the 3110 Classic, so it's not this size to conserve power.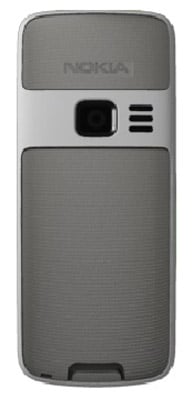 The recyclable, organic unpainted covers look a little dull
The interface presentation is consequently not as visually smooth as it is on other S40 phones with larger screens. The usual Active Standby screen option is available, pulling up notes, calendar reminders, music and radio status, plus handy icon-based shortcuts on the top of the screens. You can switch it off and rely on soft-menu key and nav-pad shortcuts, if you want less clutter on the display.
There's no dedicated camera button - you access it through the shortcuts - but that's only to be expected, as Nokia hasn't exactly gone to town on this model's shooter. It hasn't been upgraded since the 3110 Classic: it's an entry-level 1.3-megapixel camera, which is low quality by 2008 standards. You'd expect at least a two-megapixel snapper on a phone that's selling for £149 SIM-free.
There's no flash or photo light, so low-light shooting will give you poor, grainy results. You'll notice the lack of detail too if you try print pictures at normal photo size, and there's no autofocus or macro mode for sharp close-up shots.
The processing time once you've pressed capture is long. The phone has a standard S40 set of settings adjustment controls and basic editing tools, but realistically you shouldn't expect too much from it. Video isn't anything to write home about either, shooting at a mediocre 176 x 144 pixels top resolution at 15 frames per second.
The music player's performance is, on the other hand, perfectly acceptable for a bit of occasional tune-playing. The stereo earphone set supplied is adequate for the job and delivers reasonable sound quality. It plugs into a 2.5mm socket on the base of the phone, so if you wanted to upgrade the listening experience with better headphones you'll have to invest in an adapter or try a Bluetooth set - the Evolve supports A2DP.
There's only a paltry 9MB of user memory to play with, so you'll need a Micro SD card to get any music mileage out of the phone. Unfortunately, there isn't one supplied with it.
Similarly absent from the standard package is a USB cable, something we'd normally expect. This is a tad frustrating if you want to transfer content from a PC immediately.
You can copy tracks across from a PC using a memory card reader or via Bluetooth. This phone also has infrared too. Even if you don't want any music-copying hassle, you could still enjoy a bit of music thanks to the efficient integrated FM radio that is simple and straightforward to use.

Sing if you're glad to be grey
Of course, when it comes to socketry and the like, the 3110 Evolve in-box package does offer something different: a Nokia "high-efficiency" charger. This is one of the environmentally friendlier elements this phone delivers, and we expect it to become the standard Nokia charger before too long. The charger is designed to minimise no-load charging if it's left plugged in when the phone's removed, so cutting down energy wastage.
Illustrating why this technology is important for reducing energy consumption, Nokia estimates that if all its phone users across the world unplugged their chargers when not needed, it could save energy equivalent to that needed to power 100,000 average-sized European homes. So, more green points there, then.
Besides the WWF link, the browser on the 3110 Evolve is unremarkable. The low-res display and lack of 3G data connectivity means the mobile web experience is slow and looks a bit basic compared to Nokia's more sophisticated phones.
You do get the option of using the fine Opera Mini as an alternative to Nokia's browser, and it works well on this phone. You can also skip the browser altogether and use the pre-loaded Yahoo! Go app to get news and other timely information updates. Nokia's own widgets application, WidSets, provides another option for getting updates from favourite blogs or web-based services.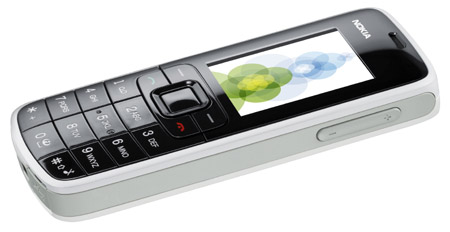 There's only 9MB of memory to play with, so you'll need a MicroSD card
On the basic level of call quality and network holding, the Nokia 3110 Evolve puts in a fine performance. It offers reliably good sound quality and we experienced no network issues. Of course, any planet-saving phone worth its eco salt should offer an energy efficient power performance too.
The 3110 Evolve comes with the same Nokia battery power estimates as the 3110 Classic: up to four hours' talktime or up to 370 hours of standby between charges. That's no real surprise as they're essentially the same device under the bio-cover.
Verdict
It's good to see a major mobile maker upping its environmental awareness in the manufacturing and packaging process. However, the 3110 Evolve is a very small step in that direction. It has a few more green credentials than other phones on the market, but it's far from being the perfect eco-friendly phone. Anyone thinking of swapping their phone for a greener model would probably do more good by continuing to use their existing model for a while longer.
As a mobile, the Evolve is an unexciting device offering a low-key feature list. Its music player, radio and web-based services mean it's not a back-to-basics handset, but it's certainly a mobile that'll sell more for its greenery rather than its gadgetry.