Original URL: http://www.theregister.co.uk/2008/04/28/review_lenovo_a61e/
Lenovo ThinkCentre A61e green PC
Consumes less power than a lightbulb?
Posted in Personal Tech, 28th April 2008 11:02 GMT
Review Lenovo claims that its ThinkCentre A61e laptop-as-desktop PC is the greenest ThinkCentre ever, thanks to the low power requirements of the AMD Athlon 64 X2 BE-2350 processor it uses. Does that claim have any merit?
The A61e is a tiny machine that measures 275 x 242 x 81mm and weighs in at 3.72kg, although the figures are helped by Lenovo's use of a hefty external power brick that has a rating of 130W. Our testing suggests Lenovo could have reduced the size and rating of the power supply by a considerable amount, but more on that later.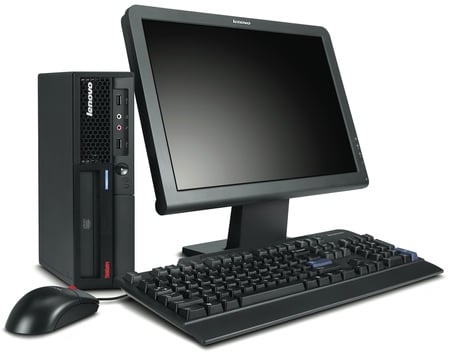 Lenovo's A61e: compact
Flip a single latch and the case hinges open to reveal the inner workings, although there's not a huge amount to grab your attention. The Lenovo Buckeye motherboard is sized somewhere between Micro-ATX and Mini-ITX, and uses a hotchpotch of technologies that are mainly derived from the desktop.
The 2.10GHz dual-core processor and AMD 690 chipset are regular desktop components, but the single 512MB module of PC2-5300 memory that runs at 600MHz is a laptop component, presumably to save space inside the tiny case. The expansion options on the board are non-existent and there is no possibility that you can install a graphics card or sound card. Yet for some reason Lenovo has specified desktop-sized optical and hard drives. Although they use slender SATA connections, these components are strange choices that take up more space than the equivalent laptop parts yet they have very low specifications. The hard drive is an 80GB Western Digital unit that retails for £30 and the CD-RW/DVD-Rom combo drive sells for less than £15. Lenovo could have specified a 250GB drive and a DVD writer for a barely any extra cost.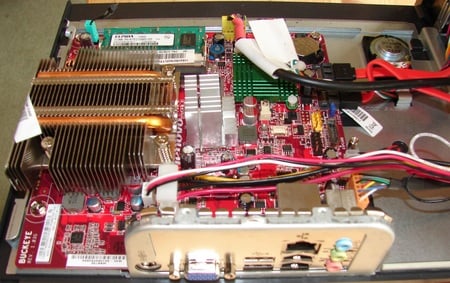 Lenovo's Buckeye mobo
One area of good news is that the Athlon 64 X2 BE-2350 uses so little power that Lenovo has been able to employ a small, passive cooler, so the only moving part inside the case is the platter in the hard drive and the optical unit's innards.
All this ensures the A61e is very quiet when it's operating, although we were rather caught out by the integrated mono speaker that is connected to the ADI 1984A audio chip. The only volume control is in software so it's hard to avoid the wretched Windows sound at start-up.
The use of an AMD 690 chipset is very sensible as it consumes a tiny amount of power and has integrated graphics that are competent enough to handle Windows. However, the list of features that have been provided on this PC is rather short. There's a VGA output on the I/O panel along with three audio jacks, Gigabit Ethernet and four USB 2.0 ports, with two more on the front of the case.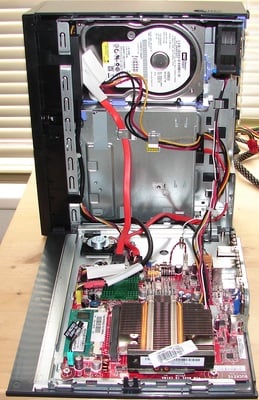 Easily accessed innards
Lenovo includes a wired optical mouse and a basic keyboard in the package but the £311 price doesn't include a display. We were sent a ThinkVision L193p TFT that sells for £231 - a heft price considering it's just a basic 19in display with a 1280 x 1024 resolution. While the L193p has both DVI and VGA inputs, the A61e only has a VGA output so that's something of a mismatch.
This is somewhat depressing as the Radeon X1200 graphics in the 690 chipset are perfectly capable of supporting a digital connection.
The other notable feature of the L193p is the pivot function. However, the screen is rather square in shape so pivoting from landscape to portrait doesn't actually make much difference. You have to manually rotate the image using the ATI Catalyst Control Centre, and while it's not a difficult task it's unlikely to appeal to the PC Luddites who are, you would think, the natural customers for such a basic computer.
Lenovo has chosen to install Windows XP Pro on the A61e, rather than Vista, which is probably a good idea as a slow processor and 512MB of RAM is hardly a match made in heaven for Microsoft's latest.
Once the system was running and we'd entered the usual Windows details for our choice of language and keyboard settings there were 945MB of Windows Updates to install of which 194MB was Service Pack 1 for the trial version of Office 2007. Thank heaven for Broadband. After the restart there were 87MB more updates, then another 38MB of Windows software and then it was time to update the Lenovo ThinkVantage System Update 3 software. Once we were done, the total had reached one-and-a-half gigabytes of updates.
PCMark05 Results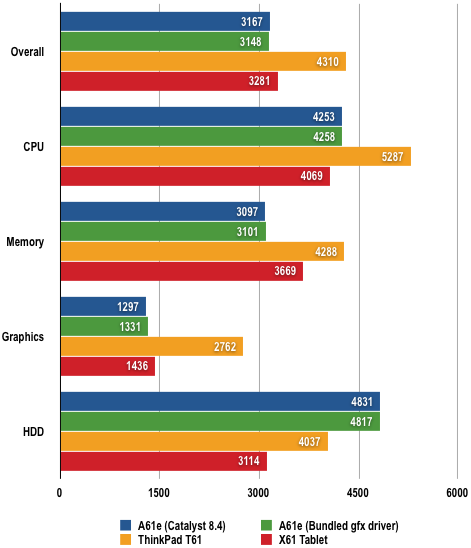 Longer bars are better
3DMark06 Results

Longer bars are better
The PC comes with a basic selection of media software that consists of InterVideo WinDVD 5 and Sonic RecordNow 2 as well as PC-Doctor 5 and Diskeeper Lite. The ThinkCentre software is familiar to anyone who has used a ThinkPad laptop, but the truth is you need a bare minimum of tools to keep a basic desktop PC working properly.
Power Draw Results

Power Draw in Watt (W)
The performance of the system is fairly pathetic, but it is adequate for day-to-day duties. The surprise was how limp the Radeon X1200 graphics were compared to the X1250 core that we saw when we looked at the 690G chipset a year ago on the Asus M2A-VM motherboard - all reviewed here. Having said that, the A61e does give you the tools that you need to write e-mails, work on a spreadsheet or buy DVDs from Amazon.
And Lenovo's claim to eco-friendliness? It does have merit: during testing we found the power draw of the PC was 40W at idle and a mere 55W under load - well below the 130W the bundled power brick is capable of delivering. So, Lenovo, why didn't you include a smaller AC adaptor?
Would we recommend that you buy this small, quiet, relatively cheap PC? Well, no.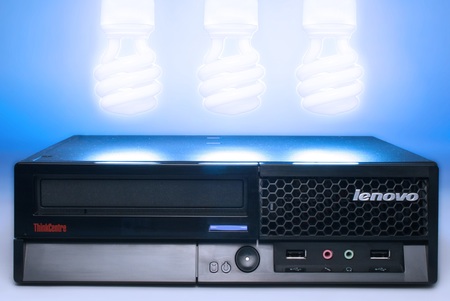 How green is my desktop?
The problem is that the A61e is cheap but it's not cheap enough. You can buy a comparable Dell Vostro 200ST with an Intel Core 2 Duo E4500 processor, 1GB of RAM, a 250GB hard drive and Windows XP for £175 plus shipping. You can get a 19in Dell TFT for £150. Granted, the Vostro isn't quite as small as the A61e and it won't be passively cooled, but it should be quiet enough for use in the home or office. Added to that the extra hard drive space and DVD burning capability, and the difference in price is telling.
Verdict
The ThinkCentre A61e is very basic and while it does a competent job it seems terribly expensive compared to a better-specced Dell Vostro.