Original URL: http://www.theregister.co.uk/2008/04/22/ft_palm_foleo_first_eee/
Palm 'innovative Wi-FI device' invite points to Foleo revamp?
Launched and killed before the Eee PC proved the concept correct
Posted in Personal Tech, 22nd April 2008 11:24 GMT
Forgotten Tech Is Palm about to put its once-canned Foleo notebook-alternative back on the agenda? That's one possible conclusion to draw from a claim the company's currently seeking testers for an "innovative new product".
The invitation, sent out to a number of customers in the US, states that successful candidates must be heavy smartphone and email users, must use a Wi-Fi router and be a Sprint customer, website Palminfocenter reports.
The site reasonably speculates that Palm's coming up with a Wi-Fi Treo, and not before time. However, let's ponder a slightly more leftfield alternative.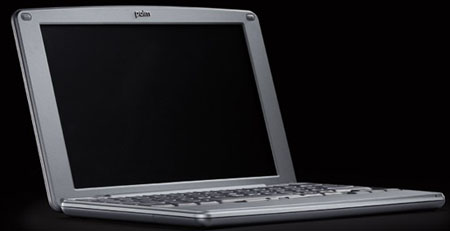 Palm's Foleo: cruelly nicknamed the 'Faileo'
Palm announced the Foleo almost a year ago, in May 2007. It was a 10.4in sub-laptop with a full-size keyboard and Wi-Fi. Running Linux, it was equipped with a email and browsing apps, along with PDF and Office file readers. It had Bluetooth for sync'ing to a Treo or connecting to the internet through the handset.
It weighed 1.1kg and was less than an inch thick.
The problem was, it was pricey - $599 - and incapable of running the kind of apps folk were used to running on laptops.
Foleo got a very poor reception from the pundits - some nicknamed it the 'Faileo' - especially those who simply couldn't figure out why anyone would want a small, cheap computer.
Cutting its loses, in September 2007, Palm canned the product's launch. At the time, it said it wanted to rethink the machine, but that read back then more like a face-saving statement than a forward-looking plan to revamp and revive the Foleo in due course.
Skip forward seven months and the laptop landscape of April 2008 is very different from what it was in September 2007. In the intervening months, Apple has successfully launched its skinny MacBook Air, which, despite many naysayers, does appear to be pulling in the punters, and not just the Mac faithful. Many consumers are willing to pay for better portability.
More importantly, though, we've seen the success of Asus' elfin Eee PC, which has clearly shown that plenty of folk will put up with a less-than-leading-edge specification if the price is right. The reason? There are a fair few applications that will run quite reasonably on old-spec hardware. Many people are using the Eee as a simple internet access device and for basic productivity apps, relishing not only is low price but its incredible - for a laptop - portability.
Curiously, many of the commentators who blasted the Foleo have gone on to welcome the Eee with open arms.
The testament to the fact that Eee has caught a mood among both consumers and the more technically inclined is the keenness of other vendors to leap in with Small, Cheap Computers™ of their own. HP's launched one; so has MSI. Acer and Dell are believed to be preparing to announce their own versions even as we speak.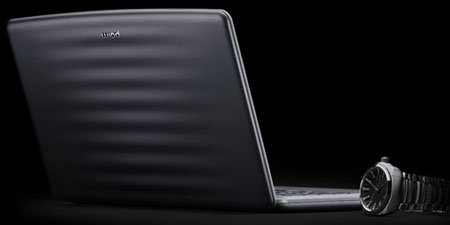 The sub-laptop the could have beaten the Eee
Time, then, for Palm to dust off the Foleo, give it a polish and punt it not necessarily as an adjunct to its smartphones but as a executive-oriented skinny laptop alternative?
Ironically, the original Foleo could so easily have been the machine the Eee went on to become. Palm's Jeff Hawkins and Asus' Jerry Shen saw even when almost no one else did that a good proportion of World+Dog wants internet access on the move, and many of them want it with a decent-sized screen and keyboard. PDAs? No thanks, but a small sub-notebook, yes please.
All Palm really got wrong was the price. And then it proved not to have sufficient bottle to see the unit to market. The examples of the MacBook Air and the Eee may have persuaded it that it was wrong.
We hope so. Where, after all, is the interest in another smartphone with Wi-Fi?