Original URL: http://www.theregister.co.uk/2008/02/19/review_cowon_a3/
Cowon iAudio A3 personal media player
Watch out, Archos
Posted in Personal Tech, 19th February 2008 12:02 GMT
Review There's something almost bespoke about the Cowon A3 media player, a device that seems unapologetically to have had time and money lavished on its technical ability rather than its packaging.
Out of the box, the rather bluff and chunky A3 looks and feels exactly like the Cowon A2, weighing a not inconsiderable 280g for the 30GB version and measuring 134 x79 x 22mm. Notwithstanding the slight retro feel, it's well bolted together out of high quality plastics and looks the part in its understated colour scheme of black and silver.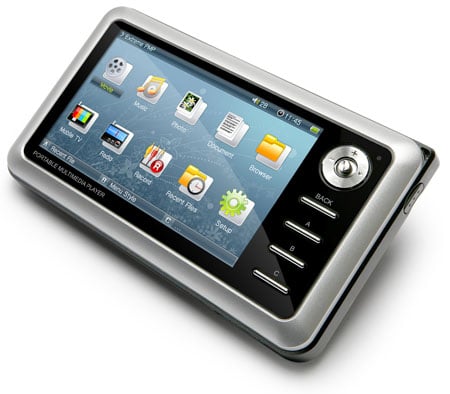 Cowon's A3: understated looks
You control the player using what Cowon calls a "joggle" lever - a circular four-way controller with a fifth, joystick-like button in the middle - a Back key and and three variable-function buttons, all set to the right of the screen. If you touch the screen, all you achieve is getting a fingerprint on it. The control interface is neither funky nor trick, but it does the job. In essence, all you do is use the joggle stick to move from icon to icon then push to trigger. At the bottom of the screen, you can then see what buttons A, B and C do in that particular view. To go back just hit the Back key. Simple.
Other exterior controls consist of the on/off switch on the right side; a slider at the bottom to switch the display from the LCD to the AV port, and which also locks the player; a mic and speaker up top; and, on the left, a 3.5mm headphone jack, power socket and the cover for the plethora of AV jacks.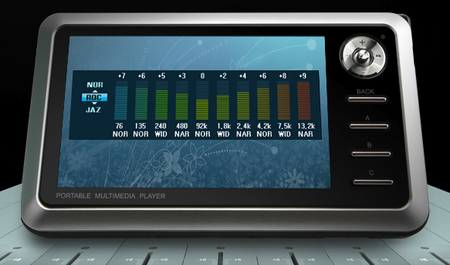 Adjust playback on the fly
The A3's 4in, 800 x 480 resolution, 16m-colour TFT screen is little short of a work of art and makes nearly every other comparable personal media player on the market look like an Etch-a-Sketch. Supporting video resolution up to 1280 x 720 - so we are talking HD here - it's simply a thing of beauty. Bright, clear and crisp with solid blacks, it is by some way the best PMP screen we've seen, besting even the Archos 605.
To give full flight to the screen, the A3's video file support is nothing if not comprehensive, Cowon's spec sheet running to AVI, WMV, ASF, MPEG 1, 2 and 4, MATROSKA MKV, OGM, MPG/MPEG, VOB, DAT, and MTV. Codec support extends to DivX 3.11, 4, 5 and 6, XviD, H.264 and Motion JPEG. If you have spotted anything missing you really do need to get out more. What all this techno-babble really means is that the A3 will play pretty much anything you have on your PC without you having to faff about re-encoding it before copying it across.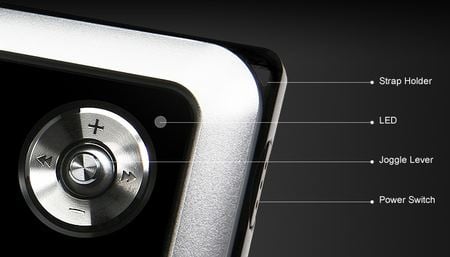 Transferring data onto the A3 via Windows Explorer is a pretty quick operation. A 720MB AVI file took only three minutes 18 seconds to move from PC to A3.
Audio support is no less thorough, with MPEG 1 Layer 1, 2 and 3, WMA, FLAC, Ogg, AAC/AAC+, AC3, BSAC, True Audio, WavPack, G.726 and CM all good to go. When recording audio you can chose between 128 or 192Kb/s WMA or FLAC lossless.
File support for still images doesn't disappoint either, with JPG, GIF, PNG, TIF, BMP and RAW files all welcome, while the document reader will open and display MS Word, Excel, PDF and PowerPoint files.

The A3 has more inputs and outputs than you can shake a stick at so you can play back or record content through a TV, record direct from a DVD or CD player or plug directly into a digital stills or video camera. A further pleasant surprise is the number of cables supplied, including s-video and AV leads and a USB-to-mini-USB adaptor which allows the A3 to be connected to a USB drive or any other mass-storage device or media player.
Despite all this, the supplied earphones proved a bit low rent. Sure they work, but the sort of person who coughs up Cowon's asking price is probably going to want a high-quality set of ear buds which should really come as standard at this sort of price. Or maybe Cowon reckons its target customer already has a preferred set of 'phones, which may well be the case.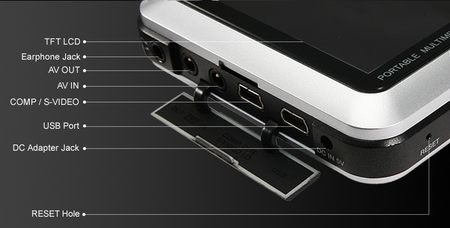 With a power output of 32mW, the A3 is more than capable of driving a decent pair of cans, indeed we tested it using a pair or Beyerdynamics DT250s which sounded glorious.
The on-board FM radio lacks RDS but does come with 25 pre-sets by way of mitigation. The A3 also works as a TV but you need you need to fork out for the add-on DVB-T receiver (for Europe) that clips onto the side of the player. Cowon didn't supply this with the review unit, so we couldn't test the A3's TV credentials, but the screen is certainly up to the job.
For those fond of mucking about with their media as it is playing, both video and audio can be played at anything from half- to double-speed, and while in video mode you can alter the aspect ratio and pan-and-scan settings from 70 per cent to 150 per cent on the hoof. The various audio filters can also be changed while a track is playing. Zooming in on still images is restricted to two levels that look to be about 1.5x and 2x.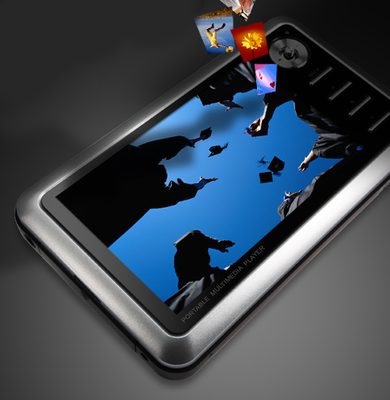 The screen is gorgeous...
A few video functions we found handy were the variable skip setting, the option to change the colour of the subtitles and the screenshot facility. Using the former you can set a tap of the joggle key to skip you either five, ten, 20, 30, 60 seconds or two, five or ten minutes forward or back. Hold the joggle key over hard and you fast forward or rewind at an ever increasing rate of knots. All in all, these features make navigating around video quick, painless and fun.
The audio player comes with eight pre-set EQ ranges - Normal, Jazz, Rock et al - a ten-band graphic equaliser and four variable "JetEffect sound field effects" filters entitled BBE, Mach3Bass, MP3 Enhance and 3D Surround. Leaving the sound settings in 'normal' results in a well balanced, clear and punchy sound with nicely weighted bass and solid vocal lines irrespective of genre, but there is almost endless scope to muck about with the sound should you so desire.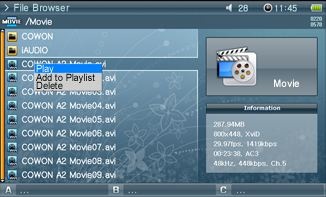 ...but the UI doesn't break new ground
Cowon quotes seven hours of video playback and nine of audio. The best we got was 5.75 hours for video and a touch under eight for audio, both of which are probably within what you could call a reasonable margin of error over the makers claims but nevertheless are hardly impressive, especially the audio playback time which doesn't even stretch to a decent length international air flight. Better pack the iPod as well for any long trips.
As a side note, to charge the player via USB cable, the AV Out/LCD slider has to be in the 'lock' position. If we had read the comprehensive PDF instructions we would have known this before the battery died mid file transfer.
Cowon supplies the A3 with its jetAudio media management software, which is one of the better exemplars of the breed, though frankly seeing as you can pretty much drag and drop darn near any file you want directly into the A3 we suspect it won't get much use.
On a technical note, Cowon regularly posts firmware updates on its website, version 1.18 for the A3 appearing as we wrote this review, along with software for a font maker and a few other bits and bobs. Nice to know they don't just wash their hands once you've parted with your hard earned. And, ahem, don't want an extra 20 bucks just because they've added a few new features.
Verdict
The A3 is a lovely bit of kit offering superb video and audio playback, truly comprehensive file support and a screen so good you will want to marry it and have its children. The only downsides are that to some eyes it looks a little old fashioned and has controls that fail to advance the science of user interfaces. It could do with rather more ooomph in the battery life department. It isn't cheap either but we reckon it is value for money.