Original URL: http://www.theregister.co.uk/2008/01/22/review_sony_dsc_h3_digital_camera/
Sony Cyber-shot DSC-H3 'superzoom' camera
Is it a compact? Is it a DSLR? No, it's a 'superzoom'
Posted in Personal Tech, 22nd January 2008 12:02 GMT
Review Some people want a camera that's small enough to fit in a pocket, but they also want the features of a SLR. In other words, they want the impossible. Or do they? Enter the 'superzoom', which in the days of film would have been described as a 'bridge camera'.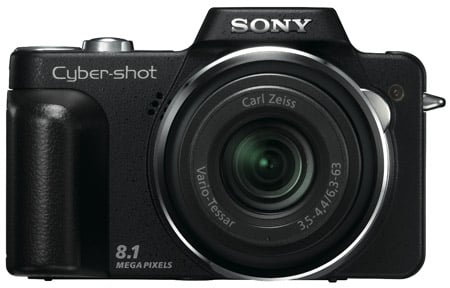 Sony's DSC-H3: bigger than a compact, but still fits in your pocket
As you'd expect, superzooms offer a much longer optical zoom than those found on a standard compact. Whereas most compacts have a paltry 3x zoom - boosted by an often unusable digital zoom - superzooms typically offer around 10x-18x optical zooms. But do they fill a gap or merely offer too many compromises?
Sony's DSC-H3 certainly looks and feels the part. It's a chunky model that feels reassuringly solid in the hands – this is a camera designed at the school of hard knocks. Of course, it's not the smallest of cameras and next to some of today's ultra-thin compacts seems positively obese – it measures 106 x 68.5 x 47.5mm and weighs 264g – but it's certainly fine for carrying around in your coat pocket.
At the top of the DSC-H3 is a small power button, large shutter button and a dial for selecting the various modes, including camera, manual control, and scene settings. On top too is the pop-up flash cover.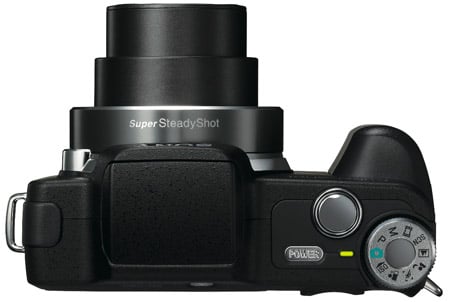 Standard control layout
Moving to the back, we find a 2.5in LCD screen comprising 115,000 pixels; a tiny playback button; zoom rocker control positioned so that your right thumb naturally rests on it; a dial for selecting macro, ISO, flash, display mode and self-timer; and two buttons for selecting the menu. Yes, that's right, two menu buttons.
The first, called Home, is described as a "gateway to all camera functions" and offers a set of sub-menus for shooting, viewing images, printing, memory management and manual control. The Menu button gives access to various shooting settings, such as image size, ISO and flash level.
At the bottom of the camera is a tripod fixing hole that's suitable for tripod screws less than 5.5mm, and a compartment for the lithium ion battery and Memory Stick Duo (Pro or standard) memory card.
In addition to a 6.3-63mm optical zoom - equivalent to 38-380mm on a 35mm camera - there's a Carl-Zeiss Vario-Tessar lens; 1/2.5in CCD with 8.1 million effective pixels; 31MB internal memory; face-detection technology; an anti-shake system; and red-eye reduction. Shutter speed ranges from 1/4-1/2000s in auto mode and 30-1/2000s in manual mode. The ISO settings range from 100 to 3200.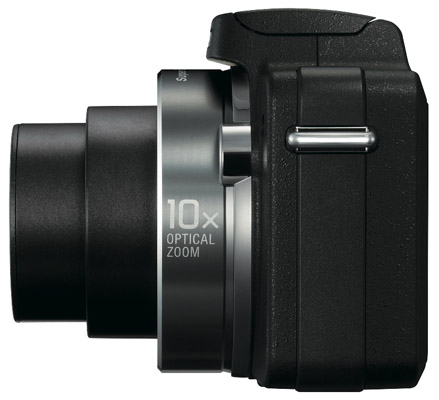 Autofocus modes, yes - manual focus modes, no
Although there are various autofocus modes on offer, there is no manual focus setting. There are a handful of flash modes, including auto, forced and synchro; a selection of white balance settings, such as fluorescent and incandescent; exposure control - ±2.0EV in 0.3EV steps - and 12 scene settings including twilight, landscape, beach and snow.
Accessories-wise, Sony provides a multi-connector cable, CD-Rom containing full instruction manual and photo management software, and a large lens hood. The latter is a useful add-on, although its large size obscures some of the flash.
Switch-on is fast and shutter lag performance most impressive – even with the flash switched on, the response was blisteringly quick. When it comes to general operations, we're not quite sure why Sony likes its two-menu system so much – we think it's a bit fussy. However, the DSC-H3's menus are clear and simple to use, helped by colour highlights which show you exactly where you are, and short text descriptions for each setting.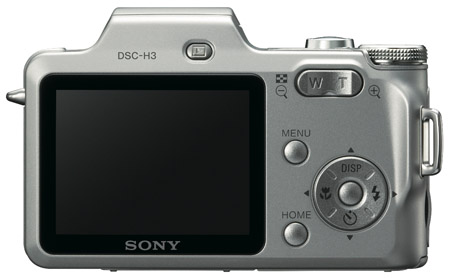 Nice LCD, but no optical viewfinder
Image sizes can be set from 3264 x 2448 pixels to 640 x 480. You can also shoot in 3:2 mode or 16:9 mode for displaying on an HDTV set - the connecting cable is an optional extra. There are three movie modes, with two offering 640 x 480 (VGA) resolution at 30fps and 17fps, and one that's 320 x 240 at 8fps.
Sample shots

The continuous or burst mode lets you take up to 100 shots at 2s intervals
Click for full-size image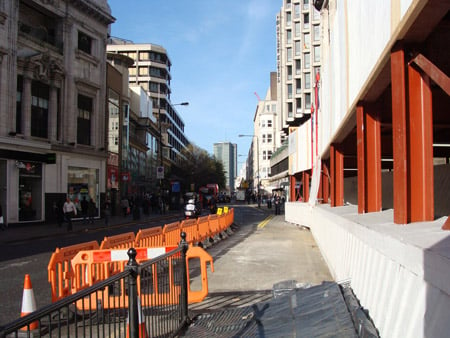 This shot from one end of Tottenham Court Road shows the Euston Tower block in the distance using the wide-angle setting
Click for full-size image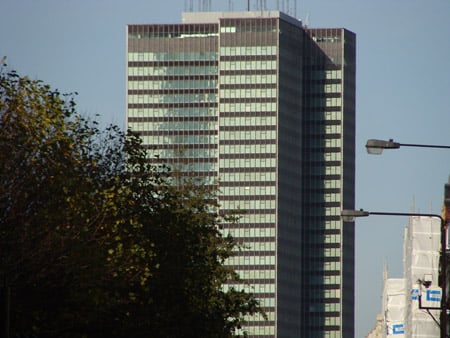 The same shot but this time using the 10x zoom to the max (focal length 63mm). See how much closer to the action this camera can take you
Click for full-size image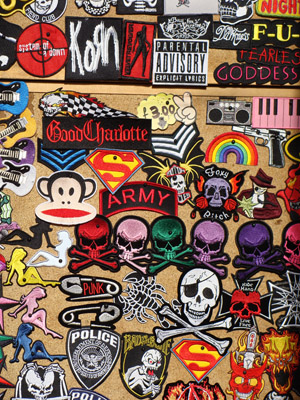 Colour reproduction was good. This shot was taken with a shutter speed of 1/800s, ISO 125, F4.0
Click for full-size image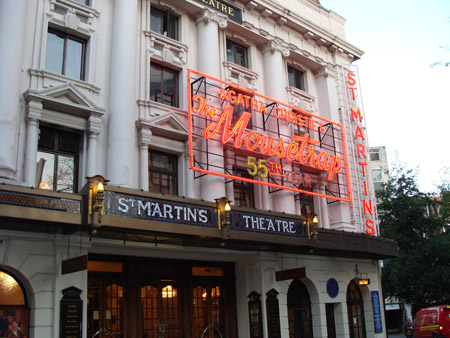 We were impressed with the sharp images: this was taken with a 1/50 shutter speed, ISO 125, F3.5
Click for full-size image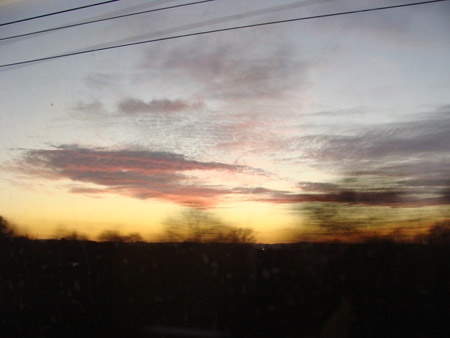 This shot (taken through a train window) shows how the Twilight mode can be used to produce atmospheric shots at dusk
Click for full-size image
The DSC-H3 has some nice features, such as a burst mode - aka continuous shooting - which lets you fire off up to 100 images at two-second intervals, provided the battery and memory card can stand the pace. Auto-bracketing lets you take the same shot in three different exposure values, which is handy for tricky lighting conditions. The face-detection system does a good job of locking onto subjects.
There are also some nice post-shooting features, such as the ability to add a spot colour effect to the image, so that an object can be in colour while the surrounding areas are in black and white. Soft Focus keeps the subject sharp while everything else is blurred and there's also a starburst effect. You wouldn't want to use these effects every day, but they are nice to have.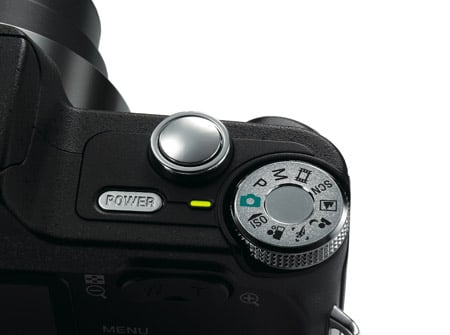 Switch-on is fast and shutter lag performance most impressive
Likewise, images can be cropped or have red-eye removed, and the supplied Picture Motion Browser software can be used for editing and burning images on a PC. However, the software is only available for Windows - a bizarre message in Sony's instruction book describes ways of "Enjoying your Windows PC".
So how did the DSC-H3 perform? In two words: most impressively. Let's start with its premier feature – the extra-long zoom. Anyone who's struggled to get close to the action with a 3x zoom on their compact will really appreciate the 10x zoom. The anti-shake system does a good job in helping to keep things steady at the longer end of the zoom too.
Images were sharp, clear and crisp, and colour reproduction was good. Naturally, things get a little nosier at the higher ISO settings (1600 and above), but for most shooting situations, the DSC-H3 will deliver very good picture quality. Burst shooting worked well and the camera locked on to the subject (in this case, a fast-moving cyclist). Macro performance (which works from 2cm) was also a winner.
Verdict
There's always the danger that a camera like DSC-H3 will end up as one of those products that tries to please everyone, but does the exact opposite. Not in this case. Users wanting more than standard compact camera will like the extra functionality, while those more used to using digital SLRs will still find plenty of things to keep them happy. There's definitely a market for the superzoom, so if you want to upgrade to a better specified camera without sacrificing too much in terms of portability, or don't fancy lugging around a digital SLR and lens kit, but want more than a bog-standard compact, then seriously consider the DSC-H3.