Original URL: http://www.theregister.co.uk/2008/01/14/review_nokia_n95_8gb/
Nokia N95 8GB smartphone
Hardcore handset that has the whole package
Posted in Personal Tech, 14th January 2008 12:01 GMT
Review Nokia has boosted the spec of one of its most popular smartphones, bolting in 8GB of Flash memory and refining key features. So is the latest version of the N95 a refreshing update for Nokia's flagship multimedia, GPS-toting mobile?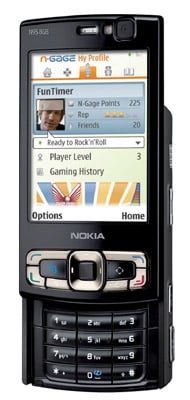 Nokia's N95 8GB: stacks more memory
Unlike most upgrades, where cosmetic tweaks give a long-running model a new lease of life, there are real and significant differences with this Symbian S600-based smartphone.
The extra 4GB of storage is the obvious headline-grabber here, allowing the N95 8GB to match the capacity of the Apple iPhone and the Sony Ericsson W960i.
But the N95 8GB is a formidably-equipped smartphone in many other ways too. It sports a high-end five-megapixel camera with Carl Zeiss-sourced optics, a network-assisted GPS receiver, a multi-format media player, and good connectivity with HSDPA 3G and Wi-Fi.
There are more instantly notable changes from the original N95 - reviewed here. Nokia has given the N95 8GB a black makeover, making it a sharper, tastier proposition than the silver version. Screen real estate has increased to a noticeably larger 2.8in, 240 x 320 (QVGA) display, up from the original N95's 2.6in panel. However, the phone's chassis itself - though still chunky and a hefty 128g - hasn't got any bigger, so the control key array below the screen has been squashed to accommodate the bigger screen.
Despite this, the menu keys are easy enough to prod. Similarly, the slide-out keypad with its finger-friendly rounded keys is a tidy piece of work.
The dual-mode sliding keypad action has been maintained. Slide the display down and you get a dedicated set of music player buttons. Slide it up and there's the regular phone pad. On this model, slipping out the music keys doesn't automatically present you with a multimedia menu or music player. It does, however, switch menu orientation into landscape format.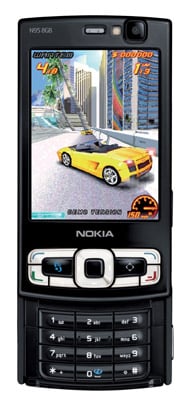 The dual-mode sliding keypad action has been maintained, down...
Round the back there's been a change to the lens cover arrangement, which previously caused some users to accidentally activate the camera: it's been removed - cue more fuss about scratched lenses? The flash has also migrated to sit beside rather than below the lens when the phone's held in landscape orientation.
Most other buttonware and socketry around the phone is standard-issue N95. There are dedicated camera button and gallery review buttons, along with a volume/zoom control on one side, and a mini USB connector and charger socket on the bottom. The 3.5mm headphone jack is still on the side, though the original N95's Micro SD card slot on the side is absent from the 8GB phone.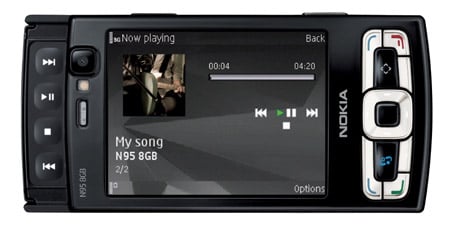 ...and up
The lack of the MicroSD card expansion option reduces the simplicity of transferring or sharing content just by swapping cards, or upgrading sat nav software simply by slipping in a different Micro SD. Hooking up to a PC via the USB and transferrign content using Nokia's supplied Nseries PC Suite software is likely to be the most used option with the N95 8GB. Alternatively, you can use Bluetooth.
Over-the-air downloading is high on the N95 8GB's can-do list. It's one of the first N series devices to come pre-loaded with Nokia Music Store software, providing an off-network way of filling up with more tunes, albeit at 80p a track.
The N95 8GB will also be one of the first N series to support the revamped N-Gage gaming platform, offering over-the-air multi-player and social networking-style facilities. In fact, the N95 8GB is geared up to support a range of downloadable services and content under Nokia's Ovi multimedia umbrella, including Nokia's YouTube-like Video Centre.
Playing around with data downloads, streaming and browsing over mobile networks can be an expensive business if you're not on a flat-rate data plan or downloading via Wi-Fi.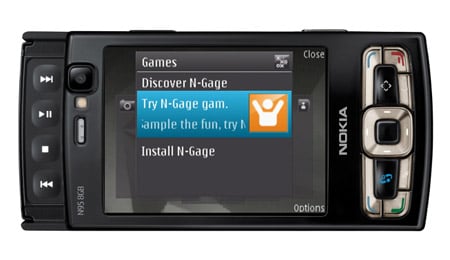 The revamped N-Gage gaming platform is supported
With the N95 8GB, as well as the HSDPA option - giving you download speeds of up to 3.6Mb/s - you can also choose Wi-Fi for the most cost-effective and convenient option possible. Wi-Fi links are straightforward to set up and use, and you can use a quick link in the standby screen to scan for networks and start browsing.
Although 8GB of storage isn't up there with the higher capacity iPods and other MP3 players of this world, and may not accommodate your entire music collection, it does offer room for thousands of tracks. And it's plenty of storage compared to the average mobile phone. There's also 100MB of internal memory reserved for messages, contacts and so on.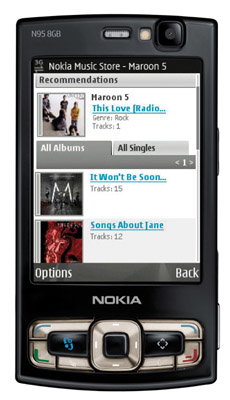 Tracks are listed in regular music player categories
Filling the phone up with tunes will be a priority for most users. You can synchronise files with Windows Media Player on a PC using the supplied USB cable, or manage tunes by using Nokia Music Manager in the supplied PC Suite software. Alternatively, you can switch the phone to mass storage mode, and drag over files straight from your desktop. For the PC Suite or mass storage options, you need to hit refresh in the music player to pull the files into your track list.
The media player on the Nokia N95 8GB offers a fine performance - the audio playback from the in-box stereo headset is pretty good too. You can use the supplied headphones or plug in your own as you please. Our reference Sennheiser and Bose sets certainly added more quality to the sound. Bluetooth headphones are another, wireless option.
Tracks are listed in regular music player categories - all songs, playlists, artists, albums, genres and composers - and there's a section to add podcasts. The neat two-way slider, with music controls on top, is part of the aesthetic appeal of the N95. The controls on the top slider still work fine, and take care of tune changing when the player's on in the background. They can also be used to operate the well-implemented FM radio when headphones are plugged in.
Nokia has enhanced the satellite navigation capabilities of the N95 8GB by equipping its with Assisted GPS technology, which can use mobile network cell location data to speed up calculating your position.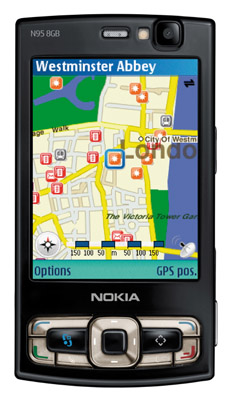 Assisted GPS, anyone?
With 8GB of storage, there's also more room on this model for map storage. The N95 uses Nokia Maps software, which downloads maps as you need them. The UK version of the N95 8GB has maps from the whole of the UK and Ireland stored on it out of the box, which is very handy, eliminating the need for the regular but sometimes slow over-the-air map updates we experienced on the original N95.
You can also download full maps for different countries using Nokia Map Loader and copy them over from a PC for free. In addition, Nokia provides add-on city and travel guide, plus a turn-by-turn voice guidance option that you can buy and download.
The sat nav system on the N95 8GB worked well in our tests, and was accurate and speedy in calculating routes. It also found our position quickly without hanging for long periods like some mobile sat navs we've used, and it was suitably responsive when travelling. The 2D or 3D visuals were as good as the best dedicated sat nav systems. As usual, there are thousands of points of interest listed too.
One of the other wow-inducing gadgets introduced by the the N95 was the five-megapixel camera with Carl Zeiss optics. While there are now several five-megapixel cameraphones on the market, the N95 8GB's shooter still puts in a high-class performance. It has an autofocus system, and a macro shooting mode for detailed close-ups, plus numerous controls to adjust image capture settings.
The two-step capture button and autofocus system work pretty well, and image processing speed appears to have been improved in side-by-side tests with the original N95.
Imaging results are top class for a cameraphone. Colours are bright and clean, with plenty of detail and sharpness - very pleasing. And you can upload snaps straight to Flickr and Vox accounts as one of the sending options once you've taken a shot.
Video recording quality on the N95 8GB is also exceptionally good for a cameraphone – among the very best we've seen, in fact. It can capture MPEG 4 video at 640 x 480 (VGA) resolution at 30 frames per second, delivering smooth, clear images that can pass muster played back on a TV screen.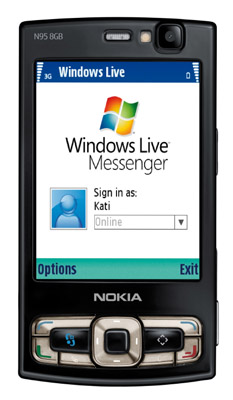 Wi-Fi's handy for IM-ing
Nokia boxes the N95 8GB with a TV cable, so you can view video and all sorts of other content from the phone on your telly. You can also share video calls in this way too, if that takes your fancy, using the secondary video call camera in the front of the phone, above the display.
The impressive video capability extends to playback of downloaded video. Few would argue that a 2.8in display is ideal for viewing video, but as a platform for on-the-go entertainment, the N95 8GB really delivers. To demonstrate this, Nokia is shipping the N95 8GB pre-loaded with the full movie version of Spider-man 3, which played back perfectly smoothly on our review sample.
Demo versions of a couple of N-Gage titles come pre-installed - FIFA 07 and Asphalt Street Rules 3 - give a fair idea of how rich the gaming experience can be, albeit without the essential interactivity that's billed as the key element of the new N-Gage platform. Some users may find the tightly-packed navigation keys a bit small for gaming controls, although the numberpad can also be used.
As an N series handset based on the Symbian S60 operating system, the N95 8GB has a suitably hefty rundown of additional applications loaded up, and more can be added to the phone. Your most-used multimedia content, maps and web links can be quickly accessed by pressing the multimedia key, next to the central five-way navigator pad. It brings up a carousel of easily-selectable content.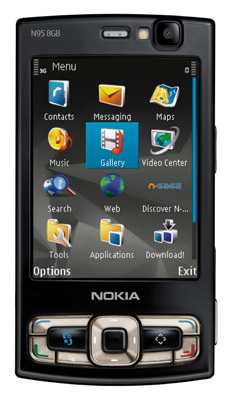 Plenty of apps come pre-loaded
As well as the multimedia headline-grabbers, Nokia stocks the N95 8GB with its usual spread of personal information management functionality and the customary email support. There are Quickoffice and Adobe PDF document viewers on board too. Speaker-independent voice control and dialling, and voice recording are also featured.
The Nokia Web Browser provides a speedy web experience with vanilla 3G, HSDPA or Wi-Fi, with Mini Map overviews of pages as you're browsing helping you to negotiate pages. The browser does a decent job of presenting complex pages, allowing you to zoom in or out.
Not only does the Nokia N95 8GB come with an enhanced set of features and a heavy duty memory upgrade, its battery pack gets a boost, too. This promises a longer life performance than the N95. Nokia claims the N95 8GB can achieve around 25 per cent more between charges, quoting 3.5 hours talktime on 3G networks or five hours on GSM, and standby time of up to 280 hours. In the real world, of course, battery life will depend on just how much you're using the multimedia functionality, music player and GPS; not many of this phone's users are going to simply use it for voice calls. Speaking of which, the N95 8GB gets top marks for its phone performance too, delivering the sort of clarity and signal-grasping tenacity you'd expect from a phone costing this much.
Verdict
With the N95 8GB, Nokia has added significant improvements to an already feature-loaded multimedia mobile. The enhancements aren't solely cosmetic - it's not just an iPhone-challenging memory upgrade either. Nokia has refined the screen design to make it more media-friendly, enhanced the GPS system, and worked in a number of software upgrades. Battery performance has been extended. It's still quite a large handset, which may put off some buyers. But the real heavyweight you get is the package of useful and entertaining features in what is a sophisticated smartphone.