Original URL: http://www.theregister.co.uk/2007/12/07/eb_eee_pc_with_xp/
Eee PC: better with Windows?
Eking out the power with XP
Posted in Personal Tech, 7th December 2007 15:22 GMT
I have now installed Windows XP Pro on my Eee PC and while the unit's power consumption characteristics are slightly better than they were under the standard Linux installation, it's not as much of a gain as I'd hoped for.
Installing XP is straightforward. The Eee PC's manufacturer, Asus, provides the drivers you need on the DVD that comes with the micro-laptop, or you can download them from its website. That's what I did because my review unit didn't come with said DVD. It did come with the manual, however, and that has a comprehensive set of instructions to guide you through the process.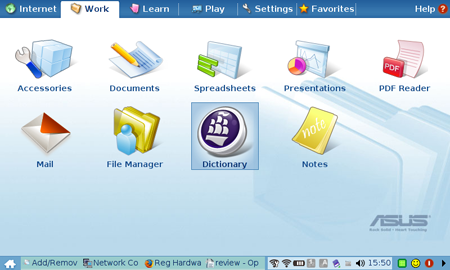 Asus' Eee PC: ships with Linux, but better with Windows XP?
A trip to Maplin later and I had a 40 quid external USB DVD writer to connect to the Eee PC. You have to adjust the laptop's BIOS to tell it you're installing an operating system and to start up from the DVD drive, but that's easy enough to do if you follow Asus' instructions. Then it's just a matter of letting Windows' set-up do its thing.
With XP in place, you can install the drivers from the DVD. I tripped up on one gotcha: fresh from the install, the Eee PC's Wi-Fi adaptor is turned off, so the Atheros software kept complaining that I didn't have a wireless adaptor installed. Just tap Fn+F2 to turn the radio on, and the software works exactly as it should.
Asus' instructions assume you'll be plugging a USB Flash drive or HDD into your Eee PC, but I chose instead to slot in a 4GB SanDisk SDHC memory card and use that. OK, you can't remove it afterwards - at least not while the machine's up and running - but I'd say it's a more convenient approach than having to carry Flash drive around too.
A basic 4GB SanDisk cards costs around £32/$55, but SanDisk has faster and/or more capacious options too, as do many other SDHC card makers.
Why use one at all? Firstly, a standard Windows install will fill up a good portion of the Eee PC's 4GB solid-state drive. With a little pruning, you can get XP into 2.5GB - there's a way to reduce it even further, which I'll talk about later - leaving 1.5GB for apps and data.
Secondly, Windows writes many more files to the drive than Linux apparently does, and a lot of Eee PC users are understandably worried that that will significantly reduce the longevity of the SSD. Yes, Flash memory cells can only be written to a limited (but large) number of times, but modern Flash controllers are able to work around this by juggling writes to minimise the number of times a given cell is written to. The upshot is that the SSD should last as long as the laptop does.
Still, why risk it when you can make use of removable storage that, unlike the SSD, is easy to replace? To make the most of the SDHC, you have to tell Windows to keep your My Documents folder, its own Temporary Internet Items space and the virtual memory file on the card. Asus' instructions show you how to do this, but EeeUser.com has a clearer guide here.
Incidentally, for folk keen to keep the Linux distro, EeeUser.com has a wealth of useful hints on improving its user experience, particularly handy if you have no Linux experience.
With Windows installed and optimised, I downloaded the Pidgin instant messaging app, Firefox and OpenOffice - so there's no need to stop using open source software altogether - and Skype, all of which run a treat, though the latter can't see the Eee PC's webcam because Asus has yet to provide a Windows driver for it.
Update Scratch that - Skype can use the webcam. You just have to turn the camera on in the Eee PC's Bios. User friendly or what?
The Eee PC comes with 512MB of memory, and that's probably sufficient for many tasks. Keep an eye on Windows' Task Manager, and if the Page File - essentially a measure of the OS' need to use virtual memory - is growing in size, think about upgrading the laptop's memory to 1GB. Replacing the laptop's 512MB DIMM with a higher capacity module is easy, but it will invalidate your warranty.
One other trick: try Windows with its Classic theme rather than the more colourful XP look. And turn off the tasks sidebar. Maybe it's an optical illusion, but the old look seems to me to fit the Eee PC's 800 x 480 display better, with fewer pixels being lost to UI elements rather than the content you want to see. Where possible, customise applications' own toolbars to contain only small, text-less icons.
Incidentally, Asus' Windows XP utilities include a handy taskbar icon that'll switch the screen between 800 x 480 and 800 x 600. The bigger size still operates at native resolution so you don't get that blurry, squashed look. Instead, the screen operates as an 800 x 480 window onto the 800 x 600 virtual screen - you scroll up and down to view the off-screen pixels. It's not as good as having an 800 x 600 display, but it's handy if you suddenly find yourself facing a dialogue box that's more than 480 pixels high.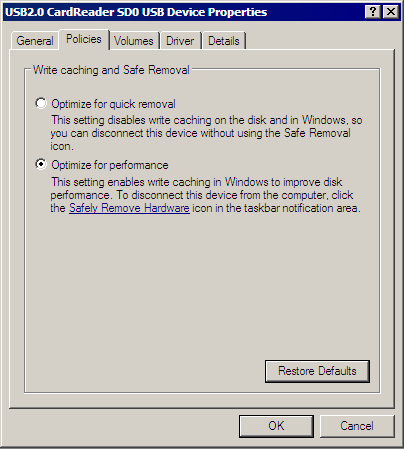 Speed up disk writes
But back to the reason I tried XP in the first place - apart from the sheer joy of messing around with this kind of thing, of course. Putting the Eee PC to sleep now sees the battery drain at a slightly slower rate than it did under Linux, but it's still not perfect. I can leave my MacBook Pro on standby overnight and I'll have lost maybe ten per cent of the battery charge. The drain on the Eee PC is much higher - ironic given its low-power screen LED backlight and lack of a hard drive.
A better solution from the point of view of quick access and eking out the battery life is to enable Hibernation in Windows. The downside is the contents of the machine's memory are written to the SSD every time, and I've yet to figure out how to make Windows write the file to the SDHC card. It takes the Eee PC about 22s to recover from hibernation, about 45s to start up from scratch, so it's much quicker than rebooting. Coming out of stand-by mode is quicker still, but Hibernation gives better power saving.
Going into hibernation is a slow process, but here that doesn't matter. Just close the lid and go. Since the Eee PC has solid-state storage, it doesn't matter that the computer's being moved while the contents of memory are written to disk. I quickly got into the habit of closing the Eee PC's lid and putting the machine straight into my bag.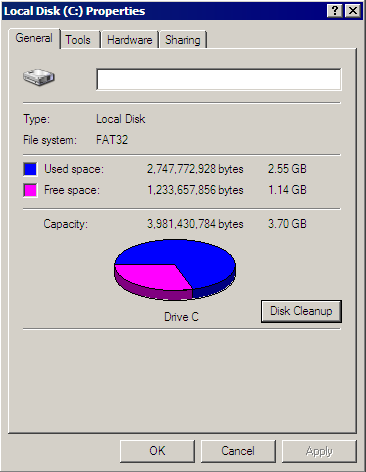 Plenty of room left on the SSD for apps
Frequent use of the Eee PC means you'll still have to recharge it regularly, but I was able to keep it topped up overnight rather than reaching for the AC adaptor every time I got near to a mains socket. Use it more intensely and you may be able to eke out the battery less than I did, but it is possible to get a good day's non-continuous use out of it.
Related Review