Original URL: http://www.theregister.co.uk/2007/11/01/review_t_mobile_sidekick_slide/
T-Mobile Sidekick Slide messaging phone
Still doesn't quite cut it with kids
Posted in Personal Tech, 1st November 2007 13:47 GMT
Review Whenever the Sidekick is mentioned, the phrases "big in the States" and "Paris Hilton" inevitably follow. But, despite several attempts by T-Mobile to propel the Danger-designed device into the mainstream, it has so far failed to get Britain's youth ditching their Nokias and Walkman phones en masse.
The Slide is the first of the series to be made by Motorola rather than Sharp. It's 25 per cent smaller than the previous models, and slimmer too – addressing one of the most obvious turn-offs of its too-chunky predecessors. It still has the Sidekick-style Qwerty keypad hidden under a moving 2.4in, 320 x 240 pixel (QVGA) display, though this time the screen simply slides up rather than slide-and-swivelling into place.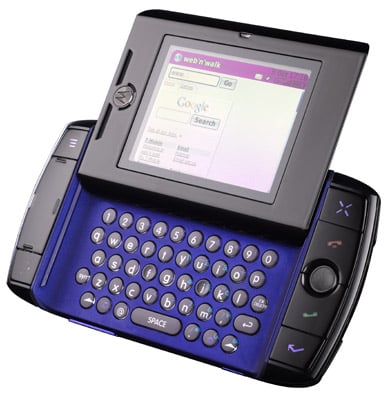 T-Mobile's Sidekick Slide: 25 per cent smaller than previous models
The Slide may be smaller and more compact than the handbag-sagging 182g Sidekick 3, but it's still no slimline pocket-pleaser. It measures 117 x 61 x 10mm and weighs around 156g, so has the size and feel of a PDA rather than a phone.
The device is designed as a gadget for young people to stay in touch via email and IM as they zip around town, surfing and networking as they go. The Qwerty keypad is a vital part of the Slide's easy email, instant messaging and texting functionality, and also lends a hand to browsing on the device's big-ish screen. But the Sidekick isn't meant to be a business or techie messaging device
Previous Sidekicks have been criticised on this side of the Atlantic for offering dated features. The Slide isn't exactly cutting-edge either. It's not a 3G device, relying on quad-band GSM/GPRS/Edge connectivity. It does have a music player – supporting multiple file formats this time around, including MP3, AAC and WMA files included - and a hot-swappable Micro SD memory card slot. But the camera is a 1.3-megapixel snapper – real entry-level stuff in late 2007 – which surprisingly doesn't even do video recording. We suspect the funky, Facebook-savvy target audience might just notice these shortcomings...
With the screen up, the dinky keys are fine for tapping out text with your thumbs, though go carefully if you have thicker digits. One gripe is the additional, alternative characters, all too small and too blue against the black keys, making it almost impossible to identify them in low-light conditions.
To type out phone numbers, as well as a row of number keys, there's a secondary keypad-style grid of numbers overlaid onto some of the letter keys. You can call also use a virtual numberic pad on screen when the slide is closed.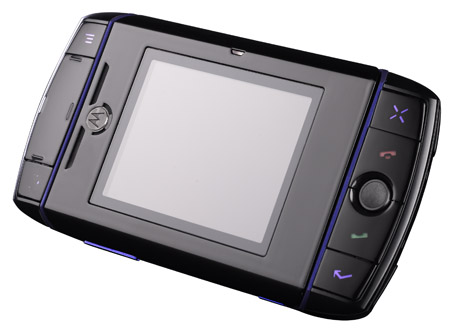 Feels like a PDA not a phone
You navigate the main menu control using a neat trackball on the right of the keyboard. Or you can use the four-way pad on the left side. Icon-labelled buttons in each corner allow you to backtrack or go straight to the main menu screen. There are shortcut buttons on the top of the phone too for the camera and messaging options. Call and End keys take care of making voice calls.
The main menu is a carousel of large icons which shows what each one does as you highlight the options in turn. Roll over the messaging and organiser icons, and you'll also be shown if you have any unread messages, notes, tasks or events to look at. Click on these and you either get a sub-menu carousel or go straight to the function you've selected.
The colourful, user-friendly graphics and background don't always extend to the business end of the features. Some, like message composition and calendar input, are presented straight, like they would be on a regular PDA.
Finding extra options for each page requires you to tap a button on the top left of the device. Drop-down menus often give you a wide range of choices, but without, say, a regular Options soft-menu, it's not always obvious when additional options are available. Numerous shortcuts can be used in many of the functions, such as the browser, using multiple alphanumeric and function key combinations - though these aren't usually intuitive. You'd have to spend plenty of time and effort learning them.
On registering the device, you can set up an email account with a [username]@sidekick.t-mobile.co.uk address. You can also add up to three personal POP3 email accounts to the device, so you can get your email pushed directly to the Sidekick as they arrive in your other in-boxes.
You can send attachments from the Slide, although they are restricted in size. The Slide can also receive attachments – up to 3MB, or they're bounced back - and certain files, including images, PDFs and Word files can be viewed. Audio files can also be played, but not video.
The Slide comes pre-installed with Yahoo! instant messaging, so if you already have a Yahoo! account you're ready to go.
One of the signature features of the Sidekick concept is Danger's client and server-based automatic back-up and syncing of messages, contacts, organiser information and photos. It all happens in the background, so the user doesn't have to worry about it. What's done on the phone is replicated on a password-protected website. You can also update your Sidekick remotely from here too, and restore your data onto a new device if yours goes missing in action.
Another feature T-Mobile is pushing is the Slide's web-browsing capability. It's simple to use. Click on the browser option and start typing on the keyboard, and the address bar pops up automatically.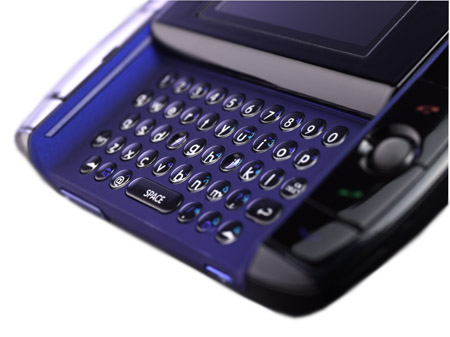 Dinky keys might prove troublesome for those with fuller fingers
The browser uses Danger's server-based technology to tailor web pages to the device's screen and make them quicker to download. Unfortunately, the browser is far from being the best or quickest at rendering pages that we've seen. Some of the pages we looked at were disappointingly presented, and others took longer to load than they do some recent 2.5G phones we've tested. Pages often required lots of scrolling to get to the relevant info or links. Oh for a full-page overview for quick navigation. Adobe's Flash isn't supported, so YouTube and other video content is currently off limits.
More basic pages were rendered fairly quickly, but we can see some of the target audience getting fed up with the un-PC experience on rich media pages. Mobile browsing has moved on, and screen size apart, you'll generally get a richer browsing experience on most Nokia, Sony Ericsson or Samsung 3G handsets these days.
Whizzing through the main carousel to the camera option, you get an indication of how many snaps you can fit into the phone's memory or Micro SD card – significant on this device, as it says you can save up to 1.75MB of photos on it at any one time. Other features have rationed memory space too. If there's no space you'll have to regularly delete pics from the device.
Slipping in a memory card expands storage, although shots saved to the card don't back up automatically online. And you can't send image files via Bluetooth – the Slide doesn't support Bluetooth transfer for images or music files.
You do get an MP3 player here, but you'll need a Micro SD card to make the most of it. The user interface isn't going to give Steve Jobs sleepless nights: tracks are arranged in familiar music player order, but it's not slick or intuitive. There's a "mini-player" control panel that you can call up using a key combination.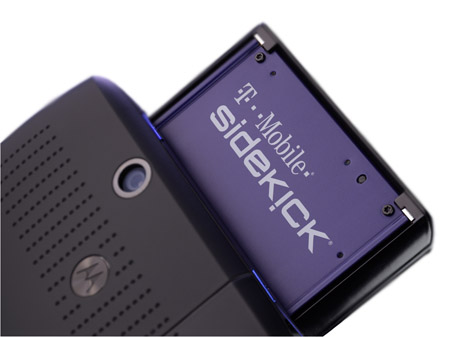 The camera is a disappointing 1.3 megapixels
Music played through the speaker on the back of the device was surprisingly loud and clear, within the limitations of small mobile speakers to deliver bass.
We'll have to reserve judgement on the MP3 player's performance, however. Our early sample was supplied without a headset - it will be sold with one - and the third-party 2.5mm-jack ones we used were only able to get mono output.
The Slide comes with one game pre-loaded Bob's Journey to the Centre of the Earth, and it offers a catalogue of downloadable applications, games, background, ringtones and so on.
Call quality on the Motorola-made Sidekick Slide is excellent. We had no problems with sound quality on either end of conversations. Maximum battery life is quoted at seven hours' talk time or up to 6.5 days in stand-by. In reality, with plenty of web browsing and a bit of music player usage we managed to get just over two days between charges.
Verdict
The T-Mobile Sidekick Slide has some appealing features that we can see would be attractive to a young audience: push email, instant messaging and a keyboard for fast typing. The auto back-up and sync system is an obvious plus point too.
But there are limitations to the device that we can see being a real turn-off: the poor camera, the Slide's hefty size, and the limited multimedia facilities. The browser experience is weak, too. Especially if you've tried an iPod Touch or iPhone.
The lastest Slidekick may be a smaller proposition, but a year on from the last version, in many ways it's looking even more dated.