Original URL: http://www.theregister.co.uk/2007/08/14/feature_tv_on_your_pc/
How to watch TV on your PC
PC as PVR
Posted in Personal Tech, 14th August 2007 14:02 GMT
Feature Watching TV used to be a passive affair: you sat back and watched whatever happened to be on. These days, passivity is passé. Digital Video Recorder (DVR) set-top boxes can pick up programmes beamed out from a terrestrial transmitter, sent via satellite or pumped down a cable and save them on a hard drive so you begin watching five minutes after the show started or at any other time.
You can do all this on a PC too. Getting TV on a PC is just a matter of plugging in one or more TV tuners, either as an internal add-in card or a USB clip-on, and running the control software. While your computer's screen might not be a sharp or as big as the telly in your living room, having TV on your PC does mean you can keep an eye on what's happening in the world while you're at work or at play. It's a doddle to archive recorded shows to DVD, and network connectivity means you can watch on any computer in any room in the house.
Taking this a step further, there's no reason why you shouldn't watch it in the location of your choice so you can watch the latest episode of The Sopranos while you're on holiday in France.
Hardware
Picking a TV tuner for your PC can be a confusing task as you'll be faced with a stack of choices and a host of acronyms and abbreviations. The first choice: analogue, digital or both - the so-called hybrid tuner? When we reviewed HP's IQ770 PC, which uses Windows Vista, we found that the analogue TV tuner provided a handful of fuzzy TV stations that were unwatchable. To our mind, the appeal of analogue TV is past, particularly with the upcoming end of analogue broadcasts here in the UK.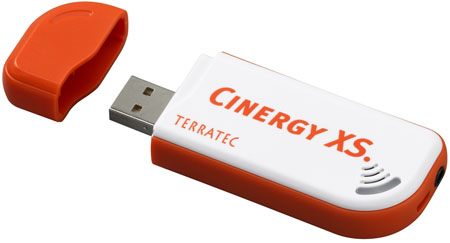 TerraTec's USB Cinergy Hybrid tuner
But here's a thought. TV tuner specialist Hauppauge told us: "Analogue provides two key features: the ability to capture from analogue sources, such as VCRs, and flexibility. USB tuners are often used in more than one place, and digital signals may not be available in all of them."
Indeed, we've used Elgato's EyeTV Hybrid tuner to digitise old VHS tapes that aren't available on DVD.
If you want to watch one digital channel while you record another then you need two tuners. However, there's nothing to stop you going multiple tuners. Windows Media Center is designed to run two tuners. However, we're told that you can hack it to run at least six tuners, should you feel the need. Multi-channel, multi-monitor display system, anyone?
TV on a Mac

Don't feel left out, Mac users. You can do all this TV-on-a-PC stuff on a Mac too. We'll be covering Mac-specific products and procedures in a separate feature soon.
At the most basic level, it makes little difference whether you use a USB tuner or an internal PCI or PCI Express add-in card. You're talking about roughly 1GB of video per tuner per hour, which is well within the bounds of USB 2's bandwidth. However, it's a safer bet to use an internal card, especially if you also use a number of USB peripherals. And if you plan to make the jump to HDTV, you'll need a faster interface than USB 2.0.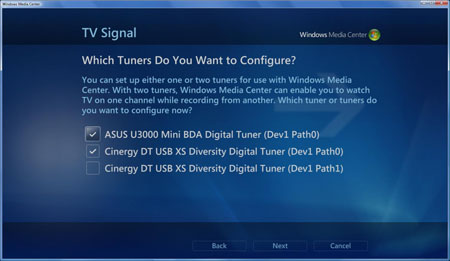 Windows Vista can use multiple TV tuners
Still, if you have a highly compact desktop PC, like you'll have little choice but to go for a USB tuner. You may well find that the tuner blocks one or more neighbouring ports, but USB tuners usually come with a USB extension lead.
This largely applies to laptops too. It's the work of a moment to unplug a USB tuner and aerial when you're off on your travels, but you're not limited to USB-connected devices. AVerMedia, for example, has a growing range of ExpressCard tuners such as the DVB-T Express X. Thanks to the bandwidth provided by the ExpressCard bus, it has headroom for HDTV.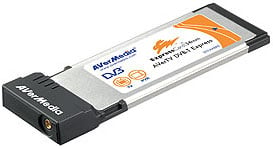 AVerMedia's DVB-T Express X ExpressCard tuner
To the best of our knowledge there's no technical difference between PCI and PCIe add-in cards, although it's tempting to choose PCIe if only to make use of the PCIe x1 slots that you find on modern desktop motherboards. It's possible that the bandwidth and power of PCIe may have a beneficial effect as KWorld lists a dual hybrid card that has a PCIe x1 interface.
The DVB-T PE310 PlusTV Dual Hybrid is a dual tuner card with a difference. Each tuner can be configured in software to act either as a digital tuner or an analogue tuner so you can have dual digital tuners with the option of an analogue tuner should it be required.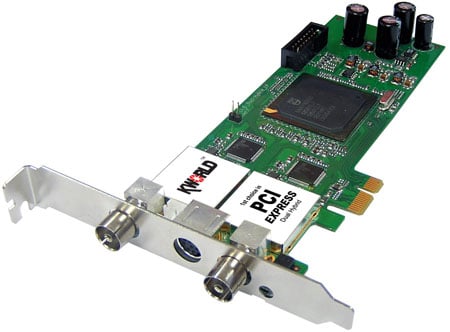 KWorld's PlusTV Dual Hybrid PCIe card
Most manufacturers include a small portable aerial with the tuner. However, our experience is that they are next to useless. Clearly, how good these mini antennae are at picking up a solid signal depends on the coverage where you live, but when we connected the HP IQ770 to a proper aerial on the roof we found an impressive total of 70 TV and radio stations. Switching to a tiny indoor antenna that was packaged with a USB tuner inside a room with metal framed windows the DVB-T tuner picked up no channels whatsoever.
Placing the tiddly antenna on the outside window sill we did far better, picking up 26 channels including such gems as Sky Three, UKTV History and E4+1 - but not E4. There wasn't a single TV station that we would choose to watch but the radio selection wasn't bad.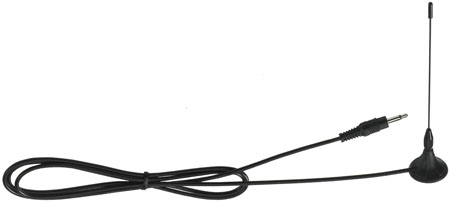 A typical bundled mini antennna
If you plan on using one of these travel aerials then we wish you luck, but strongly suggest that you get some proper ironmongery on your roof and even then you will likely need a £15-20 mains-powered signal booster if you're splitting the signal between rooms.
Software
Every TV tuner comes with some sort of software to allow you to scan for stations, save favorite broadcasters, and schedule recordings DVR-style. Compared to the Windows Vista's Media Center software, most of the tuner-bundled apps we've tried look positively amateurish.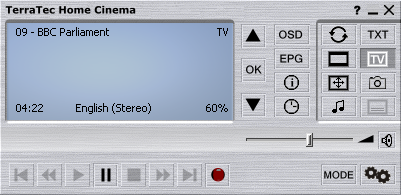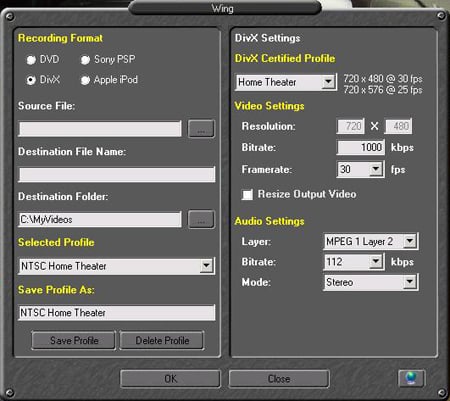 TV software from Terratec (top) and Hauppauge
It works, but generally performance is poor, we've found. KWorld's software, for instance, look bad and proved rather unstable. Seriously, with Media Center bundled with Windows Vista Home Premium, if you're upgrading your OS, or buying a new, Vista-equipped machine there seems little reason not to use Vista in preference to the tuner manufacturers' offerings.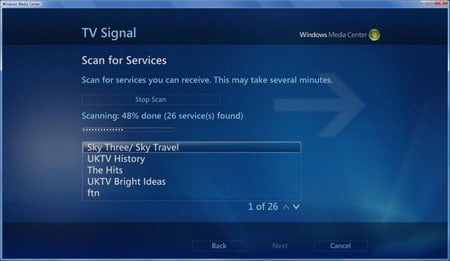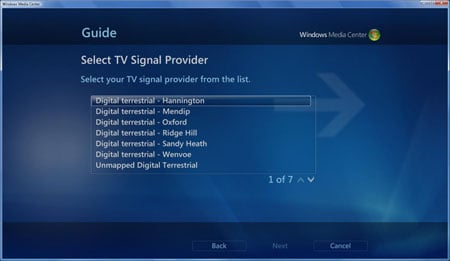 Windows Vista TV tuner set-up
You'll be able to scan for channels, watch TV, pause and record from the comfort of your sofa with the added bonus of the MCE '10ft' interface on the screen and a decent remote control. On top of that you can expect that your tuner will come with a seven-day Electronic Programme Guide (EPG) but Vista's Media Center features a 14-day EPG.
Most digital tuners will work with the DVB-T (Digital Video Broadcasting - Terrestrial) system that's the backbone of the UK's terrestrially transmitted Freeview free-to-air network. But they're not exclusively Freeview - as there are a small number of tuners capable of grabbing cable and satellite sent content.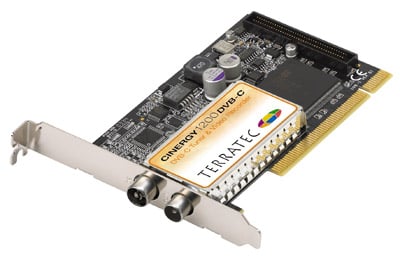 TerraTec's Cinergy 1200 DVB-C cable TV card
Cable looks straightforward: simply install a DVB-C (Digital Video Broadcasting - Cable) tuner such as Terratec's Cinergy 1200 DVB-C PCI card and connect the cable. Your cable company - Virgin Media, here in the UK - only feeds you the channels that you pay for so it probably doesn't much care whether you watch your TV via its own set-top box or through your PC. And you can use your Media Center PC to record content, burn it to CD/DVD, strip out the adverts and stream TV to other PCs around the house.
Across the network
There are a couple of interesting gadgets that you ought to consider as a means of distributing TV around your home - or even across the internet - to a PC. Sony has its LocationFree system, which connects to your home network and uses a wired and wireless transmitter, the LF-PK1, to distribute media around your home and beyond. The base unit is listed at £229 although you'll find it discounted to less than £100, and you have to pay £20 for the software to register each additional receiver, which seems a bit steep. It also contradicts the LocationFree name as it's not free at all.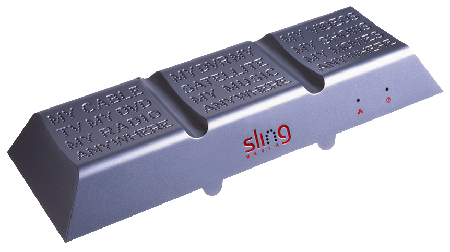 Sling Media's Slingbox: TV for the network
Slingbox from Sling Media incorporates its own digital TV tuner and redirects a selected TV channel to your PC where you view it with the bundled SlingPlayer software. It can take feeds and control other sources too. The trick is that your PC or laptop can be connected via broadband and can therefore be located almost anywhere on the planet. The only downside: only one remote client can connect to a single Slingbox at a given time. However, SlingPlayer also runs on a variety of mobile phones and handhelds, though you have to pay extra for this privilege.
Satellite is a completely different story. The problem is that Sky has no way of knowing who is pointing a dish at their satellite so it has to use encryption to protect the signal. The signal feed from the dish to the Sky box and Sky card is supposed to be out of your grasp, especially as Sky charges increasing fees for Sky, Sky+ and Sky HD servies.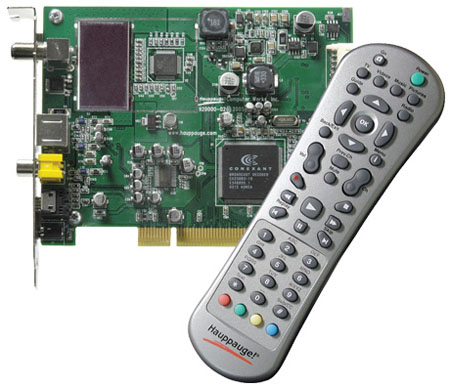 Hauppauge's WinTV Nova S Plus satellite tuner card
It's easy enough to buy a DVB-S card - Hauppage, for instance, has its WinTV Nova S Plus for standard definition programmes, and its WinTV Nova HD S2 for hi-def broadcasts - that will accept a feed from a satellite dish, and if you're a real buff you'll have a motorised dish that you can steer to known points to receive the satellite signal of your choice. Rumours abound of football fans who watch the unencrypted uplink signal of foreign matches before it reaches the studio and is then encrypted for broadcast.
That sounds like awfully hard work to us, and a trawl of the many AV forums throws up all sorts of issues. Take this snippet from club.cdfreaks.com:
"To use a DVB-S card with an official subscription, you will need a DVB-S card with CAM support. I had a quick look at the Hauppauge UK website, but there is no mention of CAM support with their latest cards, which means that they only pick up free-to-air channels (and data services such as broadband-via-satellite) with its included software.
"ProgDVB does support the use of so-called software CAMs, such as Yankse. However, as a software CAM is an emulation of a hardware CAM, these also require decryption keys to work since there is no physical slot insert a card to. As getting the keys out for a card is much like getting a patch for a game to work without the CD, I will not discuss this any further here."
The CAM referred to is a Conditional Access Module - tech-talk for the add-in card that authorises your set-top box to decrypt the selected channel. Without it, you'll be left only viewing the free-to-air channels, most of which you get on Freeview anyway.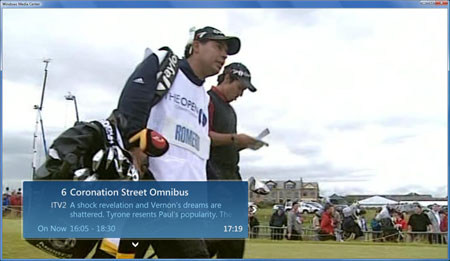 Once you've installed a DVB-T tuner, or perhaps a triple mode tuner with both DVB-T and DVB-C you'll find it's simple to watch and record TV. Indeed, any student or teenager who is considering taking both a laptop and TV away to college or university should seriously consider ditching the TV altogether.