Original URL: http://www.theregister.co.uk/2007/08/08/review_sony_vgntz11xn/
Sony VGN-TZ11XN/B laptop
Gimme, gimme. Wait... is that the price or my phone number?
Posted in Personal Tech, 8th August 2007 10:44 GMT
Review Sony has certainly pushed the limits with the TZ11 and the result is generally extreme in every department. Extremely thin, extremely light, extremely long battery life...and an extremely high price tag.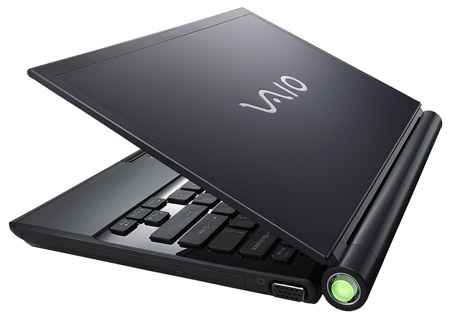 Nice lines: the Sony VGN-TZ11XN/B
The photos of the Vaio VGN-TZ11XN/B show a classic, smart Sony laptop, but they don't give any sense of just how tiny it is. The TZ11 is 27.7cm wide (that's under 11 inches) 19.8cm deep (less than eight inches) and it's 3cm thick at the back of the chassis where the battery clips on. Move to the front and the chassis measures an anorexic 2.55cm thick.
The most startling figure from the specification is the 1.19kg weight, which is thanks in part to the small chassis and also to the judicious use of carbon fibre in the base and lid. Add in a mere 400g for the power brick and mains cord and you should have no trouble finding room in your hand luggage for the TX11.
By definition a small chassis has a small screen so the TX11 gets an 11.1in X-black screen with 1366 x 768 resolution and LED illumination. The image is sharp, bright, and clear. The screen coating does a good job of enhancing image quality, but when the picture is very dark you can practically use the thing as a mirror.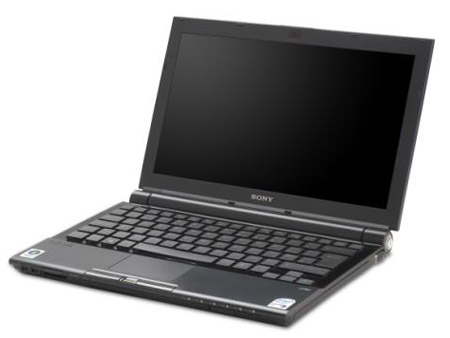 You won't have any trouble fitting this into your hand luggage
By now the alarm bells should be ringing as a feather-light laptop inevitably packs a tiny battery - so you'll be pleasantly surprised to learn that the VGP-BPL11 Li-Ion battery has a claimed life of seven hours and a charge time of three and a half hours. We raised a quizzical eyebrow at these figures and ran loops of PCMark05 to get a battery life of four hours and five minutes. That's constant heavy-duty use, and our rule of thumb says you can double the test figure to get a real-world battery figure - so Sony's seven hours is, if anything, conservative.
Sony has achieved this remarkable figure by sticking religiously to Centrino Duo components that are based on a Core 2 Duo U series processor and an Intel 945GMS chipset with Intel GMA950 graphics.
There are three models in the TZ11 range that offer different specs of processor, memory, hard drive and, of course, in price. The VGN-TZ11 MN/N Platinum Sand has a U7500 processor running at 1.06GHz, 1GB of PC2-4300 RAM and an 80GB hard drive for a Sony Style price of £1,499 inc VAT. You can find it on sale elsewhere at £1349.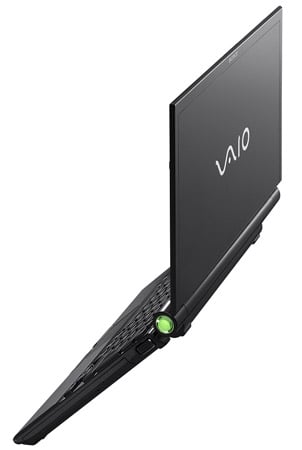 The carbon fibre casing is extremely durable
Then there's the VGN-TZ11 XN/B Natural Black that we're reviewing that has 2GB of RAM in a single module and a 100GB hard drive at the eye-watering prince of £1,799, although you can find it for £1,589. Finally, we have the VGN-TZ11 VN/X Black carbon fibre, which is an XN/B with a 1.20GHz U7600 processor that will 'be coming soon' at a price of £1,899 inc VAT.
Sony is charging an epic price for a tiny laptop so it's fair to ask what it delivers for your truckload of cash. Happily, the answer is "quite a lot, actually".
The tiny chassis includes a dual layer DVD writer that nestles into the right hand side, just in front of the VGA port. The back of the Sony is fully occupied by the battery, but the left side is riddled with ports.
Under a cover you'll find modem and Gigabit LAN ports and a mini Firewire, there's an Express Card/34 slot under another cover, and two exposed USB 2.0 ports, which is impressive enough, but the real action takes place at the front. There are two mini jacks for headphones and microphone so Skype users are well catered, two memory card slots, and a flick switch to disable wireless.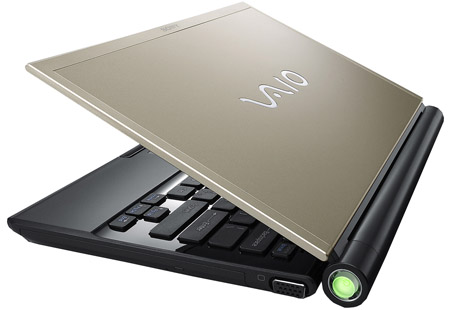 The VGN-TZ11XN/B comes in a range of colours, including this fetching gold
Then we come to the six media control buttons that allow you to play music and movies or to view photos without powering up Windows, as the controls use an instant-on facility that is built into the Bios. In truth, it takes about five seconds to power up, but that's considerably faster than Windows Vista under any circumstances and especially so in the case of the TZ11.
It's bound to be a slow laptop with a 1GHz processor, even if it is dual core, as the low bus speed and slow hard drive all contribute to battery life, but subtract from system performance. The Windows Experience Index figure of 2.0 is fairly pitiful thanks to the Intel graphics, but the other elements only score four marks, which is unimpressive.
Sony hasn't helped as it has chosen to install its standard laptop bundle of software when it is clear that the TZ11 needs all the help it can get - so when you start Windows you may as well go and make a cup of tea.
Once Windows Vista Business Edition has cranked into life you have to endure the Club Vaio marketing puff, which is followed by Norton Internet Security 2007. This is especially annoying as the new Norton 360 has a small footprint, but the 2007 suite is a monster that is an unfair burden on the TZ11.
Fire up Internet Explorer and you'll find that Sony has set the home page to three different Sony sites, so the browser pops up three tabs, all designed to sell you something. You've spent £1,600 on the laptop so surely you deserve some slack from Sony's marketing department or, possibly, a word of thanks.
battery test - constant use (in hours)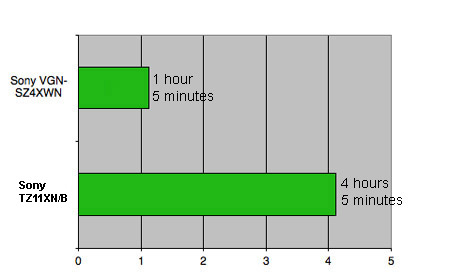 Longer bars are better
While we're picking fault, the touchpad is tiny and as it has the same matt black finish as the chassis you'll find your finger slipping off it time and again. The two mouse buttons are located on the front edge of the chassis and they also suffer somewhat from questionable positioning - although it is clear that Sony had very few options with such a tiny workspace.
3DMark06 benchmark test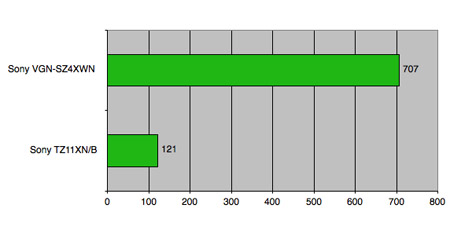 Longer bars are better
There are a couple of especially neat touches, starting with the keyboard, which has the keys poking up through holes in the chassis. It looks superb and has a lovely feel. Just as importantly, the layout of the keys is close to ideal. The other feature that catches the eye is the fingerprint reader which is located between the mouse buttons. It is allied to an Infineon TPM 1.2 module so you can be confident that your data is protected no matter what fate may befall your TZ11.
PCMark05 benchmark tests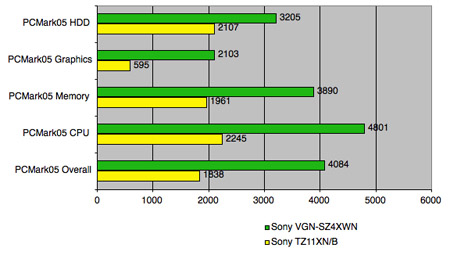 Longer bars are better
Verdict
There are times when we're not the least bit fussed about returning a product after the loan expires, but we're going to miss the TZ11 because it looks so damn great and its ultra portable size and weight is backed up by incredible battery life. We'd love to have a bit more performance, but as that inevitably hurts battery life, we'd leave the hardware alone and just rip out the Sony bloatware. The problem is the price. We can see why it costs so much, but even so you'd have to plan your justification for this purchase for quite some time.