Original URL: https://www.theregister.co.uk/2007/06/28/bay-area_furries/
How furry is it?
Silicon Valley subculture of stuffed animals is the largest in the world
Posted in Science, 28th June 2007 23:12 GMT
On the way back from a popular Palo Alto coffee house, Adam Riggs - also known as Nicodemus - stops at his car to show off a new raccoon suit. Sporting a furry blue headpiece, the Silicon Valley computer programmer begins to wave like an amusement park mascot.
"My first costume was a fluffy rat with large eyes and a pair of headphones," says Riggs. A panda suit came next, followed by a mouse jester. "I also juggle," he adds.
By day Riggs cranks out code from the headquarters of a large Silicon Valley-based tech company, but by night he's an animal - even if just a stuffed one.
"I wouldn't want to flatter myself by saying intellectual people enjoy these kinds of mental fantasy postulates," says Riggs, who authored a book called Critter Costuming in his free time. Furries are hard to define, he says, but they are known for being techies - even if the converse isn't always true.
Long considered the technology capital of the world, Silicon Valley is reportedly home to the world's largest furry population. "I got into the furry scene when I started working in high tech, and wasn't getting out much." says Tom "Howling" Geller, a self-proclaimed wolf (and depending on his mood, sometimes a fox or mouse). "The furry community suffered after the dotcom crash, but it's coming back."

Bay Area postings on Pounced.org, a dating site for scruffy puppies and friendly foxes, outnumber those from any other region. The Internet Furry Proximity Locator, a geographic site that plots furries by zip code, identifies Northern California as a national hotspot.
Each year 2,000 human-like-animals attended Further Confusion - the Bay Area's annual conference, and the second largest furry gathering in the world. In contrast, only 300 anthropomorphics attend the Rocket City FurMeet in Alabama. New Jersey's last Cape May Fur Meet hosted only 14 furries. Anthrocon, the largest furry convention, is expected to host 2,500 this year. The meeting will be held on July 5th in Pittsburgh.
Along with workshops on costume making, conventions are typified by hours of dancing, role playing and general rowdiness - all instigated by programmers and artists in animal suits. "It's a way for people who are normally in their heads to connect with their bodies," says Howling.
But even if the theory that "smart people like to dress up in animal suits" explains the predominance of certain geeks in furry land, it doesn't explain the absence of others. Furries say internet junkies, electrical engineers and computer programmers are more common than bioengineers or geneticists. Journalists - also a brainy bunch - are not common attendees.
Puzzlingly, animal behavior specialists and ecologists are also rarely sighted - perhaps explaining why raccoons wear t-shirts and orcas carry umbrellas.
But this process of humanizing an animal is what being a furry is all about, says Howling.
"Many people feel their body doesn't match their real self," he says "for some they may feel too fat, for some they are the wrong gender. Furries are reconciling the discrepancy between the animal self inside and the physical body they were born with."
An animal trapped in a human body
Yet when the dog trapped deep inside a furry canine is finally set free, it's more likely to sport roller-skates than realistic attributes. This lack of literalism frustrates those with more serious trans-species interests.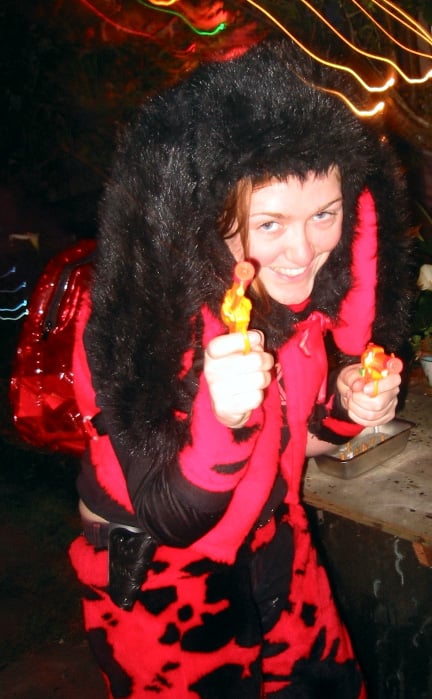 Pic credit: Morley John
"I can understand wanting people to see you on the outside as you feel on the inside," says Spike, a Bay Area electrical engineer who believes he is a rottweiler trapped in a human body, "but I identify as a biological dog, not an anthropomorphic dog." To protect his career, Spike asked to have his real name omitted.
While furry canines walk around on two legs, chatting pleasantly with felines, Spike says he fights the desire to run on all fours and bark at cats on the street. "When I was in kindergarten I would convince kids to play fetch with me," he says.
Being a dog is more than just a game of pretend for Spike, and as dog suits are unrealistic he has never taken to wearing them. "I don't have the desire to dress like a cartoon," says Spike.
A vegan out of respect for his fellow compatriots, Spike also avoids cosmetics tested on animals and meat products. Being a furry, on the other hand, doesn't necessarily inspire political sensitivity.
At the monthly SF Furmeet, a dinner held in San Francisco's famous Castro neighborhood, a table of furries chow down on hamburgers and chicken fajitas.
While no mention of the torture endured by their animal relatives is made, a fierce debate erupts over the original inventor of peanut butter. The conversation capriciously shifts to the manufacturing and distribution of coins, inspiring an IT manager (and lion) named Sage Mane to joke about short changing exotic dancers at strip clubs. The all-male group laughs, only to later contemplate the mysterious absence of women at monthly gatherings.
"Furries aren't the most socially competent people," says Morley John, a female furry and engineer based in Pittsburgh, Pennsylvania. There are "a lot of awkward people who have difficulty connecting person-to-person."
Yet despite being a minority citizen in furry land, John says the awkward culture offers the chance to vent frustrations with her male-dominated profession. She is currently working on a muscular Koala bear costume that boasts sharp claws and a plate of armor. "Koala bears are very territorial," she says.
John has also worn costumes that embellish exaggerated feminine stereotypes, and says furry culture offers a refuge for those that want to "try on" extreme genders. "Because I have to be one of the guys to be respected," says John, "it's somehow cathartic to take a cute, cuddly looking character and turn it into something that has a lot of raw, vicious energy."
How kinky is it?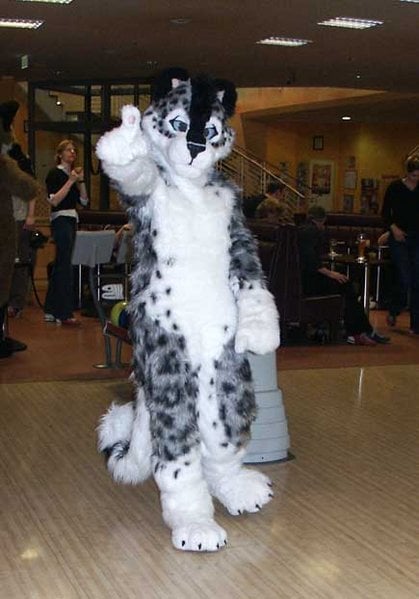 pic credit: Flutterby
Despite the foxes with exaggerated breasts and anatomically incorrect marsupials, furries purport the fandom isn't fetishistic. Furry blogs refute Vanity Fair's famous March 2001 article, saying it confuses furries for plushies - or people with a sexual attraction to stuffed animals.
"These portrayals are unrealistic and blown out of proportion," says John. "I haven&'t seen this aspect of the community. Most of the people I've met are good hearted, dorky, science fiction junkies."
Furries were similarly represented as orgiastic on "Fur and Loathing", a 2003 episode of the CBS television show Crime Scene Investigators. MTV's 2002 documentary Sex2K included a segment on furries, for which filmmaker Rick Castro has been accused of deceiving convention organizers and falsely depicting the fandom as kinky.
A dark-haired furry in street clothes makes the same argument while munching on hors d'oeuvres at a barbecue in Howling's backyard. He insists furries are wholesome, yet makes no apology for his T-shirt. An advertisement for a Hawaiian luau, the shirt reads "get laid the Hawaiian way," and features a blonde-haired fox straddling a giant totem pole.
"I've had a lot of sex at furry conventions," admits Howling, "but I'm a slut, and I arranged the party." Yet Howling says he doesn't necessarily represent the larger furry population.
Riggs re-assures conventions are kept PG so that furries can bring their kids, with risque activities saved for the after parties. Even then he says sex in a fur suit is impractical.
"It's hard to keep the suits clean," says Riggs, "oils from the skin can damage the fabric over time." Heat stroke is also a concern, even while simply dancing and parading. Many conventions offer a "headless lounge" - a room off the dance floor where those in costume can remove their headpiece, take a drink and cool down in front of a large fan.
How many furries dress up?
There are no statistics on how many furries own suits, but only ten per cent of the annual attendees at Further Confusion participate in the costume parade. The rest cheer from the sidelines in street clothes. "Most furries don't dress up," says Howling. "People also come to conventions to just draw, dance and talk about their characters." As suits have to be custom made, costs are almost prohibitively expensive. For $2,000 a suit, a costume maker that specializes in furry fashion can be commissioned. Home-made suits cost as little as $500, but usually require several months of stitching and gluing.
But what else is a giraffe trapped in the body of a computer programmer to do? Reports of animalistic behavior sometimes surface after Dungeons and Dragons marathons, and roll playing websites are beginning to introduce animal avatars. But let's face it - how can anything replace a cheek-to-cheek slow dance with a purple penguin?
And perhaps this is what gives the furry fandom a sense of community. Even if the costume only takes a few months, developing a character can take years. And like Star Trek junkies and members of the Society for Creative Anachronism - a subculture of knights and medieval maidens - furries identify with their roles and develop relationships with their fellow mis-incarnated aficionados.
"Furries are shy people who normally sit in front of the computer playing World of Warcraft," says Howling, "and being a furry is a way to make friends." ®