Original URL: https://www.theregister.co.uk/2007/05/31/sex_dot_com_review/
Sex.com: read it if you dare
A tale of evil from the early days of the internet
Posted in Bootnotes, 31st May 2007 13:03 GMT
Book review OK, I'm going to let you in on some of the secrets of how the internet was built.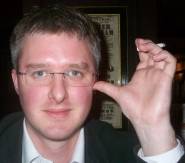 No? OK. So, let's see: It's about the American legal system and how it can crush innocent...still not interested? How about the growth, and theft, of the pioneering porn site, SEX.COM? Yes, web porn, the inside dope. Ah, thought that might get your attention! OK, that's what Kieren McCarthy's book is about.
And a cracking read it is. Not since Steve Levy's Hackers have I read a book which gets under the skin of some of the most astonishing characters. And as you read, you get to know them - Stephen Cohen, the man who stole the domain from archetypal Silicon Valley geek, Gary Kremen, and then you come to realise there's actually a third character in this book. And this third character is the really scary one. It's a company called Network Solutions.
Most internet nuts know the basic story. In the earliest days of domains, a bunch of geeks gave each other interesting domain names, and one of them, Gary Kremen, got sex.com and decided to make a sex site. Before he got a chance to do that, the registrar gave it to someone else - specifically, to conman Stephen Cohen.
The document Cohen used to steal the domain was an obvious forgery. Standard terms and conditions at Network Solutions, who administered the registry of domains, clearly stated that before accepting a document of this sort, it had to make obvious checks, including asking the registered owner whether this was indeed from him - and Network Solutions didn't make those checks.
Twelve years went by before the resulting lawsuits came to an end.
The book gets you into the weird, dark world of the adult internet. You find yourself staring into the jaws of the crocodile with Cohen; you discover his amazing ability to bamboozle people - even people who knew exactly what he was up to - by inventing interlinking facts. And on the other side, you meet the drug-crazed Stanford graduate, an obsessive, definitely not a "team player", Gary Kremen.
But every time another brush stroke goes to the portraits of these two, the background stands out more clearly.
Here's the bit where McCarthy pulls the curtain aside and unveils the full backdrop painting: a chapter called "Panzers and Toes" where finally, executives from Network Solutions have to answer questions, and answer them in court.
We're at the stage where we understand that Cohen hacked Network Solutions. He had very little access to its systems, but he did manage to alter the database of who owned sex.com; and then armed with that, changed the name of the owner to his own name. Then, he set about forging documents to show that he'd always owned the domain, and had a trademark on sex.com, and that in fact, he'd been given the domain by the company which Kremen set up and which, he says, Kremen was fired from.
To prove this, Cohen sends a faxed document, "the Dimmick document", one which wouldn't fool a baby. The person who is supposed to have sent it couldn't spell her own name; the letterhead looks like it was made on a John Bull home printing press by an illiterate kindergarten pupil, and there is no background that would stand up to a single phone call to check.
So, we get to February 2000. Up to this point, NetSol has simply refused to dignify any of Kremen's complaints with an answer. It's a dispute between two pornographers, is their official view; not something they have to soil their hands with. Let the two fight it out, they say.
For us, it is already clear that they have behaved unspeakably. They are an officially appointed monopoly. They are supposed to assign domain names to people who apply for them, but have chosen, instead, to rent them out. And we now learn that Kremen and his legal team suspect that Cohen has a girlfriend inside the registrar corporation, and they're trying to get the Judge to compel them to provide evidence by asking for documents.
"NSI [Network Solutions Inc] was stating in filings that Kremen had no right to the domain - in fact, it was saying that no one had any right to any domain, and it could do with them whatever it wished.
"The problem was that Carreon [Kremen's lawyer at this point] didn't have a lot to work with. Months of legal work became effectively worthless after [the Judge] Ware refused to order NSI to hand over the documents Carreon wanted."
The clash between the judge and Charles Carreon is a lovely vignette in the story. Carreon is a brilliant lawyer - when creating paper, and investigating. But in court, he's a long-haired hippy with a pony tail; and a wretchedly bad advocate. It's quite clear he rubbed the Judge up the wrong way:
"Ware wanted to know if Carreon had evidence that NSI knew the Dimmick letter was forged, or if he could prove that Cohen was sleeping with someone inside NSI and was using them as an inside man (or rather, woman) to push domain transfers through the system. Carreon knew the chances of his being able to prove either, even if he had more time, were remote. But he was determined to try to get Ware to see the bigger picture. NSI should have known that the Dimmick letter was a forgery. If he could prove that, Judge Ware might just start listening to his other arguments."
And at this critical point, Kremen's legal team finds Ellen Rony.
"Outside of Network Solutions' own staff, Ellen Rony was perhaps the most knowledgeable person on the planet about how the domain-name system worked in reality, and how NSI interacted with it. Not only was she one of the people there from the very earliest days of the internet, but she had decided to build an historical resource about its formation and its politics over time. In many ways, she knew more than NSI about the company's approach to domains.
"Rony had already written the definitive book on internet domains; she had worked alongside NSI for years, and she had been asked by the US Government, the World Intellectual Property Organisation, and numerous other international bodies to present her expert views. In short, she was the perfect witness."
And she delivered. On point after point where Kremen suggested that NSI had a policy which specifically supported his position and specifically ruled against NSI's actions, Rony testified that this was the case. "Had NSI followed its own notification procedures...it would have quickly learned the true nature of the facts," she concluded.
Recognising that Rony's testimony could put them in line to have to pay an awful lot of compensation, NSI directors took prompt action:
"And so, on the afternoon of 23 February 2000, NSI's legal frontman Philip Sbarbaro, with a second lawyer listening in, took an extraordinary risk, and called up Ellen Rony at home, to warn her off the case.
"He started off by telling Rony that Charles Carreon was a 'loony' unpredictable and untrustworthy, and warned that she was 'going against NSI', for which she would suffer consequences."
The book makes it clear that these consequences were to include losing any further work with NSI, to be "discredited" by NSI and then, going beyond what one can read without one's mouth sagging open, this high-level corporate lawyer proceeded to threaten physical violence - including the removal of her toes.
Make no mistake; by the time you've read this book, you will fear Cohen. You will fear meeting him (yes, he got out of jail) and you will fear falling for one of his scams; you may even fear the possibility that someone with his connections might even resort to violence.
His personality fills the pages and blots out the sun and the sky. He was able to bully people - not just ordinary, law-abiding office workers, but other hard-core pornography operators, criminals, gangsters, and even lawyers; you find yourself thinking: "How would I be able to escape, if his shadow crossed my life?"
And the book shows that Kremen is no saint - his crystal meth habit is not the least distasteful of his personal traits. One should not write down what Cohen himself says on any subject except as an illustration of how plausibly he can lie, but Kremen accepts that on one point, Cohen's testimony was accurate - and that was when Cohen poured scorn on his drugs habit. In Cohen's words, Kremen was "a hopeless junkie. He would come into depositions (court hearings) and curl up in a ball on the floor and sleep", Cohen sneers. "He would come into court in wrinkled up shirts, and he hadn't showered, he smelled."
There are no saints; there are plenty of villains. But the most terrifying of all of them, a dark, shadowy figure at the start, but a growing black cloud of impenetrable malice as the book progresses, is Network Solutions itself.
This book is a true horror story. And the cleverness of the way McCarthy presents it, is that you think you're going to read a racy description of the high life of a few wealthy California dotcom millionaires, playing at pornography - but what you end up soaking into your soul, is a deep understanding of the pioneering days of the internet.
And the story you actually read is one you would probably have dismissed - if you were told what it was about beforehand - as "boring, background business stuff". But this boring tale is actually the one that has you staying up late into the night, unable to say: "I'll finish it in the morning!"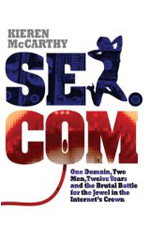 And it's this tale of corporate deception, implacable monopoly abuse and downright evil around the boardroom, which means that when you turn the last page and switch off the light, the darkness of the night is almost tangible and fearful. But the monster that lurks beyond the curtains isn't the drug-crazed obsessive geek, it's not the relentless, bullying conman. It's the corporate giant which waits for you beyond the borders of sleep, with nightmares where you find yourself too helpless to resist an implacable foe - a foe beyond your power, and apparently immune to the law.
It's a brilliant bit of writing. Read it if you dare.
Sex.com is published by Quercus Non-Fiction at £12.99
ISBN 10: 1 905204 66 3
ISBN 13: 978 1 905204 66 3
Copyright © Newswireless.net
Disclaimer Kieren McCarthy is a former Register reporter.