Original URL: http://www.theregister.co.uk/2007/05/02/ballmer_vs_iphone/
Ballmer: Apple's iPhone will be a niche player
That's right, Steve - and it's a good thing too
Posted in Personal Tech, 2nd May 2007 11:27 GMT
Analysis So did Microsoft CEO Steve 'Monkey Boy' Ballmer actually claim Apple's iPhone strategy is "flawed" or "bust", as a fair few bloggers picking up on his USA Today interview suggested? Not quite.
In fact, Ballmer admitted the iPhone will make Apple "a lot of money". Which is the whole point, isn't it? However, it's an understandable mistake. Pundits have been filling acres of column inches in print and online on the iPhone's potential for, and in almost every case they've used the iPod as the metric to measure the iPhone's success and failure.
But they're missing two key factors: first, the way the iPod and the demand for it developed, and, second, how the phone market works.
Apple released the iPod back in November 2001. It was expensive and it was only of use to Mac owners. Yes, it was smart looking, it had a great user interface and it had a hard drive to hold what was then an enormous 5GB of songs, but its high price and limited market opportunity did not bode well.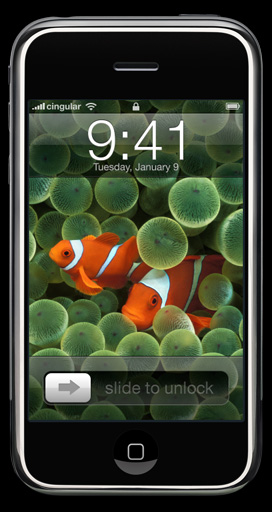 Why didn't Apple release the player with Windows software? Why not price it more aggressively? Because the first iPod was a toe-dipping exercise to see what demand there might be for such a device. Apple management clearly believed consumers would want one otherwise the iPod would never have been released, but what was the potential? The first iPod can be seen as a test.
Apple knows it has a very dedicated fanbase, many of whom are fairly well-heeled and will buy anything with the Apple logo on it, no matter what. Releasing the first iPod allowed the company to test the market, and to test its attempt to buy the music player for the rest of us. Early iPod adopters - this reporter included - were essentially unpaid beta testers. As early adopters always are.
They also fund development. Apple's high initial price paid for the development work undertaken to produce the second-generation product, an iPod design fuelled by all the feedback from the first versions. Somewhere in Apple is an Excel spreadsheet that shows if the company released the iPod when it did, to whom it did and at the price it charged, Apple would probably make enough money to cover the development of a device more favourable to a broader market.
By which time, of course, greater volumes and greater integration reduced the manufacturing and other costs, allowing the price to fall a little. Again, spreadsheets allow any company to adjust the price and see how it can best balance uptake and revenue to best meet its financial and marketshare goals.
And Apple's doing it all over again with the iPhone. Expensive, check. The potential purchaser base isn't quite so limited this time, but the high price more than compensates for that. But it's a first generation, early adopter-focused product. But unless it's phenomenally bad, it will sell in sufficient numbers to cover the development cost of this generation and the next.
The spreadsheet never lies.
Well, almost never. This time Apple has had to factor in the cost of delaying Mac OS X 10.5 Leopard to allow it to pull its operating system software coders across to the iPhone's OS, though we've only Apple's word for why Leopard was delayed. Perhaps it doesn't want its marketing team distracted from the iPhone by having to launch a major OS upgrade too, particularly one so clearly lined up against Microsoft's latest.
Which brings us back to Ballmer. Here's what he said:
"There's no chance that the iPhone is going to get any significant market share. No chance. It's a $500 subsidised item. They may make a lot of money. But if you actually take a look at the 1.3 billion phones that get sold, I'd prefer to have our software in 60, 70 or 80 per cent of them, than I would to have two or three per cent, which is what Apple might get."
Some 252m handsets shipped in Q1, according to market watcher Strategy Analytics. Two per cent of that is just over 5m devices. We don't know what subsidy if any AT&T is contributing to the cost of the iPhone, but even if it's just eating up its hardware profit in return for the gains it'll make in airtime charges, that means Apple's getting at least $500 per phone. So 5m units amounts to $2.5bn.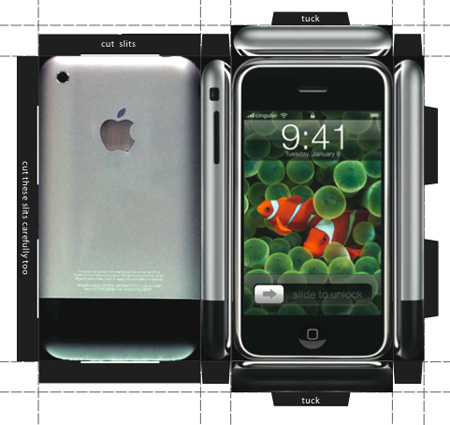 Make your own iPhone...
There's no way Apple's going to win two per cent of the mobile phone market immediately, much less three per cent or even the four per cent that Ballmer also suggests. But it does show that a niche product has the potential to make big bucks.
The consumer electronics world is full of examples of companies that do very nicely by pitching otherwise mainstream products at very specific audiences. Think Bose. Think Bang & Olufsen. Think Porsche. Apple has managed to do the same in the computer market - the only strategy it could adopt, to be honest - and it started out doing the same thing with the iPod.
Its approach to the iPhone is no different, though the perhaps unexepected scale of the iPod's mass-market success will inevitably persuade some that Apple wants to be Nokia. Only the Apple TV has been positioned from day one as a mass-market product - Apple calls it the "DVD player for the 21st Century" - but that's because, unlike the iPhone and the debutante iPod, it's cheap to make and cheap to sell.
The antithesis of the iPhone, in other words. Apple TV is predicated on big demand from day one. The iPhone isn't, and to assume otherwise is plainly incorrect. Yes, Apple would like to sell huge numbers of iPhones. Yes, it would like it to follow the iPod's trajectory. But it knows it's up against very large, very well established rivals, and it will be developing its product, its marketing and its strategy accordingly, waiting for the moment that one Excel cell changes from red to black.