Original URL: http://www.theregister.co.uk/2007/04/27/review_nokia_n93i/
Nokia N93i camera phone
It's a phone. It's a camcorder. It's a robot. Well, maybe not a robot...
Posted in Personal Tech, 27th April 2007 14:21 GMT
Review The Nokia N93i isn't quite sure if it's a phone, a camcorder, or something in between. Flip it one way and it appears all phone-like, but swivel the display around and it feels like you're holding a mini-camcorder.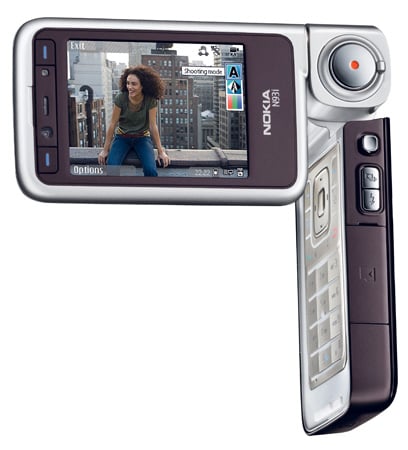 Like the Nokia N93 before it, the N93i is an attempt to bridge both worlds - leaving you with one less device taking up space in your pocket. It's certainly more stylish that its predecessor, with its silver and grey finish and mirrored external screen. You'll need to treat it carefully, mind, as that mirror finish is prone to picking up fingerprints and other grubby marks. Unless you really enjoy cleaning smears off your phone every five minutes it's soon going to lose that stylish shine.
The N93i can mutate into four distinct modes. When it's closed a hidden display beneath the mirror shows status info, like what time it is and the caller ID of incoming calls. Flip the display straight up and it's a normal clamshell phone, with numeric keypad at the bottom and portrait-oriented display at the top.
Fold the display back down so it's at right angles to the body of the unit and then twist it 90° anti-clockwise, and it enters camera mode. The display switches to landscape, acting as a viewfinder, and the menu adjusts to picture-taking related settings. When you've got it in this configuration, the big record button sits naturally under your thumb and there's a rotating ring around its edge to control the 3x optical zoom. Below the record button, on the main body of the unit, is a small joystick so you can find your way around the menu when you're in this mode. However, it's far from easy to use and can feel a bit stubborn to respond at times.
Finally, there's a viewing mode: fold the screen back so its fully closed then, instead of opening it like a clamshell, turn it 90° and twist the display up along the long edge - as if you were opening a PDA with a keyboard. If this all sounds a bit complicated then bear in mind it's much more difficult to describe than it is to use in real life.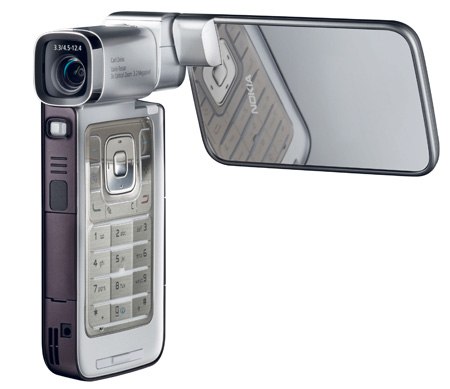 The screen reacts depending on which configuration you've got the phone so it's always the right way round for what you want to do. However, as it flips from portrait to landscape and vice versa there is a short pause as the icons right themselves in the new configuration.
In terms of size, for a solid-state camcorder, it's not that bad - for a phone, however, it's massive. When closed it measures 10.8 x 5.8 x 2.5cm, but fold it out into phone mode and it measures nearly 20cm from top to bottom.
Nokia has put the space available to good use though, packing in a huge array of features. In addition to normal tri-band (900/1800/1900MHz) GSM it supports 3G. Wireless transfer is catered for not just by infrared and Bluetooth, but the N93i also has Wi-Fi built in, so if you're in range of a hotspot you can browse away without worrying about excessive data charges.
There is an intriguing SIP (Session Initiation Protocol) option in the settings menu, which, at least in theory, should allow you to configure VoIP telephone services - although the manual and help are somewhat vague on this matter. We did manage to get the phone to register with an internet VoIP service over a Wi-Fi connection, but couldn't seem to get it to actually make or receive any VoIP calls.
As a modern phone, it has all the high-end features you'd expect - from calendar and email to music player and web browser. The keypad resembles that of the Motorola RAZR, with laser-cut, brushed-metal keys. The top section is taken up with navigation, with a four-way pad surrounded by various function keys. The keypad is pleasant enough to use, but the interface can feel a little slow to respond.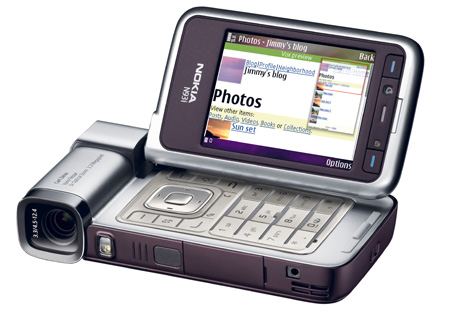 The N93i runs the S60 user interface and as such it's very simple to use. The main status screen provides quick access to six programmable shortcuts, with further options available through the icon-based menu. There's also another shortcut menu too, the Multimedia menu, which is perhaps a little over the top.
Calls were nice and clear, but not especially loud even at maximum volume. Adjusting the volume is also a bit tricky - it's controlled by the side-mounted joystick, which falls under your thumb if you're holding the phone in your right hand. However, you need to move the joystick from left to right, rather than up and down, to change volume, and this proved a little difficult to do.
You've got four quality options when it comes to shooting video, plus an addition mode for MMS. The highest setting shoots 640 x 480 resolution video at 30 frames per second. A minute of footage at the highest setting occupies around 20MB - so you should be able to get at least 45 minutes on the supplied 1GB Mini SD card.
Footage shot indoors was a little grainy, and shots that panned horizontally appeared slightly jumpy when viewed on a PC. There is a photo-light at the front to help illuminate dark situations, which works surprisingly well providing you're close to your subject.
Highest quality 3.2-megapixel photos stretch to 2,048 x 1,536 and will easily outclass most other camera phones. Image quality isn't quite up there with a dedicated handheld snapper, though - but it's close.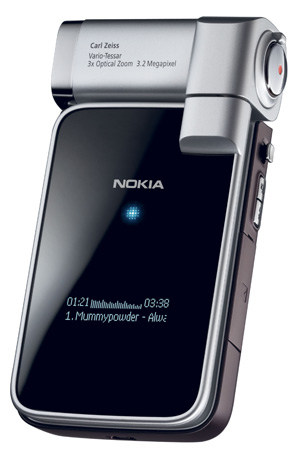 One slight problem with the design of the camera is keeping your fingers out of the way of the lens. With your thumb at the back over the record button, your index finger naturally falls in front of the lens as you grip it.
On the software side of things, Nokia hasn't skimped including a copy of Adobe Premiere Elements 3.0 video editing software and also Adobe Photoshop Album. In addition there are some Nokia applications thrown in such as the Lifeblog journal app and PC Suite connectivity software.
Keeping all the features of the N93i going takes a fair amount of juice and its claimed battery life is just under four hours talk time and 12 days on standby using GSM. However, Wi-Fi in particular seemed to put a greater strain on the battery, draining it in a day when turned on all the time. However, by default the connection is turned off when it isn't needed, so it doesn't waste power unnecessarily.
Verdict
The N93i seems to have a bit of an identity crisis - it's a bit on the big side for a phone and as camcorder it's adequate but no replacement for a dedicated model. It's also a bit awkward to use at times, and the twisting, turning design feels a little over complicated. It's pricey - £200 with a contract, £550 without - but it's packed to rafters with features. But turn too many on at any one time and the battery life will suffer.