Original URL: http://www.theregister.co.uk/2007/02/06/review_microsoft_zune_mp3_music_player/
Microsoft Zune wireless music player
Microsoft attempts to win over the iPod-infatuated
Posted in Personal Tech, 6th February 2007 12:02 GMT
Review After five years Microsoft has decided to combat Apple's domination of the portable music market head-to-head with Zune - a hard drive-based MP3 player with full colour screen and built-in Wi-Fi music sharing...
Zune is only available in the US at the moment - and Microsoft is keeping tight-lipped about when the player will actually be launched in Europe. The current rumour mill suggests anytime in the next few months all the way up to Christmas.
Although there's nothing stopping you from picking one up if you happen to be in America and bringing it back, you won't get the full experience. While you'll be able to load your own music and videos onto it without any problems, you can't access the Zune Marketplace music store, which is a shame since it offers one feature iTunes doesn't: a Napster-like subscription service.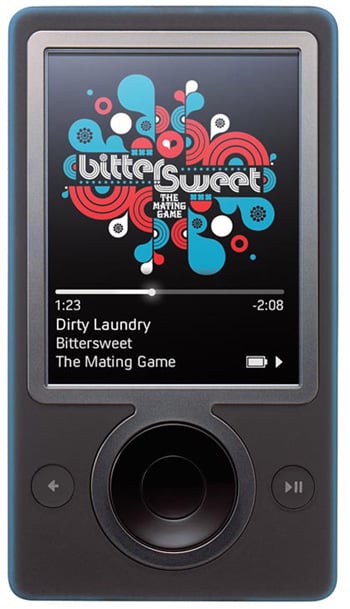 For a flat monthly fee of $15 (£8) you can download as much music as you like and take it with you. You're free to listen to the music as long as you pay the subscription fee. Stop paying and you'll have to stop playing.
You can also buy individual tracks from Zune Marketplace, but you have to pay in Microsoft Points, something Xbox Live users will be familiar with. Basically you buy points in your local currency and then spend them in Zune Marketplace or Xbox Live. A hundred points will set you back $1.25 in the US and 85p in the UK. Individual tracks cost 79 points - which works out at $0.99 - the same price as iTunes in the US.
Turn on the Zune and the first thing that strikes you is the 3in screen that dominates the front of the unit. While it works well in portrait mode for navigating your music collection, where it really shines is video - turn it to landscape mode and you can view widescreen content on a relatively large scale for a portable player.
Unfortunately, you'll have to transcode any video content into WMV format first as that's the only type of video the Zune will play natively.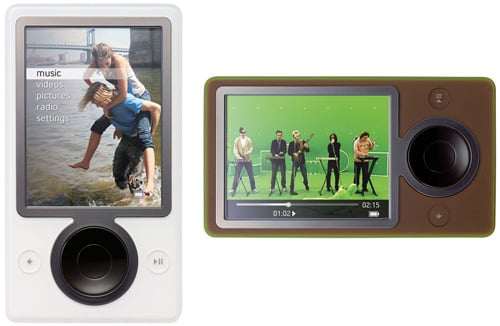 The interface is simple to use - especially once you realise that the round thing at the bottom is actually four buttons for up, down, left and right and not an iPod-style click wheel. The interface is very similar to the one Microsoft developed for its Portable Media Center platform, with the ability to go left and right in menus as well as up and down, which can speed up navigation.
Zune's user interface in action...

Video not playing? You'll need the latest Flash player
Audio quality is very good - even through the bundled headphones, which are capable of producing a moderate amount of bass and can be pushed fairly loud without distorting too much. The headphones are also magnetic, so stick together when not in use which prevents wire tangles.
In addition to MP3 and WMA tracks, the Zune can also play back unprotected AAC content - so if you ripped all your albums in iTunes in the default AAC format you can still play them on a Zune without having to convert them to WMA or MP3 first.
One feature the Zune offers above other players is wireless music sharing via built-in Wi-Fi. Find someone else with a Zune and you can swap tracks with them without the need to hook either player up to a PC. It's extremely fast too - transferring an album of 12 tracks took less than one minute 30 seconds.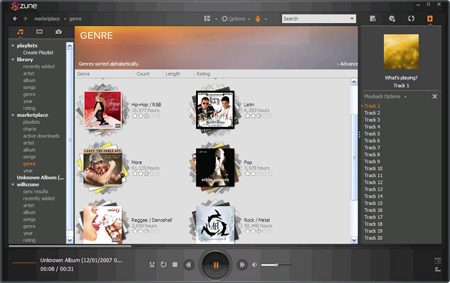 However, music sharing this way is not without its (deliberate) limitations, the main one being that transferred tracks can only be played three times for up to three days, after which the tracks are rendered useless. You can even share some subscription tracks, although it's up to the record label whether it allows this or not and you won't know whether you can share a track until you try and send it to another Zune.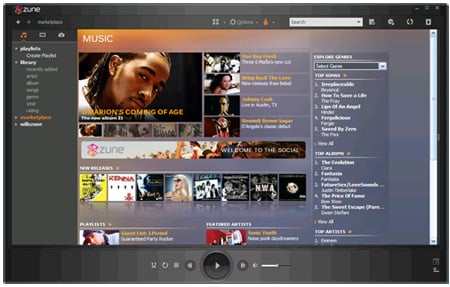 Size-wise the Zune is a little bulky, especially when compared to an iPod, which is much thinner. It's only currently available with a 30GB storage capacity and battery life is only around 13 hours - again, the iPod does better on both counts. I also experienced issues with the build quality of the unit - the Hold switch at the top was easy to detach, although this could be a specific problem with my unit.
Verdict
The Zune is a very good debut with great features, such as the large screen for video and the wireless music-sharing capability. It's also reasonably priced compared to its fruit-branded rival. It still has some way to go, though, if it wants to take a significant amount of market share away from the iPod: the restrictions on shared music need to be relaxed and build quality could be improved.