Original URL: http://www.theregister.co.uk/2007/01/31/review_toshiba_hd-e1_hd_dvd_player/
Toshiba HD-E1 HD DVD player
Bringing next-gen DVD goodness into the Europe's living rooms
Posted in Personal Tech, 31st January 2007 12:59 GMT
Review While other manufacturers flap about trying to decide what format to back in the HD DVD/Blu-ray Disc war, Toshiba has been solidly behind HD DVD since the start. The HD-E1 is the first consumer-oriented standalone HD DVD player available in Europe, so you can now feed your HD telly something decent.
And decent its output is indeed. DVD was easily better than VHS, and while the step up from DVD to HD DVD isn't as immediately noticeable, spend a little time watching it and when you go back things just don't look quite right.
DVD looks sharp enough for close-ups, but things in the background are invariably a little fuzzy. Switch to HD DVD and everything is pin-point sharp across the entire frame. It's a bit like getting a new pair of glasses - everything looked fine before, but the world just seems so much more detailed afterwards.
In addition to HD content, the HD-E1 will also try its darndest at making your standard DVDs look their best by upscaling them to HD resolution. While this is a nice addition, it doesn't really add that much - it's nowhere near as pronounced as the switch between HD DVD and DVD. You're also limited to upscaling only on displays connected via the player's HDMI port - it won't do upscaling over a component-video link.

Although it's a living room player, the HD-E1 isn't completely silent. While it's nowhere near as noisy as an Xbox 360 plus HD DVD drive, you can still hear a slight whir. However, it's only really noticeable when you first switch it on or if you press your head up quite close to it. Watch a movie sat across the other side of the lounge and it's unlikely you'll even hear it over the film.
Although HD DVD offers a maximum resolution of 1080p, the HD-E1 can only output at 720p or 1080i. The forthcoming - and more expensive - HD-XE1 will rectify this. The lower-end model is also a bit slow on the draw - pop in a disc and you'll be waiting around 30 seconds before you see anything on the screen.
Design-wise, the HD-E1 looks, well, pretty much like a DVD player, albeit a slightly bigger one. It's not going to win any awards for its looks, but likewise it won't stand out from your other AV kit.
The front is quite sparse - with just on/off and eject buttons and a display. Fold down the flap underneath and you'll find a row of buttons to control playback - handy if you've temporarily displaced your remote - and two USB ports, which Toshiba calls "extension ports".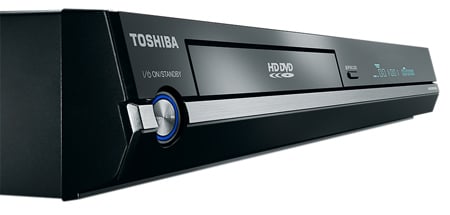 Don't get excited by the USB ports just yet - the manual states "the extension ports may be used in the future for additional control options". I tried plugging in a variety of devices but it wasn't possible to coax the player into doing anything more than supply them with power.
Round the back of the HD-E1 you'll find both HDMI and component-video outputs for HD plus standard definition s- and composite-video. Notably there's no SCART socket - but since only a fool would hook this machine up via an SD interface, SCART's omission isn't a huge loss.
There's also analogue audio out and optical for surround-sound plus Ethernet for internet connectivity. Internet use depends on titles - some offer additional content online which the player can access. General internet access isn't possible, though.
The player can also update its firmware from the internet, providing a level of future-proofing. This isn't a swift process, though, with one already-posted update taking around half an hour to complete.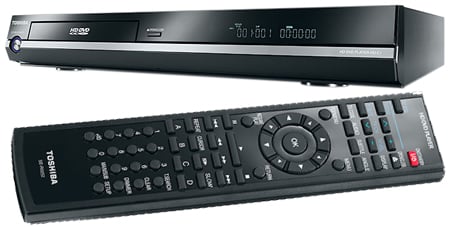 Toshiba seems to have let the design department go home early when it comes to the remote control - it's the sort of thing you'd forgive being bundled with a 20 quid DVD player from Tesco, but not with a state of the art, latest, greatest piece of kit. The remote's looks suggest Toshiba's designers drew up a list of which buttons they needed and then merely methodically placed them in order on the remote. Combine this with the fact that it's black with dull white writing, and finding the right button when you've dimmed the lights to watch a movie becomes a bit like a challenge from the Krypton Factor.
The remote does have one neat feature: it will control your TV as well. Find the right code for your telly from the manual and you can then control volume, mute, channel, input and power without having to switch remotes. Unfortunately, the TV controls are labelled with blue text on black making them even more difficult to read.
Price-wise the Toshiba is a bit of a steal when you compare it to the cost of a Blu-ray player. Even at it's RRP of £450 it's still significantly cheaper than its bluer rivals. Shop around online and you can easily knock another £100 off, making it cheaper than some high-end DVD players - handy, given how well it upscales DVDs.
Verdict
It may be the first consumer HD DVD player in Europe, but the HD-E1 shows all the signs of being a very mature product. Its output is gorgeous. It could be a bit quicker to load discs and it ought to offer support for 1080p - but these are just minor niggles given the very reasonable asking price.