Original URL: http://www.theregister.co.uk/2006/12/22/microsoft_xbox_360_hd_dvd_player/
Microsoft Xbox 360 HD DVD player
High definition for less
Posted in Personal Tech, 22nd December 2006 08:02 GMT
Review The shops are jam packed with HD tellys in the run up to Christmas, but there's surprisingly little HD content available in the UK at the moment. Sky and Telewest customers are sorted - for a somewhat large fee - but other than that there's little else to show off your brand spanking new set for a reasonable price. Until Microsoft joined in, that is...
Of course, watching HD content is all set to change as HD DVD and Blu-ray Disc players finally start arriving in the shops - but you're still looking at around £500 for a standalone HD DVD player and the same, if not more, for Blu-ray.
Microsoft, however, has cunningly put out a bargain Xbox 360 add-on that will have you set up for HD for less than £130. No, really - just £130. Even if you haven't already got an Xbox 360, you can snap up a Core system for £200 bringing the whole caboodle to a mere £350 once you've factored in the cost of an HD cable.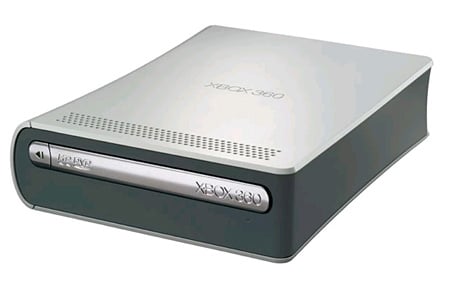 The drive matches the Xbox 360 styling and you can stand it horizontally or vertically depending on your preferred orientation. In the box you'll find the unit, a mini-USB cable, power supply, remote control and a copy of King Kong on HD DVD - not a bad little package, although the remote and King Kong may be limited freebies.
To install, simply plug in the power and USB cable and you're ready to go. Providing you've got the latest Xbox 360 update, the drive will be recognised and you can sit back and hit play. The only difference to the Xbox Dashboard is the circular drive icon is now split in two, with the internal drive on the top and HD DVD on the bottom. The drive also has two additional USB ports on the back, so you can still plug in a wireless adaptor or camera if need be.
HD DVD supports a maximum resolution of 1080p - and the latest Xbox 360 firmware update adds support for this. In addition, you can also choose to downscale to 1080i or 720p if either's the native resolution of your TV. For HD output you'll need either a component-video or VGA cable - unfortunately there's no HDMI cable for the Xbox 360. While this isn't a huge problem at the moment, it could cause issues in the future.
Such an issue involves the HD DVD spec, which includes a feature that allows the content owner to force the hardware to lower the resolution of the picture if the content is sent over non-secure connections - such as component-video. This is done via an Image Constraint Token (ICT) embedded in the disc. It's not implemented in the current crop of discs, but if it's implemented in the future then output over component-video could be restricted to 540p - basically defeating the point of having an HD source in the first place and potentially turning the Xbox HD-DVD player into something only slightly better than a standard DVD drive.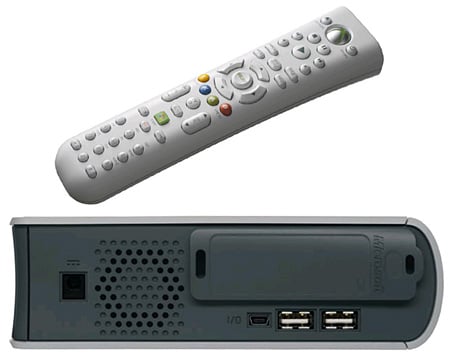 But once you've got everything set up and ready to go, be prepared to be amazed by the quality - it's absolutely stunning. I'm serious. If you thought that normal DVDs looked fine, after you've seen the results you won't be able to go back.
Comparing the 1812 Overture/London explosion scene in V for Vendetta between the DVD and the HD versions, the difference was considerable. On the DVD the London skyline seems murky and smudged, while close-ups looked blotchy. Switch to HD and the buildings are crisp as far as the eye can see and faces pin sharp.
Throw in the bundled King Kong movie and the end scene where the ape climbs up the Empire State Building, was also amazing to watch - the Manhattan skyline stretches for miles and you can make out detail far far away. It goes on way too long, but it's pretty to look at.
Put simply, if you're not prepared to buy your film collection all over again on HD DVD, don't go anywhere near this drive - otherwise you'll just be disappointed when you watch standard DVDs.
As the drive uses a standard USB connection, you can also plug it into a PC - providing a cheap way to access HD DVD content. However, to read the disc structure, you'll need to find some additional drivers - of questionable legality - that are currently floating round the internet. You'll also need some software to playback HD DVD movies, of which there isn't any officially - although this will no doubt change come the New Year.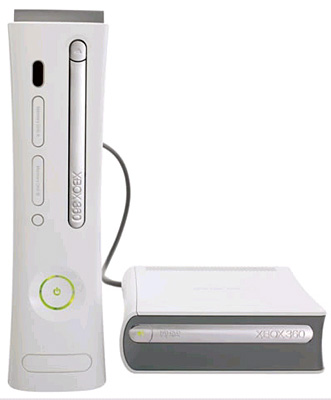 You'll also need to ensure your PC is capable of fulfilling the security requirements - but if you download the Blu-ray and HD DVD Advisor from CyberLink, it should tell you if your set-up is up to snuff.
In terms of noise, you won't hear the drive over the Xbox 360, but that's not really saying much. Provided you're sitting across the lounge, though, you'll only notice it during quiet scenes.
Verdict
Either Microsoft has made a monumental error when pricing this drive or it's being particularly nice - neither of which sound plausible, so snap it up before the software giant notices. Beware though, once you've seen HD DVD you won't be able to go back to DVD, so make sure you've got a large wad of cash to replace your existing video collection. ®