Original URL: http://www.theregister.co.uk/2006/12/15/review_intel_vs_amd_integrated/
Intel vs AMD - integrated graphics shoot-out
Who's best for games - and Windows Vista?
Posted in Personal Tech, 15th December 2006 14:06 GMT
Head-to-Head Make no mistake about it, the AMD Athlon 64 X2 dual-core processor struggles to compete with Intel's Core 2 Duo, and the upcoming four-core Core 2 Quad will move the goalposts even further away. Which gives AMD a major problem until it starts to roll out Athlon 64 X4 mid-2007. Meanwhile, it can't rely on sales of mobile processors as that sector is owned by Centrino and it must surely be worried about Opteron's position as Intel spreads its Core technology into servers.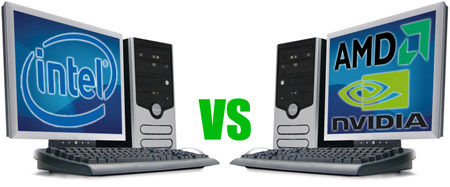 This grim situation has forced AMD to beat the drum about a sector where it feels it has the edge over Intel, based on market researcher Mercury Research's latest 2006 figures. The key points that it makes are:
Desktop integrated graphics are 60 per ceent of the desktop market and discrete graphics are 40 per cent.
Mobile integrated graphics are 76 per cent of the desktop market and discrete graphics are 24 per cent
That sounds about right to us
AMD has an open platform so you can choose either ATI or Nvidia graphics
Again, fair enough. If you want to buy a cheap Core 2 Duo-based PC you can bet it'll have integrated graphics from Intel, although it would be no surprise if Nvidia came up with some new silicon during the course of 2007. With an AMD Socket AM2 processor you get the choice of ATI or Nvidia graphics.
Windows Vista and 3D Graphics – platform quality is more important
In other words, Windows 95, 98, Me, 2000 and XP didn't put any emphasis on the power of your PC's integrated graphics engine. The games and applications you run may well require specific features and abilities but Windows itself was a pussy cat. Windows Vista changes all that as the new operating system itself demands a fair amount of graphics power if you want to run the swanky Aero Glass interface that you'll find in Windows Vista Premium and Ultimate Editions.
In Summary... AMD solutions... achieve... a visible difference for consumers in performance versus the competition [and] outstanding Windows Vista performance tomorrow on mainstream PCs available today.
Now this is interesting. AMD has produced a number of graphs that show that Intel's new G965 chipset and its GMA X3000 graphics core is - to put it bluntly - rubbish. It's reasonable to be condescending about the Q965 chipset with GMA 3000 core as it isn't much more than a refreshed GMA 950 with the addition of hardware transform and lighting (T&L), but the GMA X3000 is meant to be a completely different proposition.
Windows Vista Premium requires graphics that support DirectX 9 with Shader Model 2.0 hardware along with a Microsoft Windows Display Driver Model (WDDM) driver. Intel has developed GMA X3000 with that specific task in mind, so when AMD claims that there would be a "visible difference" between integrated Nvidia and ATI GPUs and the new Intel core, it's something worth investigating more closely. We decided to find out whether the argument held water.
UK PC supplier Evesham Technology offers both Intel- and AMD-based integrated systems. We asked the company if it could help us out by producing two systems with specifications and prices that were very similar to allow us to focus on the performance of the integrated graphics. It delivered a Prestige R at £499 with an AMD Athlon 64 X2 4600+ processor running at 2.41GHz on a Foxconn 6100M2MA-RS2H motherboard that uses an Nvidia's GeForce 6100 integrated chipset. The second system was a Prestige R Plus at £549. This was the Intel box, with a Core 2 Duo E6400 clocket at 2.13GHz on a Foxconn G9657MA-8EKRS2H mobo with G965 chipset.
Both PCs had 1GB of 533MHz DDR2 memory in dual-channel configuration with a 250GB WD 7,200rpm SATA hard drive, a Sony dual-layer DVD writer and Windows XP Home Edition. In short, a standard system of the kind rather a lot of folk will be looking to buy this festive season.
 Test System Details
 
Prestige R
Shipped Driver
Prestige R Plus
Shipped Driver
Prestige R Plus
Updates Driver
Price
£499 inc. VAT
£549 inc. VAT
£549 inc. VAT
CPU
AMD Athlon 64 X2 4600+
Intel Core 2 Duo E6400
Intel Core 2 Duo E6400
CPU Clock
2.41GHz
2.13GHz
2.13GHz
GPU
Nvidia GeForce 6100
Intel GMA X3000
Intel GMA X3000
Graphics Driver
Forceware 93.71
6.14.10.4642
6.14.10.4704
Common courtesy demands that we give Evesham thanks for helping us out with this feature but there's more to it that that. Evesham is one of only a handful of manufacturers in the UK that can build PCs with any make of processor, chipset and graphics that you choose and Evesham was running the very real risk that its name would be dragged down by the performance of one of the graphics cores.
Our thinking was that anyone who buys a cheap PC for Christmas from the likes of Dell, Evesham, HP or PC World is unlikely to know or care what graphics are inside as the emphasis of the marketing is on processor, memory, hard drive and price. Yet it's highly likely that they will want to play the odd game, if only to keep the kids quiet, and then there's the whole question of upgrading to Windows Vista at some point in the future.
Both of these PCs have a VGA output instead of DVI so we hooked them up to our 22in Taxan Ergovision 2285. Nvidia offers GeForce 6150 graphics that support DVI and to date we haven't seen an Intel motherboard with a DVI output.
The Evesham Prestige R - the Nvidia machine - came loaded with the latest 93.71 drivers and there were no updates available on the Foxconn website so we ran 3DMarks 05 and 06 to get an idea of the performance and weren't surprised to see that it was fairly rotten. 3DMark06 didn't return a Shader Model 3.0 score as the GeForce 6100 doesn't support High Dynamic Range lighting at the same time as anti-aliasing. The frame rates were low but the pictures looked good so we pressed on and installed The Sims 2, Lego Star Wars II and Myst V:End of Ages, hugely popular titles despite the sneers of some on the first-person perspective shooter camp.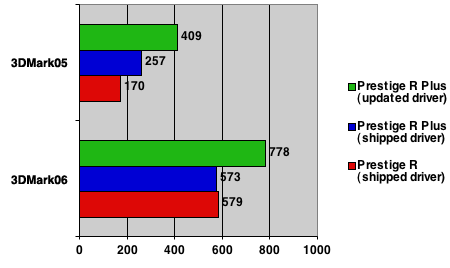 These games aren't graphically intensive in the mould of Half Life 2 and Age of Empires III but they put a fair load on the graphics. Sims 2 requires a minimum 32MB T&L graphics card while Lego Star Wars II specifies graphics that have 64MB of memory with Vertex and Pixel Shader capability and Myst V demands a 32MB DirectX 9.0c compliant video card supporting 32-bit colour.
That's clear enough if you have a reasonable level of technical knowledge but we suspect it would sound like gobbledegook to the average punter on the High Street.
All three games played reasonably well, although Lego Star Wars II was initially very slow and then speeded up, and we were presented with a full range of settings for graphical quality. In the case of Lego we chose to enable bump mapping, bloom filtering and plastic reflections while in Sims 2 we left the default settings which were High. Myst V is an odd case as the screen is displayed as a series of still images. All three games looked good and played acceptably well, and far better than you could have hoped to see on integrated graphics.
 Games Test Results [in frames per second]
 
Prestige R
Shipped Driver
Prestige R Plus
Shipped Driver
Prestige R Plus
Updates Driver
The Sims 2
15
800 x 600
24
1,024 x 768
35
1,024 x 768
Lego Star Wars II
11
1,024 x 768
28
1,024 x 768
No eye candy
28
1,024 x 768
No eye candy
Myst V
24
1,024 x 768
24
1,024 x 768
27
1,024 x 768
Next we installed Windows Vista Ultimate Edition. This was Release Candidate 2 build 5742 as we don't have the RTM build 6000, and we have to confess that the Aero interface and Flip looked lovely and smooth on the GeForce 6100.
The Prestige R scored 3.0 on the Windows Experience Index - the scale runs from 1 to 5.9 - which is exactly on the lower limit of what is required to run Aero.

Moving on to the Intel-based Prestige R Plus, we ran the same benchmarks and games on the default 6.14.10.4642 drivers which give support for DirectX 9.0b. Evesham supplied this PC with the BIOS set to dynamically allocate 128MB of memory to the graphics. This is the sensible approach but it confuses benchmarks so we changed it to the maximum setting of 256MB fixed, which is the same as the Nvidia PC.
The Intel graphics gave higher frame rates in Lego and Sims 2 because we simply weren't presented with the option of enabling the eye candy as the games detected the graphics as fairly low spec, which is a safe bet with most Intel silicon.
We then updated the drivers to the latest 6.14.10.4704 version from Intel's website, although this is something we wouldn't expect the typical customer of a £549 PC to do. This unlocked full support for Shader Model 3.0 and DirectX 9.0c but the games still refused to allow us to use high quality settings. You'll note that Sims 2 jumped from 24fps to 35fps.
The Intel G965 graphics impressed us, however we could see a slight shimmering effect on the Windows XP desktop that looked a little fuzzy and imprecise.
It was time to install Windows Vista RC2 on the Intel PC, and initially it looked dreadful scoring 1.0 on the Windows Experience Index. This was on the RC2 Microsoft driver 6.0.5472.5 so we downloaded and installed Intel driver 7.14.10.111 which made things much better. We were now able to raise the monitor refresh from 60Hz to 85Hz and the Windows Experience Index score shot up to 3.4, yet there is clearly more to come as this driver doesn't have support for Shader Model 3.0, even though we know the hardware is capable of it.

Once the driver was updated the Aero interface was enabled and the Intel system looked as good as the Nvidia machine. We were unable to tell them apart visually.

It may sound as though we fudged those figures but we ran Windows Vista on our high-end Core 2 Quad test system with a GeForce 7950 GT graphics card and it too scored 1.0 on the Windows Experience Index. We updated the driver to version 96.85 and the score leapt to 5.0, which is pretty darn impressive.
Verdict
There's not much to choose between the test systems when it comes to games. The Intel box's scores were higher, but then it didn't offer the choice to show off its graphics muscles at the price of a lower frame-rate the way the AMD/Nvidia machine did. We'd rather have the ability to turn off some of the eye candy to balance frame rate how we want, not the way the driver thinks we should have it. But will occasional gamers care? Probably not. And most of their time will be spent, surely, in apps that don't tax the GPU.
That will change with Vista, when the OS is going to want some graphics chip time too. But the upshot of our tests is that AMD is whistling if it thinks that Intel can't run Windows Vista in all of its Aero glory on G965 graphics. It can, and it looks great and it is our opinion that Intel is fully ready for 2007. ®