Original URL: http://www.theregister.co.uk/2006/09/25/review_elgato_eyetv_hybrid/
Elgato EyeTV Hybrid USB TV tuner for Mac
All you need to make a Mac a media centre?
Posted in Personal Tech, 25th September 2006 11:02 GMT
Review There are plenty of compact, USB-connected TV tuner dongles for the PC but nowhere near so many for the Mac. Elgato's EyeTV Hybrid is to be welcomed then, not only by owners of portable Macs looking for a handy tuner but by anyone who wants to turn a Mac Mini into a DVR or a media centre system...
As the gadget's name suggests, the Hybrid has both analogue and digital tuners on board, so it's well prepared for the Freeview era. Its metal-look plastic casing is ideally at home with a MacBook Pro, PowerBook or Mac Pro, but it doesn't look out of place hooked up to any other modern Mac.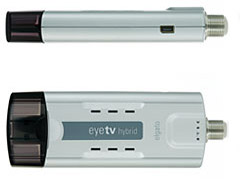 One end is home to the USB connector - a cap's provided to keep it safe when you're travelling - while the co-axial aerial port is on the opposite end. Elgato bundles an antenna along with an s-video/composite-video breakout cable that fits into a tiny port on the side of the EyeTV hybrid.
That's useful because it provides a feed for other media sources - VHS decks, DVD players, set-top boxes. Audio comes courtesy of a 3.5mm socket, but Elgato provides a plug-in adaptor with a 3.5mm jack on one side and a pair of RCA connectors on the other.
Completing the bundle is a copy of the company's EyeTV DVR software, now upgraded to Universal Binary form for native performance on Intel-based Macs. This is really the heart of the package, and looking at the features it provides and its user interface, it's no exaggeration to say Elgato's app is streets ahead of other software of its kind that we've looked at.
Out of the box, EyeTV is ready for terrestrial digital TV across Europe, Australia, Canada and the US, along with a selection of Asian nations, including Taiwan and Japan, with connection depending on the hardware you've got hooked up to your Mac. Interestingly, it also picked up the BBC's HD TV test channel, but would only play the sound - attempts to view the visual content popped up a 'missing codec' message, so the potential's there for HD viewing in due course.
Running the software for the first time involves the customary channel search. In Reg Hardware's notoriously TV-unfriendly office, I didn't find many, but at home the bundled antenna was able to pick up rather more, though by no means all, of the channels pumped out over the Freeview network. Removing the antenna and hooking up the feed from the aerial in my roof yielded the full, 75-strong list. Again, that's good news for the set-top Mac Mini users.
Whatever aerial you use, the channels EyeTV can detect are listed in the app's Channels pane. You can re-order the channels and uncheck ones you don't want to view when you're surfing through the list using the on-screen remote control.
Other panes include Program Guide, which provides a horizontally scrolling programme schedule. Elgato's bundled a year's subscription to the online EPG (electronic programme guide) TVTV, which will cost you £14.90 if you want to continue with it past year one. EyeTV will also pick up over-the-air EPG info it it's available. US- and Japan-specific online EPG services are supported too, and apparently the software supports remote scheduling instructions sent via your EPG services.
Adding a programme to your recording schedule locally is just a matter of clicking on it. EyeTV will extend the start and end times by up to 30 minutes to ensure you don't lose part of your programme because an earlier show has over- or under-run. You can record programmes on the fly using the virtual remote.
All the other customary DVR features - pause, rewind and fast-forward live broadcasts; a chase mode for watching recordings already in progress - are present and correct. You can set up any number of favourite-channel folders, each selectable from the remote control. And the software's smart enough to adjust the window size automatically to suit the broadcast aspect ratio. In all, it's very nicely done.
Recorded programmes are stored on your hard drive in an internal format that essentially packages the broadcast MPEG 2 stream with EyeTV-friendly metadata. You can extract the video data and play it in an app like VLC, but it's not ready as is for burning to DVD for playback on your living room DVD player. You can at least archive the EyeTV files, and the app ties in to Roxio's Toast, if you have it, to streamline the disc burning process.
Likewise, EyeTV will convert recordings into an iPod-friendly format, though not as yet to 640 x 480, the resolution introduced by the latest 5G iPods. Conversion complete, EyeTV even slots it into iTunes ready to sync across to the player next time you connect it.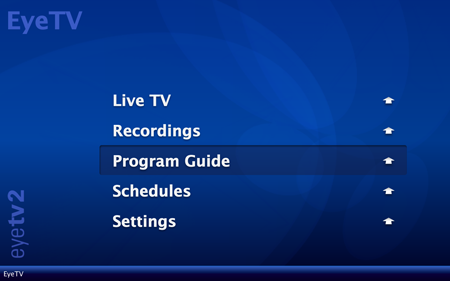 Speaking of Apple software, EyeTV now provides a full-screen UI that not only matches Mac OS X's Front Row but is likewise controlled using the Apple Remote Control. Elgato's provided almost all of the usual EyeTV functionality and it looks good. However, because it's not actually part of Front Row, you have to be run EyeTV first to make it work, though the full screen UI can be set as the app's default view.
I initially had problems running EyeTV in full-screen mode 1.83GHz dual-core MacBook Pro, with the program becoming unresponsive and, on a number of occasions locking up altogether. However, the recently released verison 2.3.1 seems to have fixed this. It now runs a treat.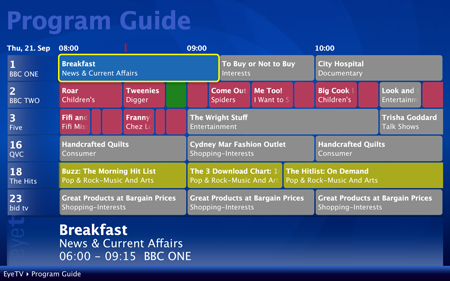 Another issue is how hot the EyeTV gets. Now, this is an issue with all USB 2.0 TV tuner dongles I've tried, and may well be within the gadget's operational parameters, but I'd want to make sure there's plenty of ventilation around and desktop machine it's connected to.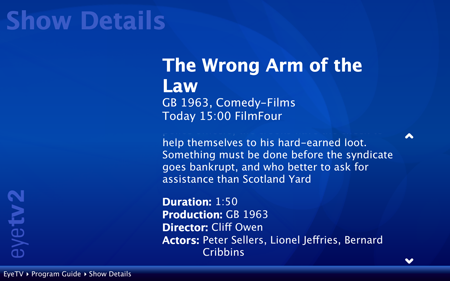 EyeTV Hybrid retails for around €150/$140 (£101). If you don't require analogue reception - which is handy if you're overseas or not in a UK digital TV area - Elgato's digital-only EyeTV DTT is just €100 ($127/£67) and provides all the EyeTV software features found in the pricier product. However, it also lacks the s-video and composite-video inputs. Encoding of analog material, ie. via the s-video or composite-video input - is handled in software, not hardware, so if you plan to do this, make sure your Mac's up to it.
Verdict
Elgato's EyeTV Hybrid is a very good hardware product backed by even better software. Let's be honest, the bundled antenna is pretty poor, but EyeTV flies with a decent aerial behind it. You get pretty much everything you'd want from a DVR and iPod support. The only downside I can see is having a single digital tuner, so you can only watch and record multiple shows if they're on the same digital frequency. Still, if I was setting up a Mac Mini as a media centre, this is the first product I'd stick in the back of it.