Original URL: http://www.theregister.co.uk/2006/09/22/reviews_asus_lamborghini_vx1/
Asus Lamborghini VX1 laptop
Zoom, zoom, zoom?
Posted in Personal Tech, 22nd September 2006 14:45 GMT
Review It seems that having a laptop stamped with an Italian sports car brand is the in-thing these days. Acer has been hanging around the pit-lane with Ferrari, and Asus has teamed up with Lamborghini to create the VX1. It comes in a choice of black or yellow trim - Lamborghini's corporate colours - although there's more to the VX1 than a cool paint job...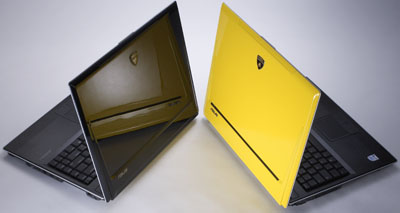 Acer's other team loyalty is AMD, so it's perhaps no surprise Asus has gone with Intel. The VX1 is a Centrino laptop. My review model came with a Core Duo T2500 processor clocked at 2GHz, although models with a Core 2 Duo processor will be available soon, Asus tells me. The chipset is the Intel 945PM, so there's no integrated graphics. Asus has gone for the Nvidia GeForce Go 7400 VX with 512MB of Turbo Cache, which is a souped up version of the GeForce Go 7400 but still far from a suitable solution for gaming on the move. This is rather disappointing considering the Lamborghini badge, and one would think that Asus would've fitted a more powerful graphics chip into the VX1.
The review model also came with 2GB of DDR 2 memory - which is more in line with what you would expect from a top of the range laptop - and a 160GB IDE hard drive. It's disappointing (again) that Asus hasn't gone for SATA here - the machine's chipset supports it - as this is quickly becoming the norm on new notebooks. The optical drive is a super-multi DVD writer which handles all the common formats and DVD-RAM. It's not the fastest drive out there and it's not, alas, a slot-load unit.
The optical drive is mounted on the left-hand side of the chassis alongside an ExpressCard 54 bay, a four-pin FireWire connector, an infra-red receiver and a standard VGA connector. There's no DVI or HDMI connector, which again is a shame on a machine so clearly targeting the performance end of the notebook market.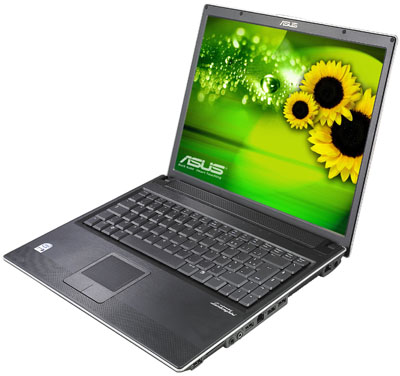 The right-hand side is home to four USB 2.0 ports spread out along the length of the laptop; a multi-format memory card reader that accepts SD, MMC and various Memory Stick formats; a headphone and microphone socket, with optical S/PDIF output inside the latter; and finally a 56Kbps modem and a Gigabit Ethernet connector.
Internally, the VX1 does of course feature an Intel PRO/Wireless 3945ABG tri-band Wi-Fi adaptor, but there's no sign of Bluetooth.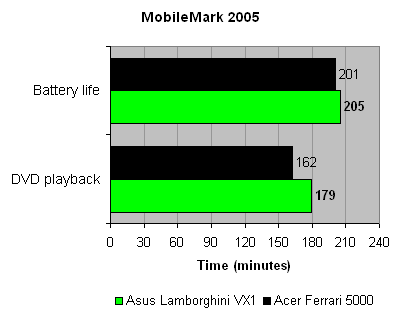 But the most disappointing aspect of the VX1 is the screen. It's standard square, 15in unit with a resolution of 1,400 x 1,050 - high, but only marginally better than on your average notebook display. I'd like to have seen a widescreen display on a machine that's meant to be a cutting-edge model. On the upside, Asus has a zero bright dot warranty, which is a no-quibble replacement service if the VX1 develops even one duff pixel on the display.
The keyboard too was nothing out of the ordinary. The touchpad was large and quite responsive, so no complaints there. Around the keyboard is a metal surround under which the speakers have been hidden towards the front of the laptop. This gives the VX1 a more exclusive feel to it, but it doesn't make up for the machine's shortcomings.
Thanks to the square display the VX1 is also rather large - 33.1 x 27.2 x 2.6cm - but it's not terribly heavy at 2.4kg, at least not compared to many other laptops with 15in displays. However, one gripe I had with it during usage was the very noisy fan - and this was during simple word processing or web browsing tasks, too.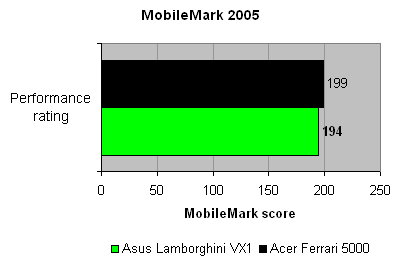 The VX1 ships with a carbon fibre-look laptop bag as well as a Lamborghini branded zip-up carrying pouch. This is a nice bonus, but again doesn't make up for the shortcomings.
How do they compare?
Lamborghini vs Asus: at a glance

Lamborghini Gallardo

Top speed 315kmph

Acceleration 0-100kmg in 4.2s

Engine 10 cylinder, 4 valve

Gearbox 6-speed
plus reverse

TurboCharger Yes

Weight 1430kg (minus fuel)

Dimensions 4300 x 1900 x 1165mm

Clarkson appeal

Asus VX1

Top speed 2GHz

3D Acceleration 2246 3Dmarks

Engine Intel Core Duo

Graphics Nvidia GeForce Go 7400 VX
 

TurboCache Yes

Weight 2.4kg (minus battery)

Dimensions 331 x 272 x 26mm

Clarkson appeal
However, the VX1's battery life is quite impressive, with no less than 3h 25m in MobileMark 2005's battery test. The DVD playback test resulted in one minute short of three hours, so you should be able to watch a full-length movie on the VX1 without a problem.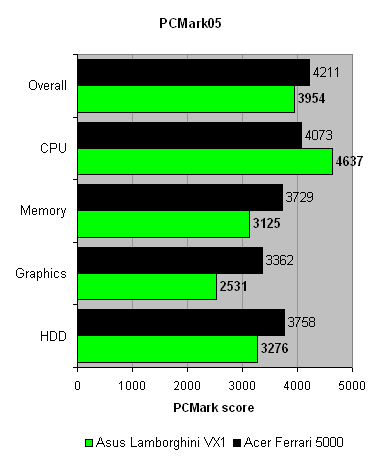 The Core Duo processor means that there's plenty of processing power and 2GB of memory helps here as well as you can see from the performance numbers. However, a 3DMark05 result of a mere 2,246 shows that the GeForce Go 7400 VX just isn't powerful enough for serious gaming.
But the final insult really is the price tag. The VX1 will set you back around £1,679, which can hardly be considered cheap, especially in the era of sub-£500 machines. It's only £20 cheaper than Acer's Ferrari 5000 and offers a slightly better battery life, but it proved slower than the rival machine in every test bar PCMark 05's CPU benchmark. And the Acer comes with far more bundled goodies.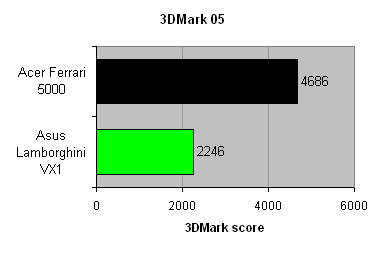 Saying that, the VX1 isn't a terrible laptop. Had it been rather less expensive and without the high-end pitch inherent in the the Lamborghini branding. Core 2 Duo models are in the pipeline, but even at the same price, they won't make this a must-have notebook.
Verdict
The Lamborghini brand stands for luxury, speed and performance, but price aside, the Asus VX1 fails to deliver on the promise. It's not a bad machine, but neither is it the laptop equivalent of its famous namesake. ®