NetWars! Let the SANS Tournaments commence: Compete and learn all about forensics, incident response, red teaming – and much more
Challenge yourself before the enemy strikes in the real world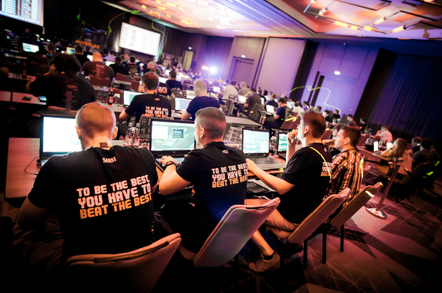 Sponsored Attendees of SANS' world-class courses consistently rate the hands-on exercises as the most valuable part of the experience. With NetWars, however, SANS has raised the ante with a set of cyber-tournaments that let participants work through a range of challenging levels and master the skills employed by information security professionals.
SANS certified instructor Steve Armstrong, with SANS since 2007, explains how NetWars work. "We have several different types of NetWars Tournaments," he said. Core NetWars is middle of the road – you're challenged with assignments that cover incident response, system understanding and management, Linux, web compromises, and penetration testing. Meanwhile, DFIR NetWars is much more into evidence-handling.
"Players are given disk and phone images and have to extract artefacts, web histories, and more, to determine what has happened during the various incidents," Armstrong added. "We also run Grid, ICS, and Cyber Defense NetWars Tournaments."
NetWars was created to encourage those of all levels, from junior up to advanced cyber professionals. Hints are offered if you feel your skills aren't sufficiently advanced.
SANS NetWars delivers advanced challenges to test even the more technically gifted attendees, and returning or accomplished students will not go unchallenged. You can rest assured that you won't get bored with NetWars.
"We change the games about every 18 months, so it doesn't get stale," Armstrong said. "That way, people attended a training course every couple of years or so will get a different NetWars experience every time. Plus, each game tends to be themed and immersive, and although the question engine stays the same, the questions are all based around the various themes. For example, the activities could revolve around themes ranging from Star Wars to Willy Wonka or Lord of the Rings."
NetWars runs over two evenings, each for three hours, providing a full six hours of additional training – basically, a full extra day for no additional cost. "Students find it to be a nice way to relax and socialise with friends and to make new acquaintances. Taking on the challenges together and applying all the skills that they have learned, players build camaraderie with those around them as the evening progresses," Armstrong said.
As multilevel, individual, or team-based capture-the-flag events, NetWars are structured so that they encourage people in the early part of their career to learn.
As participants proceed further through the game, they engage in a way that helps them improve their skills. You don't have to know Python or C, and it all runs in virtual machines. "All we expect you to bring is an enthusiasm to learn, a willingness to apply yourself, and an open mind," Armstrong adds.
By having participants compete against one another with a live scoreboard, NetWars puts people under the type of pressure that's often experienced by security practitioners in their day-to-day roles.
The best way to participate is to enrol in any of SANS's four- to six-day courses, which gives you the option to attend NetWars for free. You can experience world-class training and NetWars at its upcoming SANS London Events.
In addition to live NetWars, SANS also offers NetWars Continuous, a four-month online subscription that offers students the chance to test their cyber skillset, take on challenges, and learn hands-on offensive and defensive skills 24 hours a day, seven days a week.
Sponsored by SANS Institute.
Sponsored: Practical tips for Office 365 tenant-to-tenant migration