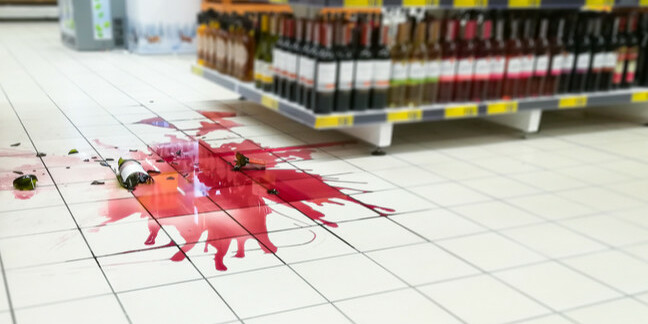 A 10-digit dollar loss for Q2, hundreds of millions in forecast revenue clipped for the second half of the fiscal year, the ownership of business units being reviewed, and an admission that years of redundancies came home to roost.
DXC Technology CEO Mike Salvino – who was only confirmed in the role two months ago – last night faced the music for a mess that was entirely the making of his predecessor, and outlined his proposed fixes.
First up, the numbers for DXC's car-crash Q2 ended 30 September. Revenue fell 3.23 per cent to $4.851bn. Broken down by operating divisions, Global Business Services grew 8.2 per cent to $2.285bn, including sales from the acquired Luxoft. Remove those, and organic growth was just 0.4 per cent. Profit margin fell to 15.7 per cent from 18.9 per cent, reflecting investments "in digital hiring, training digital talents, as well as the slower pace of cost takeout in complex countries", said CFO Paul Saleh on a conference call.
The beleaguered traditional IT outsourcing (ITO) unit, Global Infrastructure Services (GIS), flopped as revenue slid 11.6 per cent to $2.566bn and profit margin dropped to 9.5 per cent from 16.3 per cent.
"GIS margin reflects the impact of stranded costs related to the decline in our traditional ITO business, as well as a slowdown in our delivery cost takeout actions as we work with select customers to improve service," said Saleh.
Total costs and expenses for the quarter came in at $6.850bn, leaving DXC nursing a $1.999bn loss from continuing operations versus an operating profit of $325m a year earlier. After tax, DXC exited Q2 with a net loss of $2.119bn, compared to a profit of $262m.
Of course, none of this was Salvino's fault. He officially took the hot seat at DXC just weeks before the quarter ended, though he had spent some months presumably trailing former CEO Mike Lawrie. However, it is Salvino's problem and there isn't a quick fix – this is a company challenged on multiple fronts.
The big boss said he has met 40 of DXC's largest customers since getting the job, all of its "strategic partners" – he didn't name them – and 80,000 staff. At last count, DXC had 130,000 employees (it started life in April '17 with 170,000), but presumably Salvino has tens of thousands more to press the flesh with.
Salvino said DXC has "significant scale and global reach" with $2bn worth of turnover generated in the cloud via agreements with AWS, Microsoft, Google and others and via the purchase of Luxoft, and $1.4bn in data analytics and digital engineering. There is a much bigger chunk that pertains to ITO and this is where the pain is felt as DXC tries to minimise the legacy run-off and convert more customers to paying cloud punters.
"We have a strong foundation to build on," he told analysts on the conference call, also talking up the IP and specialisation in automotive, insurance, healthcare, travel and transportation verticals.
Unsurprisingly, a look under the hood at DXC in this latest quarter showed the sales and more specifically the delivery units as being "areas for improvement".
"First, our delivery teams were not able to execute the more complicated phase of operational cost improvements. This includes areas like pyramid optimisation, the broader deployment of DXC's automation program called Bionix, along with operational excellence leveraging Six Sigma principles."
DXC needs to "stabilise key accounts" to meet client demands and give them a reason to buy more stuff from DXC – cross-selling is another area to improve. "We also need to focus more on selling integrated solutions."
Salvino added: "We need to focus more on our people and strengthening our employee value proposition. Our people need to be clear about their career path at DXC, the opportunities to work with new clients, and also the opportunities for rescaling and retraining. Being clear about these items will help create an environment where people are acknowledged, recognised and rewarded, which will improve employee satisfaction and increase retention.
"Next, execution challenges from recent delivery actions have negatively impacted some of our large customers, which results in lower margins, delayed revenue and bookings as customers have placed the additional work on hold. We have recovery plans under way for these accounts, but we need to do a better job running operations. By doing this, we will earn the right to expand our footprint with customers."
The current operating model is "too complex", the CEO said, "resulting in unclear accountabilities as well as slow decision making. We will be simplifying this structure with greater emphasis on our regions and industries."
On ITO, he said the business had been "under-emphasised" by management and the plan is to "invest and strengthen" this area.
Each of these areas is "fixable", the exec claimed, and he has hired five people for roles including HR, corporate ops, global delivery and overseeing "key accounts" in the US and UK, its two largest markets.
"We will execute a focused strategy around what I call the enterprise technology stack, we will sell industry solutions and focus on our existing customers," said Salvino.
He revealed that DXC has also started a strategic review for businesses that currently comprise around a quarter of annual turnover: three businesses that include the Horizontal BPS in US state and local health; workplace and mobility.
"When I say strategic alternatives, that could involve a range of actions to unlock value including potential divestitures to strategic or financial buyers, a spin-off or other transactions."
Wall Street didn't look favourably on the financials. It didn't help that DXC is now targeting revenue of $19.5bn to $19.8bn, a "revised guidance" from the initial $20.753bn predicted.
This was caused by three things, said CFO Saleh: firstly "additional delays in several large deals" and a few that were "lost" means it expects $275m less revenue for the year; "execution" issues at existing customers could result in $250m less revenue, $75m of which is due to customers putting "revenue opportunities on hold" and $175m is based on "potential disruptions" based on the review of the specified biz units; and third DXC is forecasting $100m less revenue in its traditional IT outsourcing business.
"We've also experienced delays in several global initiatives such as delivery centre consolidation, maintenance optimisation and enterprise license rationalisation," said the CFO.
"We're investing in our ITO business to mitigate these declines and capitalise on the pipeline of opportunities with an aggressive focus on modernisation of customer environments," he added.
The proof of the pudding, as is often said, will be in the eating. Shit sandwich anyone? ®
Sponsored: Practical tips for Office 365 tenant-to-tenant migration