Promise of £5bn for rural fibre prompts Openreach to reach for the trench-digging diamond cutter
Trials new tech to hit those difficult-to-reach areas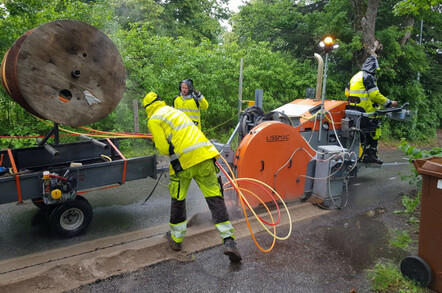 BT's duct-off broadband arm Openreach is trialling "a range of new tools and techniques" to deploy full-fibre in 13 rural locations - in what it says is a first response to £5bn of promised government funds.
Some 11 million people in the UK, or approximately 17 per cent of the population, live in rural areas, according to government stats.
Clive Selley, chief executive of Openreach, admitted "the economics are clearly challenging" when deploying rural broadband, but added "we want to do more."
"We know that around 10 per cent of the country will need the support of public subsidy, but these trials will help us test a bunch of new techniques that could help us in other rural areas.
"The trials will also give us a much clearer picture of what the technical challenges in these kinds of rural areas are," he said.
The experiment will cover 50,000 homes and businesses in villages and market towns including Scotland and Devon.
At the UK Conservative conference last week, chancellor Sajid Javid pledged £5bn to provide "gigabit-capable" broadband networks to the 20 per cent of the country which is hardest to reach, mostly in the countryside. However, he declined to provide any further detail – saying the plans would be set out later this year in the National Infrastructure Strategy.
That followed a pledge by Boris Johnson to bring full fibre to all homes by 2025 - a claim widely dismissed by telecoms experts as unachievable.
However, it seems the promise of a government subsidy has galvanised Openreach into trialling a range of techniques to deploy rural full fibre networks to hard-to-reach areas. This includes using a specialised trench digging tool called a diamond cutter – a giant rotating circular blade with diamonds embedded in the metal coating on its edge.
The specialist kit is capable of installing 700 metres of cabling a day – more than 20 times that which can be laid by a standard two-person civil engineer team using traditional methods of drilling and excavation, BT claimed in a statement.
BT is also testing "remote nodes" – where fibre-optic cables can be built out from specially adapted existing green roadside cabinets. The specialised broadband-boosting equipment will enable it to "piggy-back" on the existing network.
Other technology the firm intends to use includes:
Ground penetrating radar, which uses a transmitter to send pulses of high frequency radio waves through the ground to detect hidden objects in order to help minimise disruption.
Micro-ducting, which uses specialist digging tools to excavate a small trench along pavements so that specially reinforced micro ducts can accommodate the fibre-optic cables without any specialised equipment.
Mobile planning with Orion, a digital mobile planning tool that lets engineers review and update the network using a tablet – in real time.
GeoRipper: a specialist piece of digging equipment used for digging trenches across soft ground such as fields using a chainsaw like blade to lay small fibre cables of up to 150 metres.
®
Sponsored: What next after Netezza?