Gagarin's Start now Soyuz-FG's End as shutters pulled on historic launchpad
Will the last cosmonaut to launch please turn out the lights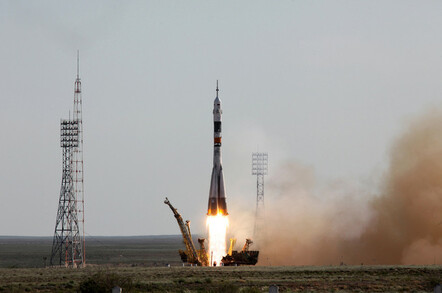 Russia bade farewell to the old "Gagarin's Start" yesterday as the last Soyuz-FG to be launched from the pad at Baikonur Cosmodrome in Kazakhstan headed to the International Space Station (ISS).
Having seen the latest trio of ISS occupants safely off the Earth, "Site 1" will undergo some substantial modernisation ahead of future Soyuz 2 launches.
It is very much the end of an era for the facility, which was constructed back in the late 1950s to test the R-7 intercontinental ballistic missile. The first R-7 was launched on 15 May 1957, and the Soviet Union followed up the achievement by flinging Sputnik 1 into orbit from the pad on 4 October 1957.
The venerable launchpad at the Baikonur Cosmodrome also saw Vostok 1 take a human to orbit for the first time (Yuri Gagarin) on 12 April 1961 followed by the vast majority of crewed spaceflights in the Soviet and Russian programmes, as well as NASA astronauts.
In total, the site has launched over 500 rockets, the last being the Soyuz MS-15 spacecraft currently docked to the ISS.
Back in April, Russian news orifice RIA Novosti reported that a lack of funds meant that modernisation wouldn't be happening, putting the future of the facility in doubt. A worrying development for those that remember the fate of the only Buran to make it to orbit.
However, yesterday's emission from Roscomos indicates that a little something has been found down the back of Putin's sofa to fund the future.
The next meatbag mission to the ISS will be Soyuz MS-16 from Site 31 at Baikonur, atop a Soyuz-2 following the successful demonstration mission of the uncrewed Soyuz MS-14. MS-16 is notable because, at time of writing, it consists of two Russian crew members and one from Japanese space agency JAXA. NASA is desperately hoping that its commercial crew chums, Boeing and SpaceX, will have got their acts together by 2020.
As for Soyuz MS-15, the last Soyuz-FG flight to leave Gagarin's Start blasted off at 13:57 UTC yesterday and docked to the ISS just under six hours later. As well as the crew, it also carried 180kg of cargo to the outpost. The arrival brings the number of ISS occupants to nine until the departure of Soyuz MS-12, currently planned for October. ®
Sponsored: Practical tips for Office 365 tenant-to-tenant migration