Last one out, hit the lights: UK energy supplier SSE to axe 115 bodies from tech department
Roles to be outsourced to HCL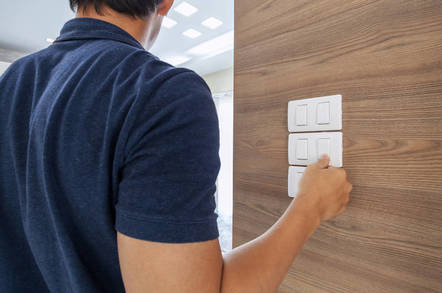 Exclusive Energy and broadband provider SSE is set to shed 115 roles within its IT infrastructure division in Britain, and will instead outsource some functions to Indian software supplier HCL.
The cost-cutting measure will affect nearly all remaining UK-based tech employees. Staff have been put on notice until November 30, with the possibility that some may be offered the option to TUPE - meaning they could be transferred to HCL.
SSE's IT department is primarily based in Portsmouth and comprises staff across various disciplines, including support desk and solution architecture.
An enhanced redundancy is being offered to employees, but The Register understands they have been advised not to discuss the amounts.
SSE is also offshoring several customer service applications to Manila in the Phillipines, a source told us.
A spokesman for the company confirmed: "SSE is changing some of its IT services which will affect a small number of people and it is consulting with trade unions."
SSE employs around 20,000 people and is currently going through a major shake-up, amid proposals to exit the retail business. The British household energy supply unit lost 570,000 customers last year, according to the company's 2018/19 annual report to 31 March (PDF).
Profit made by the core businesses that SSE plans to retain fell 38 per cent to £725.7m before tax.
Last year the company called off its proposed merger with npower, blaming the government's price cap and increasing competition for their failure to negotiate a deal.
El Reg wishes SSE luck in its pursuit of something better, but the horror stories of when outsourcing goes bad far outweigh the good press.
Remember Serco and the electronic tagging scandal? How about IBM and WPP? And then we have Capita and the Primary Care services contract; Capita and the Army recruitment service; Capita and the school bug; and Capita and the miners. You get the picture. We could go on.
There has been a trend toward insourcing in the public sector over recent years, and the cloud has changed CIOs' buying habits, which has in turn fiscally challenged some of the traditional outsourcing providers.
Despite a number of cases where outsourcing appears to have been a false economy, it seems companies still can't resist the urge to, at least, appear to be slashing the bottom line.
In June, The Register revealed that Vodafone was offloading its cloud and hosting unit to IBM in a $550m eight-year outsourcing deal affecting 750 staff.
Lloyds bank also inked a 10-year outsourcing deal with IBM, with 1,500 staff and contractors to be transferred over, as first revealed by The Register in 2017.
IBM itself has also moved one-third of its global staff to India so that it can cut the cost of providing outsourcing services.
Meanwhile, outsourcer Capita remained the largest supplier of software and IT services in 2018, turning over £3.14bn in revenue. ®
Sponsored: Practical tips for Office 365 tenant-to-tenant migration