Alexa! When will Windows 10 19H2 ship? New version promises more toys for assistants
Now, how about those Surface Book 2s?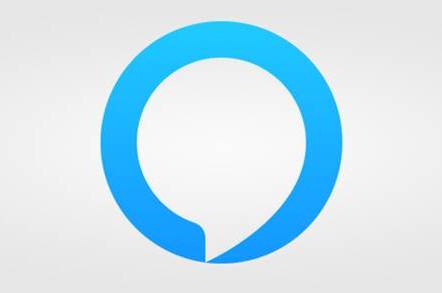 Microsoft emitted a fresh build of October's Windows 10 last night with tweaks that should bring a smile to the face of Jeff Bezos.
Windows 10, now with extra Amazon Alexa (if you want)
The build, 18362.10005, is also known as 19H2 and aimed at Windows Insiders currently languishing in the Slow Ring.
Back when 19H2 finally dropped, Microsoft announced the code would turn up as a Cumulative Update rather than a full release, much to the relief of users exhausted by the near-hysterical pace at which Windows 10 releases were being flung.
Hidden in last night's release notes is the final nail in the coffin for Microsoft's unloved digital assistant, Cortana. Or at least the original vision for the bot. With 19H2, third-party digital assistants will be able to voice activate above the lock screen.
In other words, you will be able to bellow "Alexa, order me a MacBook" at your laptop. Think of the bundling possibilities PC makers will have.
The changes are currently off by default, according to the Windows team, demonstrating the gang's intention to ship with toys sealed in the box, only breaking open the cellophane when Microsoft is ready (or "via controlled feature rollouts"). The plan is to turn on the features for a limited subset of users and then proceed based on feedback.
Those features include the ability for OEMs to reduce inking latency for stylus wielders, an intriguing fix around containers to "allow the host to run down-level containers on up-level for process (Argon) isolation" and a key-rotation feature aimed at secure rolling of recovery passwords on MDM-managed AAD devices.
The latter key-rolling is designed to stop somebody accidentally revealing the recovery password as part of a manual BitLocker drive unlock.
19H2 is due to hit end users in the September to October timeframe. Hopefully it will also include a fix for the borkage currently afflicting Microsoft's premium Surface Book 2 gear.
Surface Book 2 borked?
Surface Book 2 owners who splashed the cash on the discrete Nvidia GPU have found 19H2's predecessor, 19H1 (aka the May 2019 Update), is ever so slightly borked.
Microsoft quietly added the issue to its big book o' bugs for the release on 12 July. The issue manifests itself with "graphic-intensive" games or apps on the flagship hardware, which simply fail to open.
The Windows giant has therefore slapped a block on the machines from receiving its latest and greatest.
Unfortunately, some users have already had the broken code shovelled onto their pride and joy. For those, Microsoft suggests a quick "scan for hardware changes" might be in order.
Surface devices and Windows Updates have had a chequered history over the years. Last year, Microsoft emitted some updated firmware that left Surface Pro 4 users with a delightfully retro-laptop experience: no touchscreen and a slow startup.
It's almost as if the company doesn't test its own code on its own hardware. Surely not?
Making things all the more embarrassing is the fact that the Surface Book 2 is very much the high-powered flagship device. The things start at a hair below £2k for the i7 Nvidia machine, topping out at £3,149 with all the knobs on.
For that sort of money, you'd really expect it to be the best Windows 10 experience money can buy.
Unless, of course, that experience includes added borkage. Free of charge. ®
Sponsored: What next after Netezza?