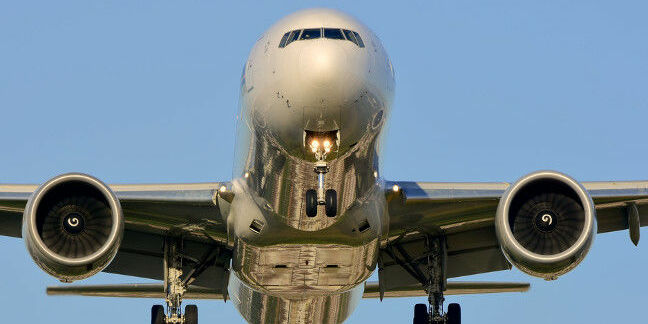 Roundup Last week as always saw some new Windows, new toys in Azure and, more importantly, the teasing of a new Flight Simulator.
Windows Insiders enjoy a fresh build amid continued dithering
Another week, another 20H1 update and another seven days notched up in 19H2-watch.
Windows Insiders prodding at next year's Windows 10 received a fresh build, 18912, last week. The test code remained light on features, but heavy on fixes and minty-fresh bugs.
Notable fixes included a DWM crash that left the screen of afflicted users black, before reloading. Kind of an extreme dark mode, if you will. The gang also dealt with an instant crash that occurred in Settings after double-clicking the taskbar update icon and dealt with unexpected Green Screen of Deaths (GSOD) that cited a problem with win32k.sys
To be frank, if you're living on the edge with Windows Insider builds, a GSOD is not unexpected.
The team has also "improved" the Windows Ink Workspace experience this time round, making the workspace smaller and adding a direct link to the Microsoft Whiteboard app.
Alas, the usual suspects cropped up in the "known issues" with those games that may have worked in pre-19H1 days still crashing due to anti-cheat code and Realtek SD card readers still not feeling the Microsoft love. A new addition to the list is high RAM consumption during download and update. The team warns that the update could therefore take a lot longer to install. If that's going to be a problem, probably best skip it.
Not mentioned, however, is the missing-in-action 19H2. Demonstrating the legendarily awful communication from the Windows team, Insider supremo Brandon LeBlanc tweeted out that the gang would tell increasingly anxious insiders what was going on when the time was right.
There will be plenty of time to test 19H2. We get a lot of value out of the Slow ring. You shouldn't worry - this will all play out and we'll communicate the details once we've locked on them. Important not to put artificial timelines on these things.

— Brandon LeBlanc (@brandonleblanc) June 5, 2019
LeBlanc also insisted that the team would not subject itself to "artificial timelines". A bit like the one that LeBlanc and fellow boss of the Insider Programme Dona Sarkar set a few short months ago with "the end of spring". Less than two weeks to go, gang.
Windows 10 May 2019 Update goes bigger
LeBlanc and Sarkar also promised Insiders would get their first taste of 19H2 goodness when 19H1 was "nearly finished and ready." The arrival of 19H1, aka the Windows 10 May 2019 Update, for users enthusiastically clicking the "Check for Updates" button means that 19H2 should be here, right? Or that 19H1 was released in a "nearly finished" state, heaven forbid.
📣 [Windows Release Health Update – New Message] Windows 10, version 1903 is available for any user who manually selects "Check for updates" via Windows Update. Read more here: https://t.co/NHEQuEjsVX.

— Windows Update (@WindowsUpdate) June 6, 2019
Of course, 19H1 turning up does not mean a user actually has to install the thing – an additional click is required to let Windows 10 do the damage installation and we'd suggest taking a good hard look at the list of known issues before going ahead.
While new features, such as Light Mode, Sandbox and the general polish of the operating system make 19H1 a handy update, problems such as brightness controls having no discernible effect on the brightness (our Dell XPS illuminated a darkened room like a mini-supernova despite frantic stabbings at the settings) and the much-vaunted Sandbox itself mean holding off for a little longer might be prudent.
Skype: Because (screen) Sharing is Caring
The Skype gang added screen sharing on Android and iOS devices to the messaging platform last week.
While the team pointed to collaboration as a use case, consumers will delight in finally being able to see what friends and family are looking at when performing the technical support requested as soon as it is revealed you "know a bit about computers".
While screen sharing is hardly a new feature for business users – the likes of GoToMeeting have been doing it for quite some time – it is unusual in a consumer platform and not easy using tools such as FaceTime or WhatsApp.
Skype users will also be able to rid themselves of the app's interface clutter during a video call with a double tap to remove all controls from the screen. A single tap will bring it back.
Azure brings Kubernetes to China, Media to Korea and some serious HPC hardware to the US
US nervousness about China doesn't extend to Microsoft as the company moved its Azure Kubernetes Service (AKS) from Preview to being Generally Available in both China East 2 and China North 2, bringing the containery tech to 27 regions.
Archrival Amazon has yet to unleash its take on Kubernetes, EKS, in China, giving Microsoft a bit of a head start as far as the big three are concerned, although it faces stiff competition from the likes of Alibaba in the form of its wonderful acronym for the service, ACK.
Microsoft also made Media Services available to Korea South and Central customers last week, allowing users to fling protected high-definition video content to punters in the region.
The US was not to be left out last week as the Windows giant flicked the switch on High Performance Computing Virtual Machines on West US 2 and East US. Customers blessed with deep pockets can select HC-series VMs, enjoying 44 Intel Xeon Platinum 8168 cores with 8GB RAM over CPU core and no hyperthreading.
Flight Simulator flies again
Microsoft Flight Simulator is approaching its 40th birthday, having been first marketed back in the halcyon days of 1982 as a port for the exciting 16-bit world of the IBM PC. Development proceeded in fits and starts until the release of Flight Simulator X in 2006. In 2009, Microsoft shut down ACES, the game studio then behind the franchise, leaving the simulator and its fiercely dedicated army of fans in the wilderness.
Lockheed Martin carried on with the project, having purchased the abandoned software from Microsoft, and hired some of the laid-off ACES team. The result, Prepar3D, can be purchased for $199, or $9.95 per month for developers keen to create add-ons for the software.
While the add-on market for FSX and Prepar3D has thrived, and FSX itself turned up on Steam in 2014, Microsoft remained quiet on the future of the brand until this week's E3 keynote where it was announced that the moribund product would be revived.
With the preview featuring impressive visuals, long-suffering Flight Simulator fans look set to receive some love in 2020... so long as their PC is up to snuff.
Microsoft also announced a jumped-up joystick for the well-heeled gamer in the form of a new £159.99 Elite controller and an October public preview for its much anticipated xCloud. ®
Sponsored: Webcast: Simplify data protection on AWS