Box shifting on the Moon? Lunar payloads on Amazon Prime
Only the essentials: liquid oxygen, liquid hydrogen and... cargo pants, maybe?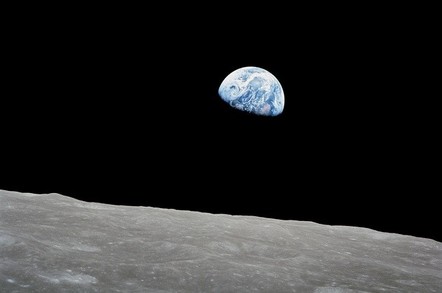 In a move that will strike fear into the hearts of those poor souls charged with stuffing tat into boxes, the possibility of sticking an Amazon fulfilment centre on the Moon was mooted in a fireside chat with Jeff Bezos.
The question emerged during an on-stage conversation as part of the online giant's Las Vegas re:MARS conference, which also touched on Cargo Jeff's orbital broadband plans.
Asked by Jenny Freshwater, director of Forecasting and Capacity Planning for the box shifter, if "we'll ever have Amazon fulfillment centres on the moon?", Bezos looked thoughtful, saying "I hadn't really contemplated that" before going on to say that the gang would start out by delivering liquid hydrogen and liquid oxygen.
He stopped short of suggesting that NASA administrator Jim Bridenstine should get a Prime subscription set up for the agency, joking that, like the box flinger's early days on Earth, the range available to lunar explorers would be small, but a "very important one."
Nervous 'nauts on the Moon could certainly make use of the some of Amazon's more exotic wares, but we fear that it'll be the bare necessities for the time being.
Lunar ambitions aside, Bezos also spent some time talking about the company's Project Kuiper, an effort to fling more than 3,000 satellites into low earth orbit to provide high speed internet access to customers around the world.
While news of the initiative seeped out back in April via job postings on the retailer's site, the howl of publicity around Elon Musk and Starlink has since drowned things out somewhat.
Describing access to broadband as something "very close to being a fundamental human need", Project Kuiper was called "a big bet". Worrying the broadband (which is needed for all those customers to access Amazon's services) tended to be concentrated toward the poles of the planet, Bezos reckoned his constellation would "end up servicing the whole world".
Project Kuiper is, of course, not the only game in town. UK-based OneWeb plans a 650-strong constellation with full global commercial coverage by 2021. The first six of the Airbus-built spacecraft were launched at the end of February.
And then there is Starlink. Musk's rocketeers lobbed 60 of the diminutive satellites into orbit in recent months, much to the dismay of some astronomers. Stargazing boffins will have even more to complain about when the sky is cluttered up with the rest of Elon's emissions as well as those of Bezos.
As Bezos wound down his evangelising, an animal rights protestor briefly charged the stage, shouting something about chickens. The conditions of Amazon's own workers did not appear to merit protest this time around.
Still, at least Amazon is being honest about things. The Kuiper belt is a disc of debris encircling the solar system. One can but hope that Earth-bound billionaires do not have a similar fate planned for our planet. ®
Sponsored: Practical tips for Office 365 tenant-to-tenant migration