Microsoft: A new Windows 10 build arrives while another remains in hiding
Also: Excel gets OCR smarts and Win 10 Oct 2018 Update hits 30%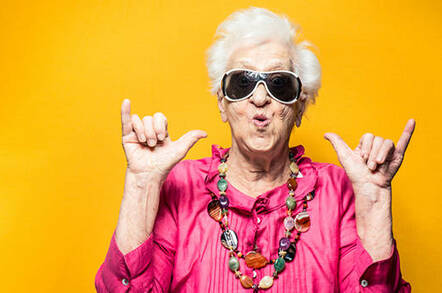 Roundup The Redmond gang enjoyed a busy week, emitting a new build, shovelling new toys into old apps and (temporarily) making insiders look elsewhere for kitten videos.
Your Phone gets MMS while Windows Insiders continue dreaming of 19H2
While speculation continued to swirl over what its upcoming "modern" OS might or might not be, Microsoft's Windows Insider team continued to churn out new builds of its legacy OS with build 18908 of 2020's Windows 10.
As has been the norm of late, the Your (Android) Phone app received a slew of updates. On the messaging front, MMS will now send and receive images (including the likes of Giphy) and the Your Phone taskbar icon has had a fiddling to indicate that there are messages to look at. Contact thumbnails will now sync and, if you want to avoid the app altogether, it is also possible to reply to a message directly from the toast notification.
The gang has also updated the Phone Screen feature, which flings the display of a connected Android phone onto a user's Windows desktop. The tiny cadre of users possessed of a PC with a Bluetooth radio that supports the low-energy peripheral role can now change the keyboard layout and language of the phone as it appears on their desktop as well as use the Focus Tracking accessibility feature. Support for the Galaxy A8 and A8+ has also been added.
The app has also received a pasting from Microsoft's latest and greatest design language, and now has a new icon to match those inflicted upon Office and OneDrive users, which will sit awkwardly among the sea of Windows 8, 7 and earlier icons spattered over the average desktop.
As for 20H1 itself, the Insider team warned the updated Settings header had been pulled and the new File Explorer search functionality was on hold while the gang worked through issues with both. Otherwise it's business as usual: yes – that anti-cheat code crash remains an issue, some Realtek SD card readers still don't work and dragging around the emoji panel results in some delightful Windows 3.1-esque retro lag.
19H2, expected to hit desktops around October this year, remained missing in action despite 19H1 (the May 2019 Update) now sidling its way onto end user desktops. While references to the mystery release have begun turning up in documentation, of the mythical beast itself there remains no sign. Microsoft had promised there would be sight of the thing "later this spring".
Spring (for the Northern Hemisphere at least) ends this month.
No pressure.
The October 2018 Update hits the big three-oh
It has taken a while, but according to ad slingers AdDuplex, Windows 10 1809 shifted its market share from 29.3 per cent in April to 31.3 per cent in May.
Fortunately for those within the bowels of Redmond, who would prefer to pretend the disastrous Update of the Damned never happened, it is unlikely to go too much higher. It will, however, linger for some time within enterprises since 1809 is sat in the Long-Term Servicing Channel, with extended support lasting for just over a decade.
Mistakes of the past aside, last month saw Microsoft begin the far more cautious rollout of the May 2019 Update which, with only a week's worth of figures recorded, had made its way on to 1.4 per cent of the 100,000 PCs surveyed by the ad network.
The careful release is in marked contrast to the near-hysterical rate of code flinging this time last year, which saw the April 2018 Update hit over three-quarters of PCs by June.
Google getting a bit Edgy?
Testers of Microsoft's in-development Chromium-based browser found themselves at the pointy end of a mystery bug as a new interface for YouTube did not work in the insider builds of Edge.
Users were directed to download Chrome to enjoy YouTube's minty fresh appearance.
Although it seems reasonable for Google to ignore the new Edge while the code is still being tinkered with, users pointed out that it seemed odd that previous builds had worked fine with the video shack.
With some pointing to a "bug" in browser detection code, the issue was quickly resolved by the YouTube team and Chromium Edge users were able to enjoy cat videos in Google's new interface.
The incident will, however, send shivers down the spines of former Windows Phone users still nursing memories of Google's YouTube antics on the moribund platform. Indeed, attempting to use Google Drive in Chromium throws up a terse pop-up warning the user that an "unsupported browser" is in use.
Reasonable enough, until one follows the link to find a different browser only to be told "You are currently using the latest version of Chrome. That is awesome!"
Er, right.
Still, at least Google demonstrated its cross-platform chops by making its services inaccessible last night, regardless of a user's browser choice.
iPhone Excel fans get data recognition
While they may lag their Android counterparts on the Your Phone stakes, iPhone Excel users last week received the tabular recognition functionality that had already been available on the competing platform since March.
Microsoft has made much of its machine learning smarts of late, and the arrival of the feature will be welcomed by those faced with transcribing a grid of data into a spreadsheet. The theory goes that a user points the camera at the required grid, crops the image, and the data appears in Excel.
Hidden within breathless quotes like: "If only I had this before, I'd have saved so much time avoiding manual data entry" is an admission that OCR can be a little bit flaky, with AI being wheeled out to learn from the tech's mistakes as users correct errors. Microsoft reckons that "data accuracy will increase over time."
Handy. Naturally, we had a go and, after reinstalling the Excel app a couple of times in order to start the thing, we found it a bit iffy. Certainly, there were sufficient errors that we'd be loathe to only go by what the app itself thought was an OCR funny.
However, as a head-start in transcribing data it is a useful tool and doesn't even require an Office 365 subscription to use. It does, however, require an internet connection in order to function. ®
Sponsored: Beyond the Data Frontier