In the claws of a vulture: Nebra AnyBeam Laser Projector
Is that a laser projector in your pocket or are you, er, just going camping?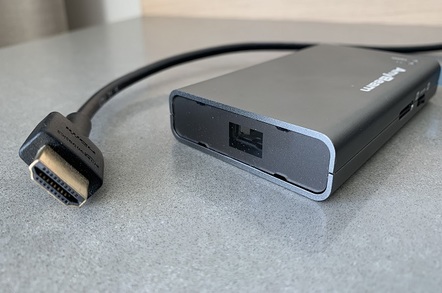 Those seeking a bit of portable projector fun will shortly have a tiny option in the form of the Nebra AnyBeam, a pocket-sized laser for flinging images onto a handy surface.
With its funding campaign complete, The Register took a look at the miniaturised neighbour-annoyer to see if, well, it actually worked.
Hardware
Four options are available, including a Pi HAT, the "Monster Ball" (a ball containing the projector and a Pi Zero) a developer kit, with the projector shorn of its case, and the AnyBeam itself. We got our claws on the latter.
Size-wise, it certainly could fit in your pocket and measures 190mm x 60mm x 103mm. It weighs in at 140g. However, while around the size of an early iPod, the thing is useless without a full size HDMI cable and something to squirt DC 5V / 1.5A into the micro USB port.
The projector also features a 3.5 audio jack (which you will need to use – more on that later) and a rocker switch to control what little noise is emitted by the weedy 1W internal speaker or fiddle with the thing's settings.
Setting up
Pi Supply, makers of the machine, highlight it as something one might want to plug a Raspberry Pi into, but we found it worked well with pretty much any HDMI source. We used an iPhone (and an Apple HDMI adaptor) and found the tiny projector worked a treat. Unlike a conventional projector, the laser of the AnyBeam doesn't need focus fiddling, and adjustments can be made to deal with trapezoid effects if the target surface is not flat.
And yes, as well as cables to plug into the thing, you might want to invest in a camera tripod or similar unless you have a surface handy.
Big-screen action?
Compromises have been made to shrink the projector down, and the resolution is only 720p, running at 60FPS. The contrast rocks in 80,000:1 with a brightness of 22 ANSI lumens. While there is no optical limit to how far one can throw an image, it'll need to be pretty dark to get a properly big screen. The throw ratio itself is 1/0.915, and a 150-inch image is possible with the projector set around five metres back.
In use
For all the limitations, such as the darkness needed to get a big picture, the little unit is impressive. We ran several films through it, with the projector plugged into a power bank, and were not bothered by the 720p resolution. Colours were bright, blacks were dark, and the device itself was blessedly silent (although it did get slightly warm after a while).
The AnyBeam also features a terrible speaker. Aside from perhaps making some squeaks to assist a presenter standing next to it, we could see little purpose to it, and attached an external speaker to the 3.5mm jack (no Bluetooth here).
The level of darkness needed to make the screen viewable might put some off, although it would be a fun thing to take camping or on holiday for some late-night film viewing. Using it as a presentation device would be possible, but the darkness needed to get the big screen visible could make note-taking difficult.
Certainly, it compares poorly with a traditional projector – our aged Sanyo Z2000 is far brighter, runs at 1080p and has a better throw ratio. However, it is also noisy, heats up like a furnace and consumed 252W when running. Only a person with strong arms and a long extension lead would ever call it "portable".
The technology
The Register had a chat to one of the team behind the project, Aaron Shaw, who explained how it works.
The technology itself is called Laser Beam Scanning (LBS). Shaw said a "red, green and blue laser are pointed at a collimator to combine into a single source, they are then scanned with a mirror to produce the image."
He added that the "particular MEMS modules we use have a pure electrostatic biaxial raster scanning mirror – this is how the size is so small because it does not use larger electromagnetic parts like in other projectors."
Of course, having control over every individual pixel means the black part of the image does not need to be projected, which saves power and improves contrast. On this, Shaw told us: "It allows you to do some pretty cool stuff like using the projector for head-up-displays as well as for projection mapping (onto fixed or moving objects) and perhaps the most cool – you can do an 'air-display' in mid air including with gesture-based 'touch control' if you pair it with a time-of-flight gesture sensor."
As for the brightness, Shaw told us the team used a more powerful laser on a predecessor that the gang sold in China and Taiwan, which was a tad too powerful for western markets. However, a 1080p version with a brighter five-laser module will be on the cards, arriving within a year or so.
Come camp with me
Coming in at £229 for the model we looked at, the AnyBeam is good value for money when compared to similar devices such as Sony's MP-CD1 pico projector, although expensive when put up against traditional lamp-based devices.
However, the ability to run off a mobile power bank and the chuck-into-a-backpack nature of the thing makes it an interesting option for those with the requisite dark environments and paucity of power outlets.
For streaming video, the resolution didn't present a problem for us and the power-sipping laser barely troubled our battery pack. Handy for the odd holiday Netflix binge or two. ®
Sponsored: Webcast: Build the next generation of your business in the public cloud