Mods I have known, Mods I have loved, Mods I have hated: Motorola's failed experiment is now a savvy techie's dream
Get your modular bargains
Hasselblad True Zoom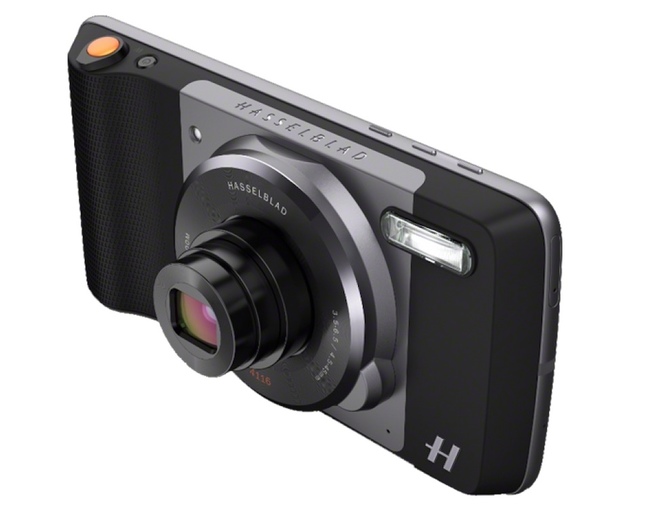 It was a push to sell this lavish accessory – which comes in a beautiful pouch – at launch for £199. But now it's a third of the price, it becomes quite appealing. The Hasselblad doesn't magically upgrade your phone's sensor particularly, it uses its own 1/2.3" sensor with 1.55um pixel size, but really you're adding optical magnification. If you're shooting, say, a portrait in well-lit conditions, there's no point using this. For landscapes however, the Hasselblad Mod really does improve things. It doesn't compensate for a shaky hand, but still: 10x, fast and smooth. And very well done.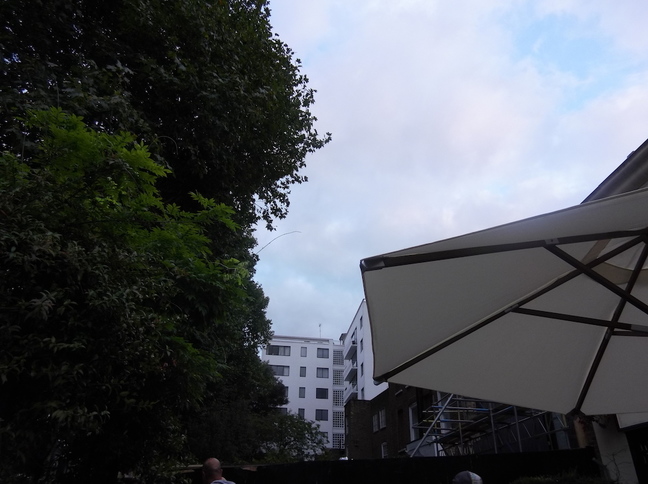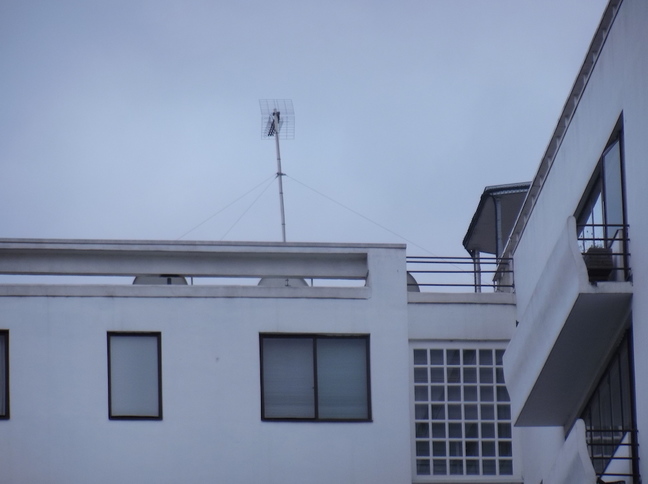 For darkly lit situations, it contains a real Xenon flash for much fuller lighting. It has been years since you could buy a new Nokia phone with this no-compromises feature – the last one was the Lumia 1020 (2013), although it does deplete the battery. Coming to the Mod party late means you'll get a smooth and thoroughly debugged experience: it's fast and reliable. You can shoot RAW images. The grip, dedicated button and zoom toggle make the whole thing start to seem attractive.
Street Price: £65-£85.
Mod Verdict: Very nice to have
Moto Smart Speaker with Amazon Alexa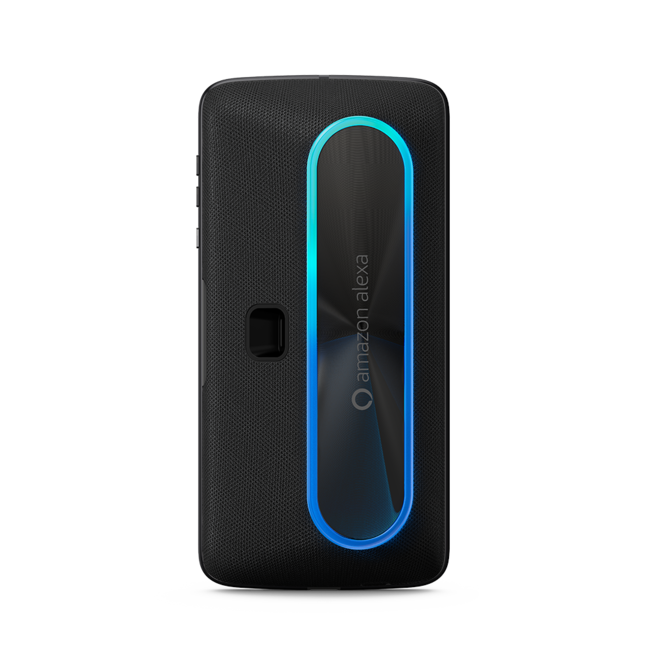 Being able to fit a decent loudspeaker turned out to be one of the more immediate benefits of the Mod experiment. The speakers have their own battery, although charging only goes one way, neither speaker acts like a battery charger for phone power top-ups. You can choose between the more compact JBL or the similarly specced Alexa Mod smart speaker, billed as a "boombox with brains".
Both have similar audio specs, but the Alexa is far bulkier, has 50 per cent more battery (1530mAh, 15 hours claimed), four mics and pumps out stereo from dual 6W speakers. The triangular shape makes the Alexa Mod more awkward to carry – it simply got used less. A cool blue ring lights up when playing or listening. But the design is a bit compromised: are you supposed to use this phone face up or face down? I never could work it out.
Street Price: £66-£100+
Mod Verdict: Awkward design... do you really need that extra battery life?
JBL SoundBoost 2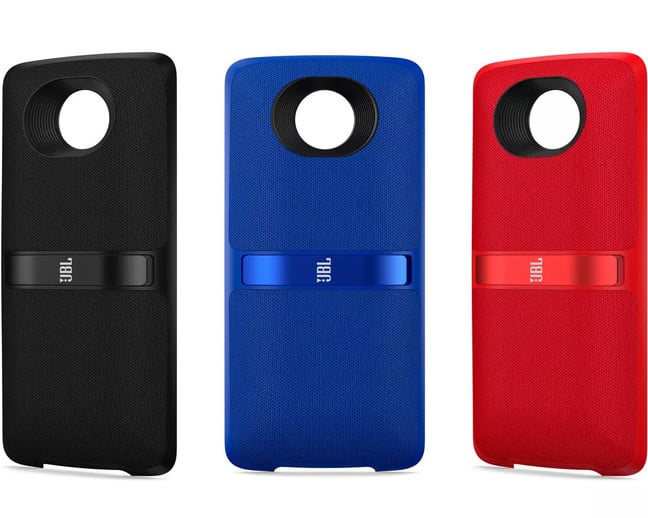 The JBL got used much more than the Alexa, because it's so much more compact. Almost compact enough to leave it on when you're not using it – it would be perverse to do that with the more ungainly Alexa Mod. At 135g it's also lighter, and also has twin 6W output.
It's great as a kitchen radio, fine for enhancing TV or movie clips, and as an impromptu music player. Neither the JBL nor the Alexa has more sufficient power to replace a boombox other than a party in small room, where everyone has promised to whisper.
Street Price: From £45
Mod Verdict: After the battery Mod, this is what you should buy next
InstaShare Projector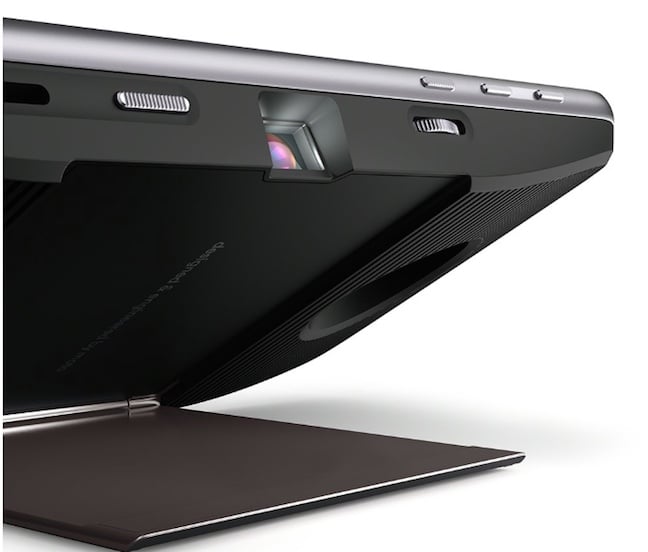 Going glamping, but still want to catch up on TV? Reluctant to put a TV in the kids' room? I guess that in each instance the Projector can come to your rescue. It throws a 70" image onto a flat surface, albeit at a low (480x854) resolution, doesn't weigh much, and is very portable. It includes a 1,100mAh battery promising an hour's projection before it starts depleting your phone battery, so it will only just about last the length of a long movie. Not tested here, sorry – and increasingly hard to find.
Original Price: £219
Street Price: £110-£130 (new)
Moto GamePad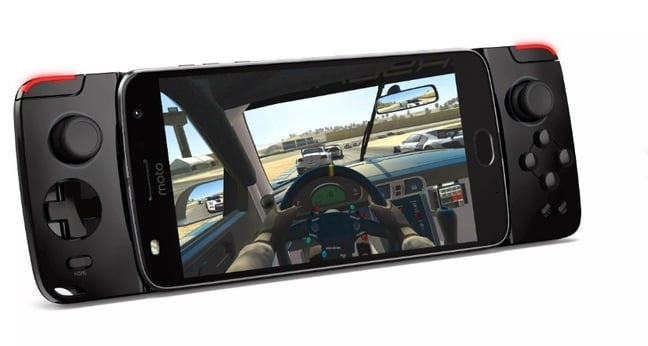 I'm glad my kids enjoyed the other Mods so much because the GamePad proved to be a major crusher. The hardware implementation is generally pretty good and it's optimal for kids – not too big for the hands, despite packing a decent 1,035mAh battery. There's no shortage of buttons either, although they can be a bit stiff.
The rear logo lights up. But game support, despite Motorola's best efforts, isn't there. Medion provides an app for compatible games called Moto Game Explorer, but it's hit and miss. Minecraft and Asphalt 8 apparently work fine, but Asphalt 9 didn't. It's worth checking if your favourite isn't supported before taking the plunge.
Street Price: £40-50
Mod Verdict: Missable

Polaroid Insta-Share Printer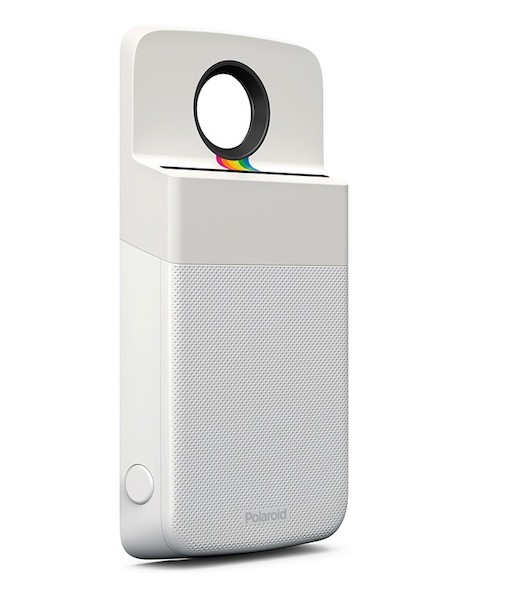 Zink (zero-ink) thermal printing can be found in a whole bunch of toys gadgets, ranging from the HP Sprocket you can find in WH Smiths for £90-odd to Polaroid-branded kit.
The photos are small (2"x3"), their colour reproduction isn't great, and the paper is not cheap. From a purist's point of view, you may well wonder why any of these clunkers exist. It's because they bring a bit of joy and utter astonishment to an occasion. The kids take a snap of Grandma, embellish it and hand it over – magic. A physical memento you can stuff into a wallet. Like mix tapes, it's something that has gone from our lives.
This instance is as clunky as the picture implies. At 188g it's heavier than the phone, and it charges awkwardly: you can't charge both printer and phone from the same cable simultaneously. The 500mAh battery depletes pretty quickly – Motorola reckons it should do you 20 photos, before demanding a top-up charge. But it works pretty well once you acquire the patience to not be perturbed by the strange whirring as the motors crank into life.
Whether it's worth the dosh is how many such occasions – like, say, works drinks, birthdays, family meetups – you can anticipate. It's not one I would have bought to be honest, even with my tragic love of novelty, but it's one I'm glad I have. Probably one for mums and dads with primary school kids.
Street Price: £80-90
Mod Verdict: Hard to justify as Polaroid snapper-printers produce better results.
Moto 360 Camera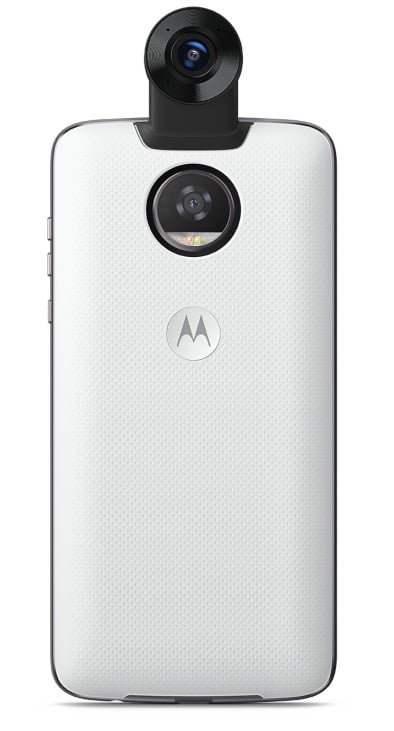 In retrospect, it isn't hard to see why 360 video and photos failed to take off. They had two markets: video bloggers, who wanted simultaneous front and back video streams, and a more broad potential market of people wanting to take a unique immersive capture of themselves in say, an unusual location. The format was hampered by a lack of software support for viewing the 360 photos, and vloggers could choose from dedicated equipment, not least the ubiquitous GoPro, with 16 cameras.
The Moto 360 Camera Mod tried to cater to both: supporting simultaneous front-and-back video capture and streaming, and making capturing immersive photos easy. It comes with a silicone cap, which is easily lost. When we were in an unusual spot, say, underground caverns or on the Shard's observation deck, I was glad to have the 360 to capture the experience. But there just aren't too many of those moments. And I'd worry the camera unit would break off: the thing protrudes considerably.
The 360 and the printer wonderfully encapsulate the dilemma faced by both Motorola and Essential, which also sought to create a hardware accessory market for its devices. Why burden a smartphone with specialist hardware that is only used on rare occasions? An easily detachable accessory is the ideal solution. But the low volumes make that accessory very expensive – and it's only used on rare occasions.
Street Price: £50.
Mod Verdict: Are you a video blogger or an estate agent? No? Move swiftly on.
Moto Turbo Power Pack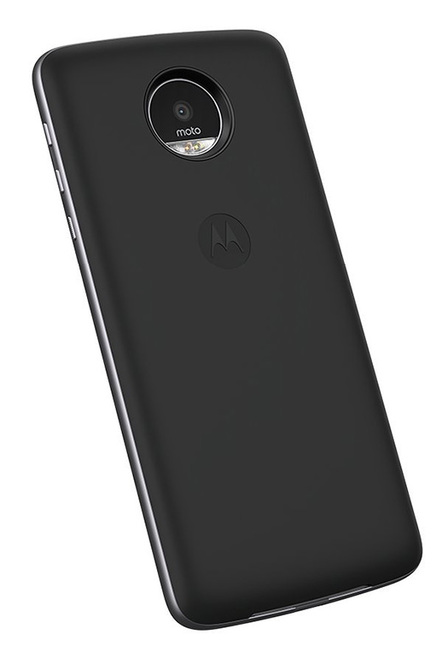 I suspect this is where the idea first started. The power pack is the first and most obvious Mod to buy, adding a 3,490mAh to the Z Force 2's built-in 2,730mAh, but without adding a big bulge in your pocket (it adds 95g to what is really an anorexic 143g phone that then lasts for ages – getting into a third day was not unusual). Unfortunately, the Qi-compatible Mod never got proper distribution here, running into problems. However, both the phone and the Turbo Power Pack Mod can be charged rapidly using a 15 or 30W charger, and both charge at once.
There are other mods for the Mod Hunter. One of the nicest I found on eBay was a Corning Glass-branded Style Shell mode (aka "back cover") – these are rarer than Beatles acetates.
Street Price: £25.
Mod Verdict: Essential.
Wrap
Moto makes very practical phones, but when it does something ambitious, it blows it big time. Remember the Moto Maker customise-to-order operation that required its own factory in Texas? Great idea, but awful economics. So it has proved with Mods.
And to be honest, going for a Moto Mod in 2019 can seem like a fairly self-indulgent exercise. But the appeal of being like Q in the Bond Movies has its appeal. "So, 007: this one looks like a fountain pen but it's actually 3D printer with Alexa built in that makes a Martini! Start talking and the Aston Martin will drive itself to wherever you are..."
With prices falling, a Mod-compatible Moto makes a decent setup for a student or teen on a budget.
And there's hope yet that it's not all over. Motorola pledged to create three generations of hardware support in in 2016 – and new Mod-compatible models seem imminent. Perhaps it can enjoy a Roland 303 afterlife after all. ®
Sponsored: Detecting cyber attacks as a small to medium business