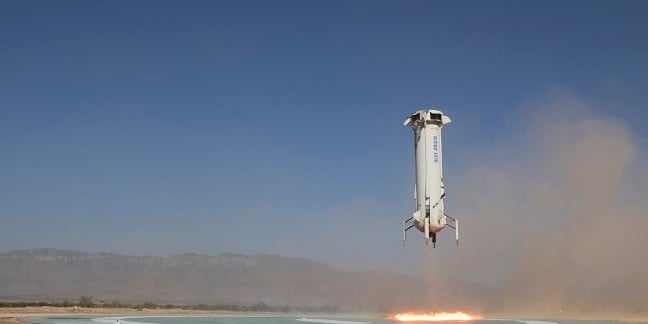 Jeff Bezos' rocket outfit, Blue Origin, was cock-a-hoop today as its New Shepard booster lofted a record 38 payloads to the edge of space, bringing the company closer to the day when it will strap actual humans into the thing.
The Texas launch, which was the 11th of a New Shepard rocket since it made its debut back in 2015, was the second of the year and included nine NASA experiments among the 38 onboard.
The mission, named NS-11, was due to launch at 1330 UTC, carrying the uncrewed capsule above the Kármán line, about 100 km up. Yes, Richard Branson, that Kármán line. As it was, launch actually occurred at 13:32 UTC, with the single stage booster notching up its fifth successful mission.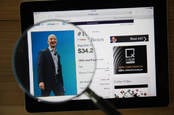 I've got way too much cash, thinks Jeff Bezos. Hmmm, pay more tax? Pay staff more? Nah, let's just go into space
READ MORE
A maximum ascent velocity of 3,567 km/h and an apogee of 106km was achieved before the capsule enjoyed a parachute-assisted descent. The whole show lasted 10 minutes and 11 seconds with both booster and capsule safely returned to Earth.
Bezos' stumpy single-stage New Shepard (named after American astronaut Alan Shepard) stands a mere 18 metres tall, less than a third of the stature of Musk's mighty missile – the two stage Falcon 9. Like the first stage of the Falcon 9, it can perform the crowd-pleasing trick of landing upright. Unlike the Falcon 9, it cannot reach orbit.
You'll have to wait for the New Shepard's follow-up, the New Glenn, for that. Blue Origin currently estimate the New Glenn will be launching from Cape Canaveral's Launch Complex 36 some time in 2021 in two stage form. Like the Falcon 9, the first stage will land (Blue Origin reckons it can get 25 flights out of it) while the second stage will be left to re-enter over the ocean.
For now, however, the success has brought the prospect of actual humans being strapped into Bezos' sub-orbital space jalopy another step closer, with a crewed launch in 2019 a real possibility. ®
Sponsored: Webcast: Simplify data protection on AWS