Woke up on Wednesday, expecting a SpaceX launch? Surprise! It got postponed
ISS power problems keep Dragon on the ground for a few more days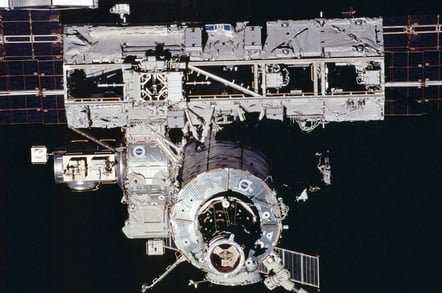 The 17th SpaceX resupply mission to the International Space Station has been delayed to no earlier than 3 May as ground controllers work on a plan to deal with a power problem onboard the orbiting lab.
On 29 April NASA noted a problem with one of the ISS's Main Bus Switching Units (MBSU), which routes electrical power from the station's solar arrays (or batteries, if the station is in darkness) to two of the eight power channels on the outpost.
While there are no immediate concerns for crew safety, efforts to re-route power through the remaining six channels were not enough for the agency to allow the Dragon resupply mission to proceed. NASA therefore asked SpaceX to hold off until the failed unit can be replaced.
With luck, a spacewalk should not be required as engineers work on plans to robotically swap the duff unit for a healthy MBSU. The four MBSUs are found on the S0 segment of the ISS's truss (PDF), which was launched to the ISS as part of STS-110 just over 17 years ago aboard Space Shuttle Atlantis (now strung up in a Florida museum.)
Back then it took four spacewalks to connect up the 13.5 ton component, with an astronaut hanging off the end of the ISS's Canadarm2 for the first time while another worked as a 'free floater' (although still safely tethered.)
Rocket botherers at NASASpaceflight.com reported that the failed unit is MBSU 3, which provides redundant power for the Space Station Remote Manipulator System (SSRMS). Since engineers have thus far been unable to restore that redundancy, the idea of attempting to grab the Dragon cargo freighter with just one power channel is a tad buttock-clenching for controllers.
Unlike the Russian Progress freighter or the Crew Dragon, SpaceX's freighter must be berthed using the station's arm. A sudden power failure mid-procedure could be awkward to say the least.
The ISS is no stranger to power gremlins. Back in 2016, Brit 'naut Tim Peake ventured out of the outpost with NASA's Tim Kopra to swap out a failed voltage regulator that had caused a loss of power to one of the eight power channels. The Tims had to return early after Kopra reported water in his helmet, but still managed to deal with the faulty component. ®
Sponsored: Practical tips for Office 365 tenant-to-tenant migration