Big Cloud gets bigger: AWS's growth alone in 2018 matched Google's total haul – but Bezos beast is still on the hunt
AWS Outposts on horizon as infra giants look to cram their hardware in YOUR bit barn
Amazon Web Services bulked up in 2018, jugging down a protein shake of $2.3bn in cloudy infrastructure services revenues – equalling Google's total haul for the 12 months.
In dollar terms, Jeff Bezos's cloud services wing grew 41 per cent year on year to $7.6bn, figures from Canalys show. Microsoft was up 75 per cent to $3.4bn and Google grew a whopping 83 per cent to $2.3bn.
However, the first section of the battle has only just begun. The fight for enterprise customers' wallets will intensify in 2019 as those companies try to maintain aggressive expansion by extending their cloud business into physical environment, shipping hardware to clients' data centres.
"The cloud infrastructure market is moving into a new phase of hybrid IT adoption, with businesses demanding cloud services that can be more easily integrated with their on-premises environment," said Canalys chief analyst Alastair Edwards.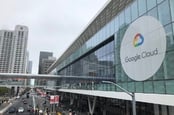 Google Cloud flashes flower power in bid to realize 'write once, run anywhere' dream
READ MORE
"Most cloud providers are now looking at ways to enter customers' existing data centres, either through their own products or via partnerships," he added.
Microsoft got first mover advantage in hybrid IT by launching Azure Stack in 2017, something many smaller national cloud providers in the UK have started to sell to both commercial and public sector customers.
The ability to run VMware on Azure and on bare metal was added, and more recently a raft of hardware vendors contributed to the Azure Stack HCI family: 15 hardware makers are primed with more than 70 hardware configurations.
Google went public with Anthos this month, an application management rig that supports multiple clouds including those from AWS and Microsoft Azure. Of course it also supports Google's own Cloud Platform. Google too is looking for love with server builders.
Fourth placed cloud giant, Alibaba - its base in China helped it squeeze IBM out of that market share position - is putting more meat on the bones of biz transformation for enterprise folk, selling a VMware SDN bit barn cloud software stack on its infrastructure.
Although AWS arguably has some ground to make up with those rivals, the company will start shipping its first appliance later this year, Outposts, delivering boxes into customer's bit barns. This is "primarily" to deal with latency concerns, said Canalys.
Just as the cloud businesses take new turns in their operations, old-world vendors are trying to sell more of their kit as a services: Dell yesterday touted its private cloud-as-a-service – or rentable tech as it is otherwise known. HPE rolled out a comparable thing, Greenlake, in 2017, mindful that less than 5 per cent of its global business was transacted as a service. ®
Sponsored: Webcast: Why you need managed detection and response