Boeing nowhere fast: Starliner space taxi schedule slips once again to August
NASA and co confirm that Starliner won't be carrying crew until the end of the year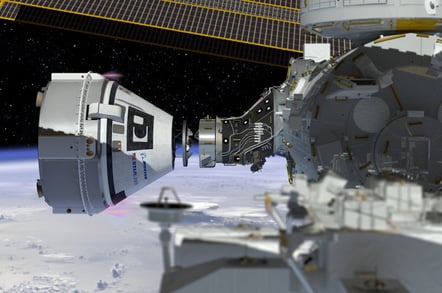 Boeing's passenger spacecraft for deliveries to the International Space Station (ISS), already lagging behind SpaceX, has been delayed yet again.
The new "working" date, according to NASA and Boeing is now August. The reason given was that there were "limited launch opportunities in April and May" and an Atlas V was needed in June to send up an important payload for the US Air Force, AEHF-5, from Launch Complex 41 (LC-41).
We contacted NASA and Boeing to check if any other factors had come into play.
A Boeing spokesperson told The Reg: "We recently cleared the last major test milestones ahead of our uncrewed test flight, and are entering the final phases of production on our Orbital Flight Test vehicle."
The spokesperson went on to explain that the company had only a two-day launch window in May before clearing the launch pad for the purposes of the US Air Force and so, keen avoid schedule pressure and add some schedule margin, "we made the most responsible decision available to us and will be ready for the next launch pad availability in August, while still allowing for a Crew Flight Test later this year."
As for the US space agency, they directed us to Boeing.
Should the August target be confirmed and the test be a success, Boeing will send up a crew in "late 2019", meaning that it will be well into 2020 before the company's space taxi will perform its first operational mission to the ISS.
NASA and @BoeingSpace have agreed to target August for its uncrewed test flight to the @Space_Station and to extend the duration of the company's first crewed flight test: https://t.co/lP0aBQBMDn pic.twitter.com/qy3E45JdkM

— NASA Commercial Crew (@Commercial_Crew) April 3, 2019
The delay was mentioned beneath news that, after an in-depth technical assessment of the CST-100 Starliner, NASA reckoned that extending the flight duration would be a goer. A longer mission means more microgravity research and maintenance could be performed aboard the aging orbital outpost.
Director of the Commercial Spaceflight Division at NASA HQ, Phil McAlister, naturally welcomed the extended mission, although alluded to the extra seats on Russian rockets, er, "additional Soyuz opportunities" for which the agency is having to pony up cash.
"We remain diligent, with a safety-first culture" said Boeing's boss of its Commercial Crew tentacle, John Mulholland, who welcomed the extension.
Boeing must also conduct a demonstration of its abort systems, planned to occur during the summer at the White Sands Missile Range in New Mexico. It will then put a Starliner on top of an Atlas V and launch the capsule from LC-41 at Cape Canaveral Air Force Station in Florida.
While NASA and Boeing were putting a brave face on the schedule slip, SpaceX continued to press ahead with plans for its own abort test. Unlike Boeing, the company is refurbishing the Crew Dragon capsule used for the Demo-1 mission to the ISS and will demonstrate its abort systems in-flight on what is likely to be a sacrificial Falcon 9. ®
Sponsored: Detecting cyber attacks as a small to medium business