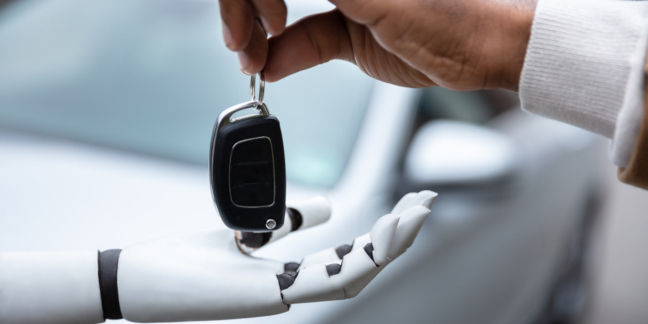 GTC This week at Nvidia's GPU Technology Conference (GTC) in Silicon Valley, the chip slinger claimed its Drive Constellation – a server and software combo designed to give self-driving cars a virtual world where they can play without harming any of those squishy humans – is now available.
The technology was previously teased in May last year, given out to Nv's favorite customers in the second half of 2018, and now, we're told, available.
The system comprises two types of servers. The first, Drive Constellation Simulator, generates the sensor output of a virtual car driving in a simulated environment, using the company's GPUs and its Drive Sim software.
The second, Drive Constellation Vehicle, is based on the Drive AGX Pegasus on-board computer, an actual car part that believes the output of the first server is real, and acts accordingly.
Nvidia also runs a cloud platform where developers can share their virtual environments, vehicle models, sensor systems and traffic scenarios.
According to the company, Drive Constellation enables customers to accomplish "years of testing in a fraction of the time" across "billions" of virtual miles and all sorts of terrain.
The idea of using virtual environments to fine-tune autonomous cars is not particularly original: Google's sister company Waymo, has been doing it for years. "Last year alone our software drove 2.7 billion miles in the virtual world, where we create and test entirely new driving scenarios for extra practice," Waymo reported in 2018.
Meanwhile, the British government is trying to achieve the same result without using any specialist kit, with its OmniCAV platform, a virtual version containing 32km of Oxfordshire roads.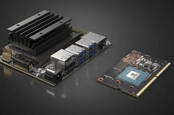 First, Google touts $150 AI dev kit. Now, Nvidia's peddling a $99 Nano for GPU ML tinkerers. Do we hear $50? $50?
READ MORE
Companies operating in the autonomous car field are springing up like mushrooms after the rain, and many will appreciate the offer of a completely self-contained test system; more importantly, pedestrians will appreciate not having to participate in beta-tests of potentially lethal car tech.
One of the first customers to purchase their own Drive Constellation is Toyota Research Institute-Advanced Development (TRI-AD), which was established in 2018 to engineer self-driving car software. "We believe large-scale simulation tools for software validation and testing are critical for automated driving systems," said Dr. James Kuffner, CEO of the biz.
Another customer is German product testing and certification org TÜV SÜD, which has used the system to formulate its own standards for the approval of autonomous vehicles.
"Together with the support of our ecosystem partners, we're making available large-scale, cloud-based, open simulation that thoroughly and safely validates self-driving cars under endless challenging situations," said Zvi Greenstein, general manager at Nvidia. ®
Sponsored: Ransomware has gone nuclear