Brit rocket wranglers get Reaction they wanted after rattling SABRE
Euro space agencies approve air-breathing engine testing
Britain's Reaction Engines has been given the greenlight to press ahead with an ambitious testing programme for its SABRE air-breathing rocket engine.
The European Space Agency (ESA) and the UK Space Agency (UKSA) took a look at the preliminary design for the engine core of the Synergetic Air-Breathing Rocket Engine (SABRE) and gave the company the nod to proceed with testing.
The 200-strong outfit kicked off an effort back in October 2016 to design, build and demonstrate a SABRE engine core, a key part of the complete article. While lacking the pre-cooler and rocket nozzle, the company predicted that once the testing is done the "major elements of the world's first air-breathing engine capable of accelerating from zero to Mach 5 will have been demonstrated".
The core testing will occur at the company's under-construction test facility at Westcott Venture Park, Buckinghamshire.
As for when, Shaun Driscoll, programmes director at Reaction Engines, told The Register:
We've cleared this preliminary design review, which basically validates that all the elements of that engine can be integrated together in terms of the design phase. This year we'll continue more detailed design and development leading to further milestones at the end of the year, leading to a test campaign starting in 2020.
And that pre-cooler? Driscoll said the company expects to kick off its HTX "hot" heat exchanger testing at a facility in Colorado in the next few months. The testing will demonstrate the SABRE pre-cooler during simulated flight conditions, with the air inlet hitting temperatures of up to 1,000°C.
Driscoll told us: "We had to build a new test facility because we're effectively going to put 1,000°C air into this pre-cooler and to produce 1,000°C air at volume is not easy to do!"
This is even harder to achieve in Buckinghamshire. The Colorado location was chosen because: "It's very hard to find such a facility, and we did look at a number of potential locations – we also got sponsored by DARPA to run this test and they already had experience of running a similar (not the same) type of facility. It was basically a de-risking exercise, really."
SABRE itself is a hugely exciting concept because the air-breathing engine could be capable of accelerating from zero to Mach 5.4 without requiring impossibly heavy tanks of fuel. Instead, SABRE extracts the oxygen it needs directly from the atmosphere. Once at Mach 5.4, the engine can switch to rocket power to send a spacecraft into orbit.
It is enormously challenging at a technical level. The heat exchanger about to undergo testing in Colorado needs to be able to cool incoming air from 1,000°C down to –150°C in less than a twentieth of a second without icing up.
In 2016, the company unlocked a £60m grant from the UK Space Agency, with ESA overseeing €10m of the cash. The plan was that the first SABRE would be fired up by 2020, something that looks achievable for an industry fraught with delays. A flight unit would then follow a few years later.
Boeing HorizonX Ventures, along with Rolls Royce and BAE, threw some more cash at the outfit a couple of years later, in April 2018, to the tune of $37.3m.
At the time, Boeing was particularly interested in the clever heat exchanger technology. Steve Nordlund, vice president of Boeing HorizonX, said of Reaction Engines: "We expect to leverage their revolutionary technology to support Boeing's pursuit of hypersonic flight."
Regarding today's thumbs-up, Driscoll was quick to heap praise on ESA and its ilk, thanking the agency for its oversight and support, which he said "really gives credibility" to the effort.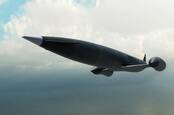 Revolutionary Brit-made SABRE hybrid rocket engine to burn in 2020
READ MORE
There remains much testing to do before SABRE might actually take to the skies. The engine's modular design means that the core can be run on the ground at Westcott Venture Park relatively easily, while the pre-cooler gets its work out in Colorado in parallel.
However, the company has begun to ponder what form those flight tests might take. Driscoll told us: "It is early days and we are looking at some very exciting concepts."
We'd suggest bolting a pair of SABREs to a Skylon (above left) and strapping in for a Branson-baiting ride to orbit. ®
Sponsored: Practical tips for Office 365 tenant-to-tenant migration